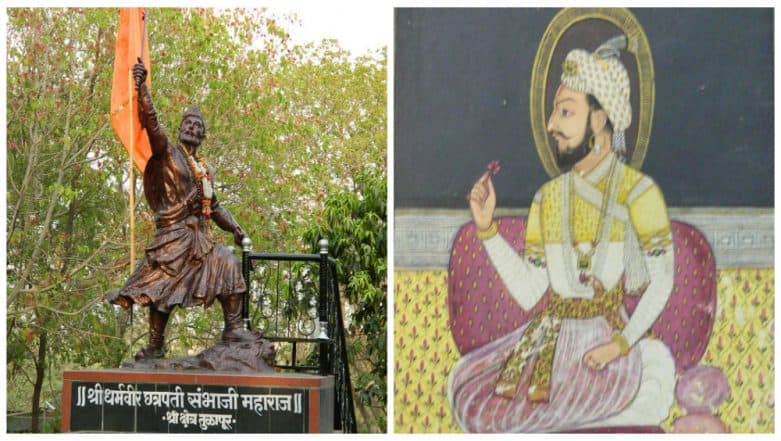 Mumbai, March 11: Chhatrapati Sambhaji Raje Bhosale, elder son of the great Maratha warrior king Shivaji Maharaj, was born on May 14, 1657. He was the eldest son of Chhatrapati Shivaji and his first wife Saibai. His mother died when he was only two years old and he was brought up by his paternal grandmother Jijabai. Every year, March 11 is observed as Sambhaji Balidan Diwas as this is the day when Chhatrapati Sambhaji Raje Bhosale was killed on the instruction of Mughal king Aurangzeb after suffering scaring torture for more than a fortnight and made the ultimate sacrifice of his life for establishing 'Swaraj' or self-rule.
Sambhaji is regarded as a great king and warrior himself. It is said that Sambhaji fought over 150 battles and never lost a single one. Besides from being a great warrior, Sambhaji was a person of great virtues as well.
Top 10 Facts About Sambhaji Maharaj
1. At just the tender age of nine, Sambhaji Maharaj was sent to live with Raja Jai Singh of Amber, as a political hostage.
2. Chhatrapati Shivaji Maharaj ensured that Sambhaji got the best education that a prince deserved, even though their lives were tumultuous to say the least, filled with constant struggle. Sambhaji grew up with both Saastra jyaan (knowledge of scriptures) and Shastra Jyaan (knowledge of weapons).
3. Sambhaji was married to Jivubai in a marriage of political alliance. The marriage was conducted as per Maratha customs and she took the name Yesubai after marriage. This marriage thus gave Shivaji Maharaj access to the Konkan coastal belt.
4. Chhatrapati Sambhaji Maharaj knew more than 13 languages including Sanskrit and regional languages as well as Portuguese till the time he was 15. He had also written a book till then. Also, legend has it that it was Sambhaji who first experimented the famous Tamil dish 'Sambhar', when he added tamarind in the Dal he cooked in royal Maratha kitchen.
5. He appointed Kavi Kalash as his chief advisor.
6. Shivaji's widow and Sambhaji's stepmother, Soyarabai crowned her 10-year-old son Rajaram as the heir to the Maratha kingdom. When Sambhaji heard about this news, he escaped and took possession of Panhala fort and marched to Raigad fort with 20,000 troops and formally ascended the throne.
7. It is also said that Prince Akbar (son of Mughal emperor Aurangzeb) who had rebelled against his father sought refuge with Sambhaji. This incensed Aurangzeb to no end and he took it very personally. Aurangzeb felt so insulted at this that he decided not to wear his crown till Sambhaji was caught.
8. Sambhaji fought close to 150 battles but remained unbeaten in all of these.
9. Ganoji Shirke informed Aurangzeb's general that Sambhaji and his adviser Kavi Kalash were on their way to a meeting from a secret path. After nine years of getting beaten by Sambhaji, this is how Aurangzeb managed to imprison Sambhaji.
10. It is said that before ordering the killing of Sambhaji Maharaj, Aurangzeb said that if he had even one son like Sambhaji, he could have established his kingdom all over the Indian subcontinent, including Deccan (as was the Southern Indian belt known).
Sambhaji's death was a brutal one, but it also reflects his courage and character. Aurangzeb captured Sambhaji and his adviser Kavi Kalash. They were humiliated and made to wear clown's clothes, and they were subjected to torture before death. The process which took over a fortnight, included plucking out their eyes and tongue, pulling out their nails, and removing their skin.
Sambhaji was finally killed on March 11,1689 at the age of 31, reportedly by tearing him apart from the front and back with wagh nakh (metal 'tiger claws') and beheading with an axe at Tulapur on the banks of the Bhima river, near Pune. However then, Sambhaji's dismembered remains were later sewn together by a few people of Vadu and finally cremated with due rituals and honour. It is said that despite the brutal torture, Sambhaji did not even once plead for mercy from emperor Aurangzeb and refused to answer anything that Aurangzeb asked. Chhatrapati Sambhaji Raje Bhosale's sacrifice is remembered as Chhatrapati Sambhaji Maharaj Balidan Divas.