Saudi Arabia made Eid 2019 announcement after Shawwal crescent moon was sighted on June 3. People greeted each other by saying 'Chand Raat Mubarak Ho' with Eid al-Fitr taking place on June 4 (Tuesday). In other parts of the world, one expects moon sighting on Tuesday followed by Eid on June 5. In that case, you can check out our collection of Eid Mubarak Shayari 2019 in Urdu, Chand Mubarak images, Eid al-Fitr wishes in Urdu, status, SMS and more. Eid or Eid ul-Fitr, one of the most important and biggest festivals of the Muslim community marks the end of the holy month of fasting, Ramadan or Ramzan. Chand Raat Mubarak 2019 Greetings in Urdu: Eid al-Fitr WhatsApp Stickers, GIF Images, Shayari, SMS, Status to Wish Eid Mubarak After Moon Sighting.
Depending on the moon sighting, Eid 2019 will be celebrated on June 4 or June 5. Followers of Islam around the world observe the day with large scale celebrations and festivities. Special prayer meetings, social gatherings, get-togethers and delicious food are an integral part of Eid festivities across countries. Believers wish each other saying 'Eid Mubarak'. People also send Eid messages and Eid Shayaris to wish Muslims on the day. Shayaris on Eid wishing their fellow believers the festival is quite popular. People send Urdu Eid Shayaris wishing the festival using WhatsApp Stickers, SMS and GIF Images. Eid Mubarak Shayaris are also posted as Facebook Status, WhatsApp messages and Instagram stories. Eid Mubarak 2019 Wishes in Advance: WhatsApp Stickers, GIF Images, SMS, Quotes and Messages to Send Eid al-Fitr Greetings.
According to the Islamic lunar calendar, a new month begins with the sighting of a crescent moon on the 29th day of the ongoing month. If the moon is not sighted, the month ends in 30 days and a new month begins the next day. Muslims engage in various social activities including charity. And as Eid 2019 approaches, we have compiled a list of Eid Shayaris 2019 which you can send your friends, family, relatives and acquaintances. Eid Al-Fitr 2019 Recipes: From Shahi Tukda to Chicken Afghani, 5 Eid Dishes You Must Try This Year (Watch Videos)
Here is Eid Shayaris to send your friends and family this festive season: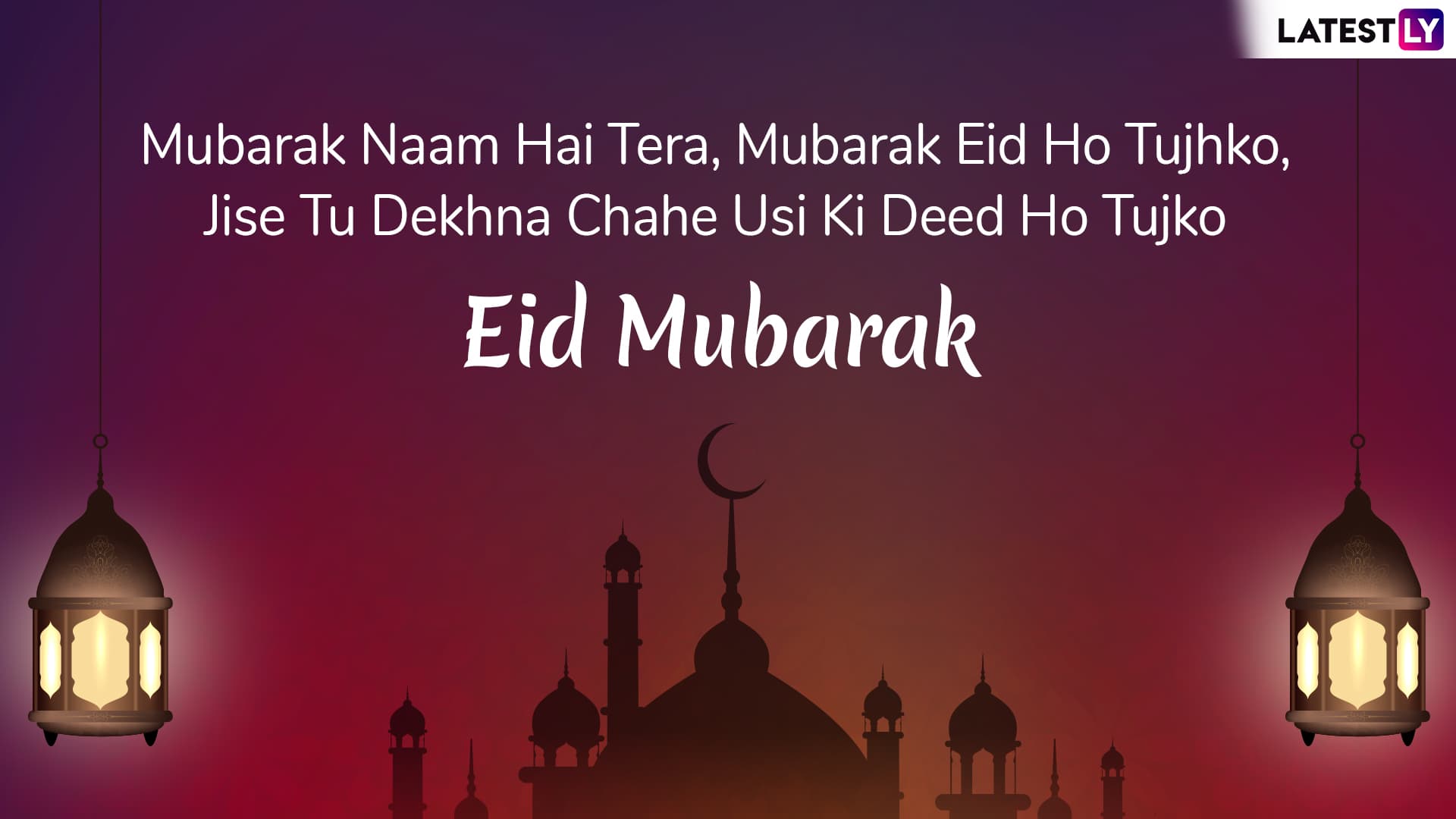 Eid Shayari Reads: Mubarak Naam Hai Tera, Mubarak Eid Ho Tujhko, Jise Tu Dekhna Chahe Usi Ki Deed Ho Tujko, Eid Mubarak!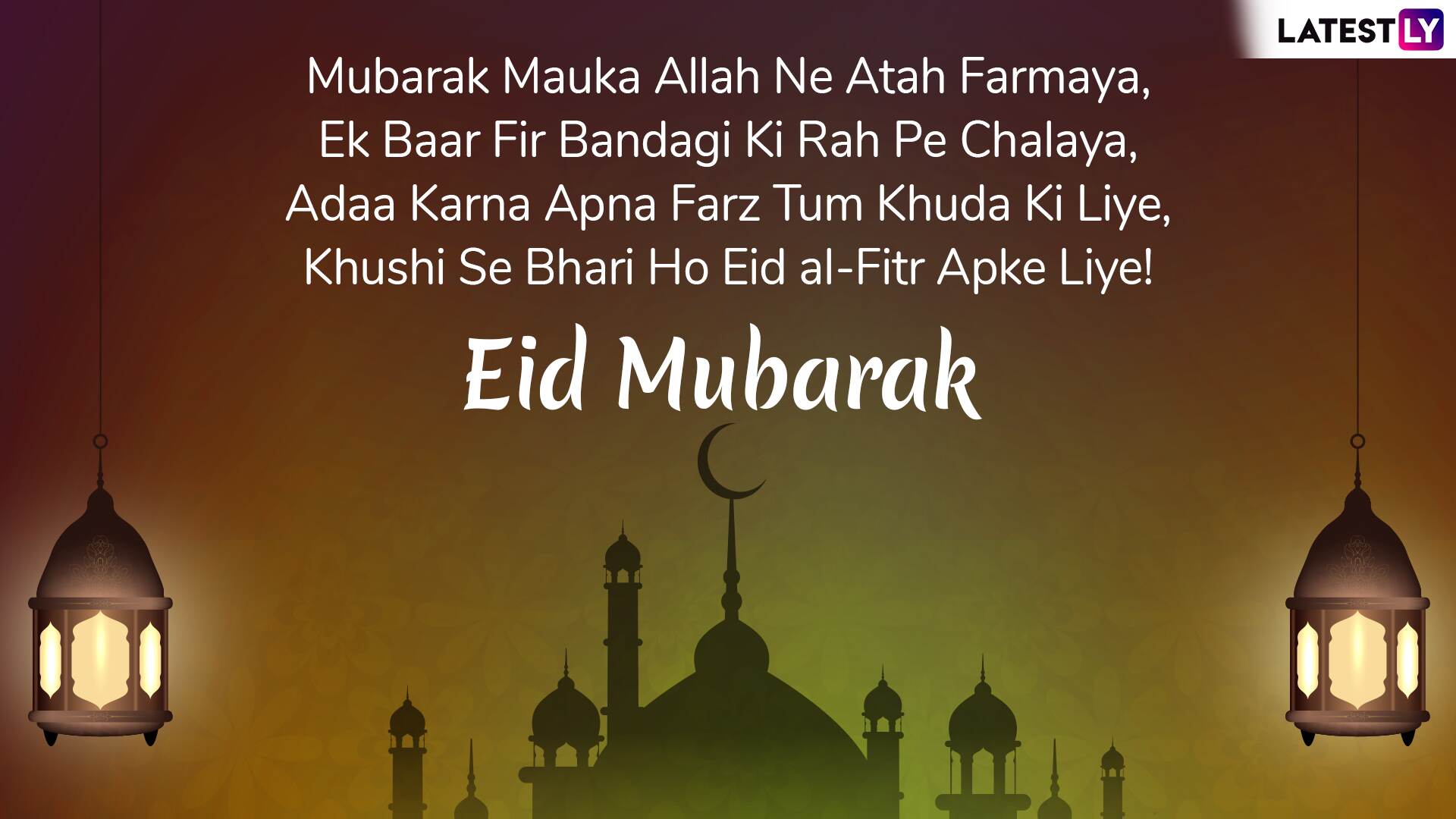 Eid Shayari Reads: Mubarak Mauka Allah Ne Atah Farmaya, Ek Baar Fir Bandagi Ki Rah Pe Chalaya, Adaa Karna Apna Farz Tum Khuda Ki Liye, Khushi Se Bhari Ho Eid al-Fitr Apke Liye! Eid Mubarak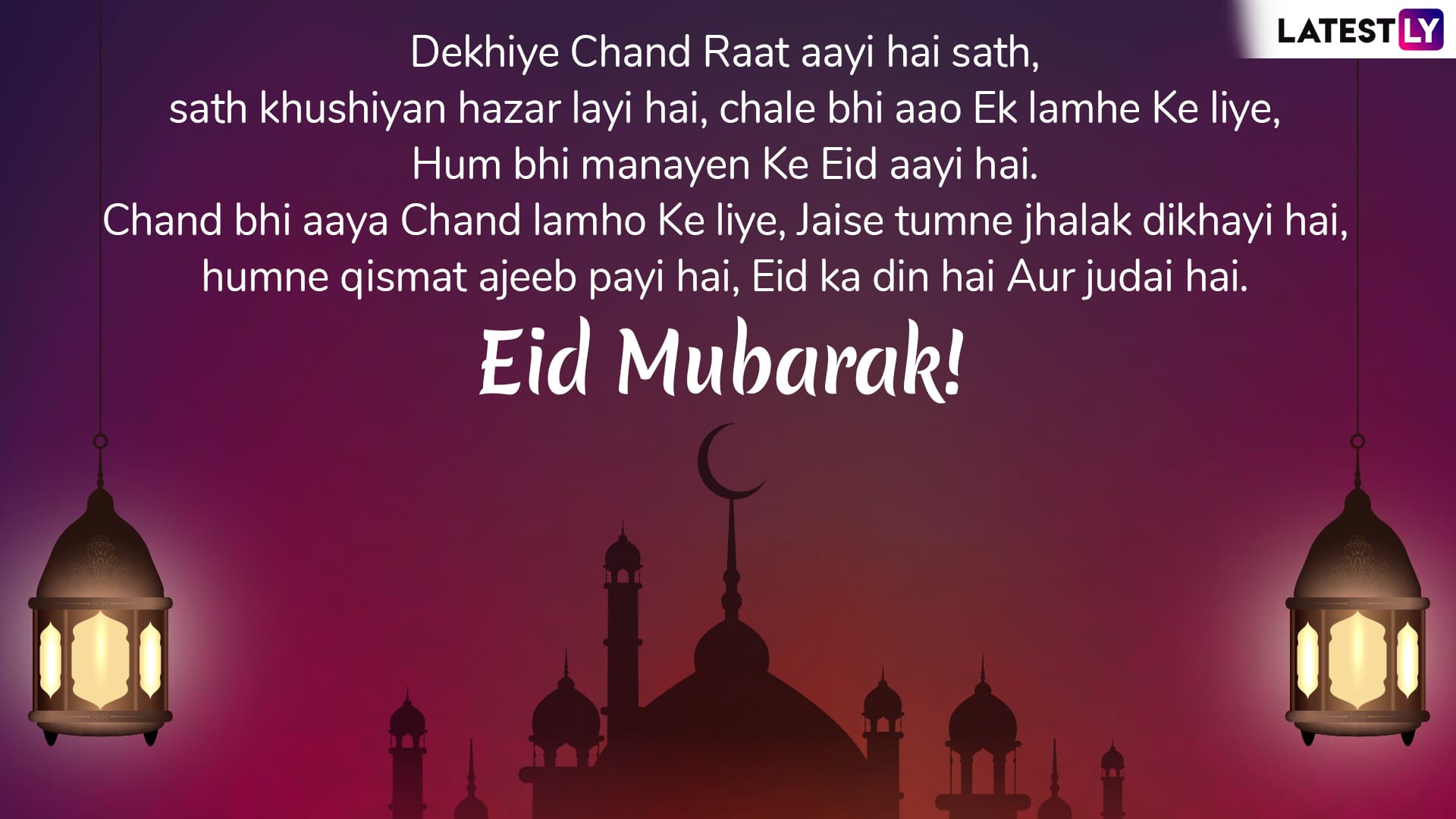 Eid Shayari Reads: Dekhiye Chand Raat aayi hai sath, sath khushiyan hazar layi hai, chale bhi aao Ek lamhe Ke liye, Hum bhi manayen Ke Eid aayi hai. Chand bhi aaya Chand lamho Ke liye, Jaise tumne jhalak dikhayi hai, humne qismat ajeeb payi hai, Eid ka din hai Aur judai hai. Eid Mubarak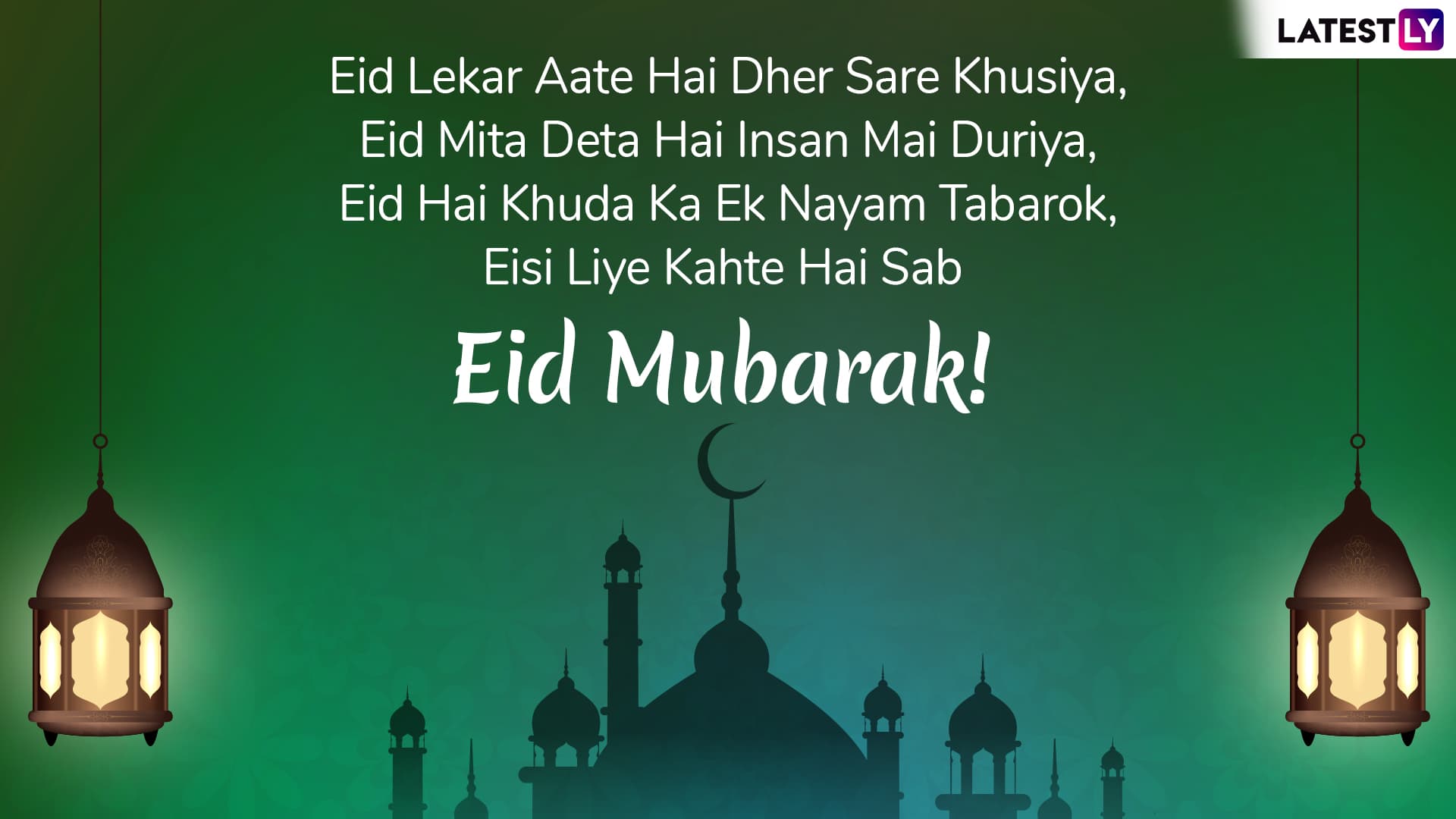 Eid Shayari Reads: Eid Lekar Aate Hai Dher Sare Khusiya, Eid Mita Deta Hai Insan Mai Duriya, Eid Hai Khuda Ka Ek Nayam Tabarok, Eisi Liye Kahte Hai Sab Eid Mubarak!
Eid Shayari Reads: Aao milaen aaj Eid ka din hai, Musarraton muskarahton deed ka din hai, Gellay bhulaen, dilon ko saaf ab kar laen, Ranjishon ko mitaen k saat-e-saeed ka din hai, Eid Mubarak!
Muslims prepare a grant feast on this day at homes. From kebabs, mutton biriyani to seviyans and faloodas, an array of dishes are prepared on the day of Eid. Some of the popular sweet dishes prepared on this day include shahi tukda, pista falooda and saviyan custard. Food is also distributed among the poor and needy. We wish everyone celebrating a Happy Eid 2019!
(The above story first appeared on LatestLY on Jun 04, 2019 12:11 PM IST. For more news and updates on politics, world, sports, entertainment and lifestyle, log on to our website latestly.com).