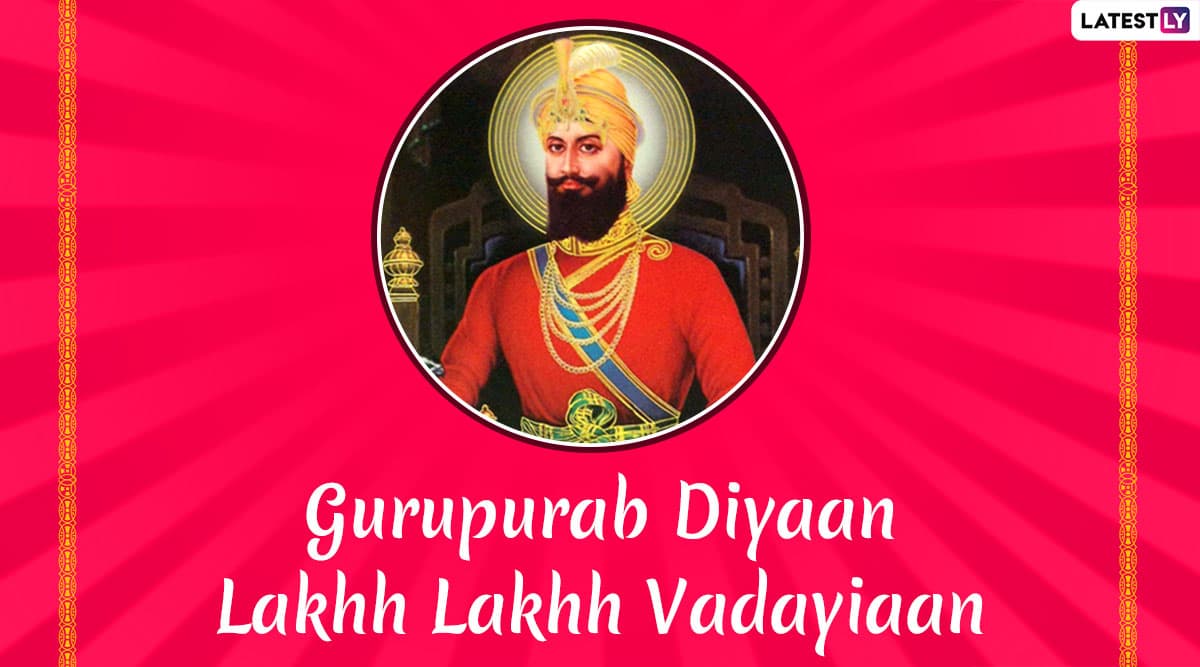 The year 2020, marks the 353rd birth anniversary of 10th Guru of Sikhs Sri Gobind Singh Ji. According to the Nanakshahi calendar, this year, the Parkash Purab of Guru Gobind Singh ji will be celebrated on January 2. Guru Gobind Singh ji was born on December 22, 1666, to the ninth Guru Sri Guru Teg Bahadur ji and Mata Gujri ji in Patna Sahib as Gobind Rai. He was also the last guru of Sikhs. After Guru Teg Bahadur ji was beheaded by the Mughals in Delhi for not converting into Islam, Guru Gobind Singh ji was formally installed as the leader of the Sikhs at age nine. Happy Gurpurab 2019 Wishes in Punjabi: Greetings, Messages, WhatsApp Stickers, SMS and Quotes to Wish Your Friends & Family on Guru Nanak Dev Ji's 550th Prakash Utsav.
On the occasion of Baisakhi in 1699, he founded Khalsa Panth, a Sikh Army, at Anandpur Sahib to fight against the Mughals. After founding the Khalsa Panth, the tenth Guru gave surname "Singh" – means lion to his followers. Guru Gobind Singh Ji also initiated the Five K's tradition of the Khalsa Panth. These Five Ks are – Kesh, Kangha, Kada, Kirpan and Kachhera. He sacrificed his entire family in the "Dharam Yudh" against the cruelty of Mughal Emperor Aurangzeb. On the ocassion of the Guru Gobind Singh Jayanti 2020, people wish each other on whats App, Facebook, Instagram. Guru Gobind Singh Jayanti Images & HD Wallpapers for Free Download Online.
Here Are Some of The Wishes:
Pargateyo Mard Agambada Vareyaam Akela,
Waah Waah Guru Gobind Singh Aape Gur Chela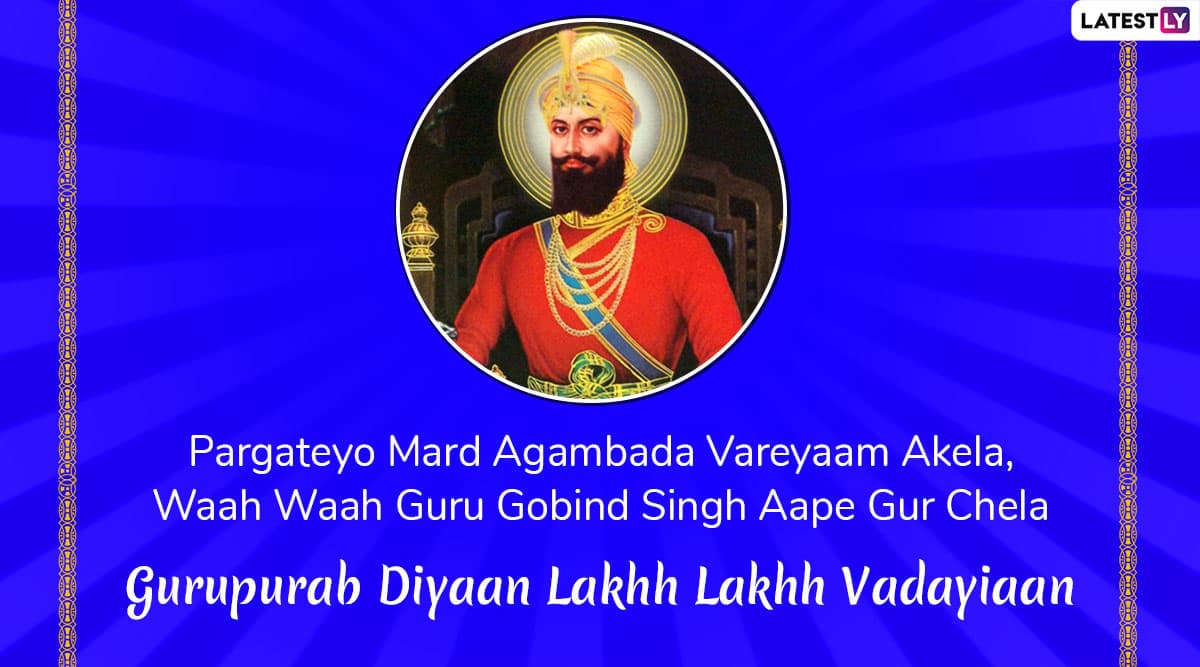 Waaho Waaho, Guru Gobind Singh Aape Gur Chela
Dhan Guru Teg Bahadur Sahib Ji Te Mata Gujri Ji De Lal,
Sache Paatshah Te Dashmesh Pita
Deh Shiva Bar Mohe Hai, Subh Karman To Kabh Hu Na Taro,
Na Daro Arr So Jab Jaaye Lado, Nishchaye Kar Apni Jeet Karo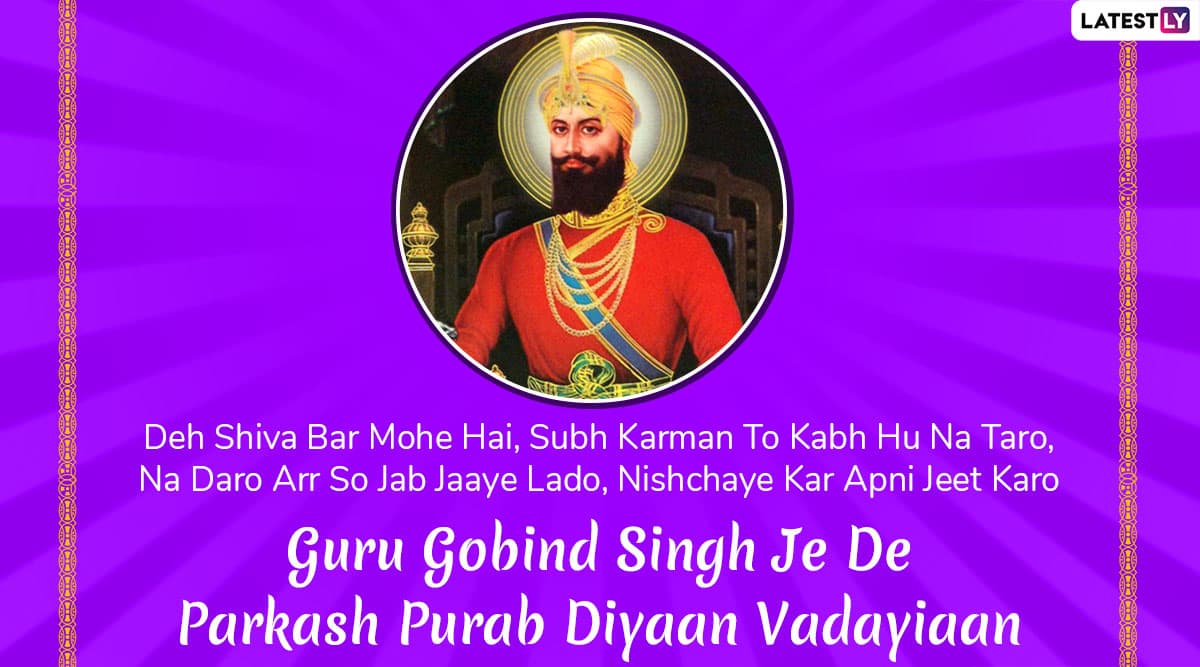 Tujanu Te Tuhade Parivaar Nu Guru Gobind Singh Ji De Parkash Puraba Diyaan Lakhh Lakhh Vadayian Hon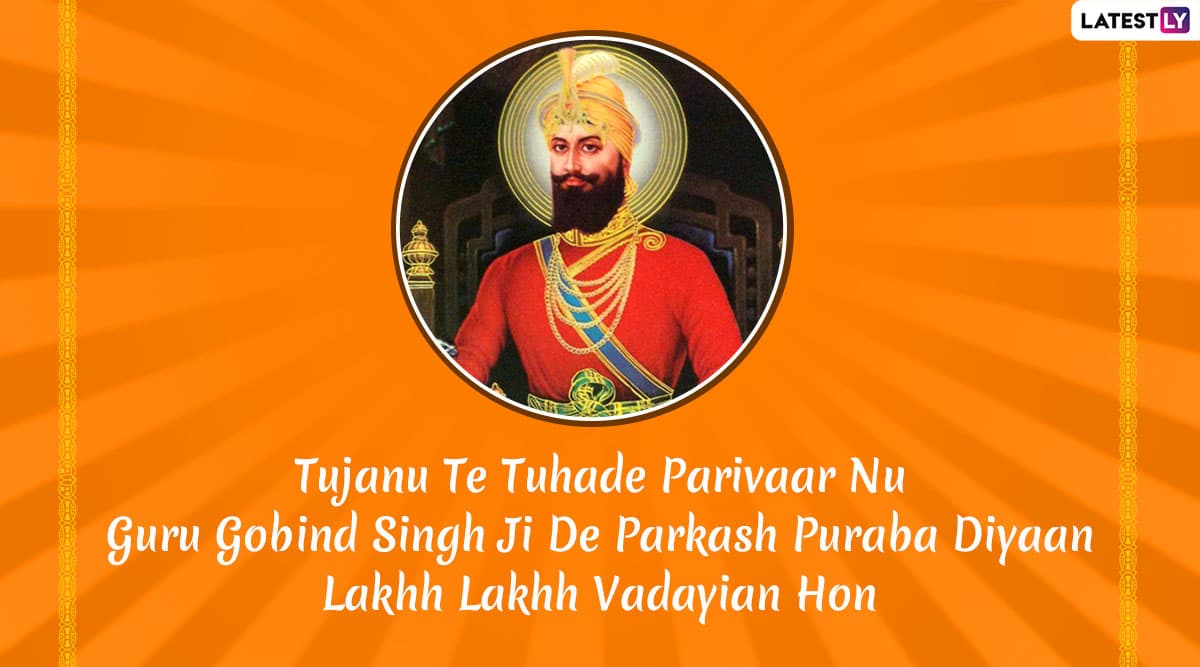 Guru Gobind Singh ji spent the last few years of his life at Nanded Sahib in Maharashtra. He left for heavenly abode on October 7, 1708. Sikhs mark Guru Gobind Singh Jayanti with processions, "Prabhat Pheris" - small processions which are taken out in the neighbourhood early in the morning in which Sikhs recite Shabad Kirtan. Different vibrant Sikh traditions, including Gatka are put on display. Devotees throng gurudwaras to seek blessings from the almighty on the occasion of Parkash Purab of Sri Gobind Singh ji.