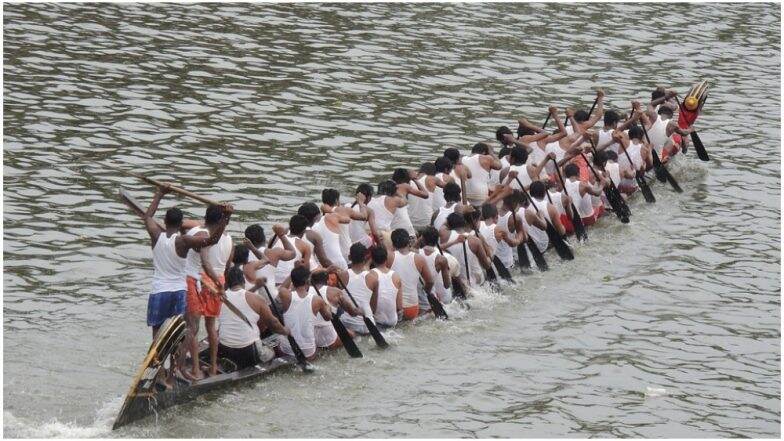 The 66th edition of Nehru Trophy Boat Race 2018 is all set to sail at the Punnamada backwaters today. While the boat race in Kerala generally happens in and around Onam, this year the event was postponed owing to the aftermath of devastating floods in August. As the state continues to recover from the consequences of the natural calamity, tourism has already jumped back to normalcy.
Meanwhile, 81 boats including 25 snake boats will wade on the world popular backwaters of Vembanad today. Celebrity guests for this year's event include South Indian actor Allu Arjun and his wife Sneha Reddy. The race was inaugurated by Governor P Sathasivam. You can live streaming of the event from 2:30 onwards here.
Origin and History of Kerala Nehru Trophy Boat Race
The origin of the boat race dates back to 300 BC when boat races were held on New Year's Eve. Called Vallam Kali in Malayalam, the traditional snake boat (Chundan Vallam) belongs to the community from the Kuttanadu region. These boats are generally 120 feet long and can accommodate 100-120 rowers.
The boat race is associated with former Prime Minister Jawaharlal Nehru following his visit t Alappuzha (Alleppey) in 1952. The first PM of Independent India came to Kottayam by a special boat and received a warm welcome in the region. The first boat race was an impromptu one held in the honour of Nehru's visit and a Nadubhagam Chundan won the race.
Impressed by the event, after reaching Delhi, he donated a silver trophy to the winning team. The trophy was a replica of snake boat on a wooden abacus and had "To the winner of the boat race which is a unique feature of community life in Travancore-Cochin" written on it. The race was earlier called as Prime Minister's Trophy but after Nehru's death, it was renamed as Nehru Trophy Boat Race.
During the times of Kings, Kings of Allepey fought with each other along the narrow lanes of the backwaters. Vanchipattu is an integral part of Kerala's boat race. They are songs and hymns about the race, village and its people that pump the rowers to win the race. They also have mythological stories and folklores attached to it.
Others attending this year's event include members of Indian Super League team Kerala Blasters, Union Minister of State for Culture and Thomas Isaac, Tourism Minister Kadakampally Surendran, Civil Supplies Minister P Thilothaman, Public Works Minister G Sudhakaran, Leader of the Opposition Ramesh Chennithala. Also this year, for the first time, transgender people have been deployed as volunteers to make arrangements at the pavilion.