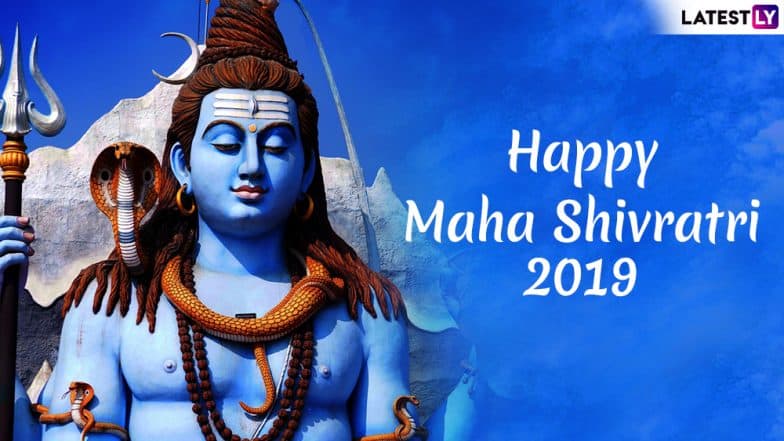 The 'Great Night of Shiva' has arrived. Mahashivratri, also spelt as Maha Shivratri will be celebrated on March 4, 2019 (Monday). If the chants of 'Bam Bam Bhole' and 'Om Namah Shivaya' fills up the air, then powerful Mahashivratri 2019 messages and beautiful Shankar Bhagwan images and WhatsApp Stickers flood our inbox. Sending warm greetings on festivals is a new-age ritual that people follow religiously. Mahashivratri celebrations are no different as people wish for Lord Shiva to shower everyone with his divine blessings. On this auspicious day of Lord Shiva, we bring you a collection of Shankar Bhagwan images, Mahashivratri wishes, Maha Shivratri messages, Lord Shiva quotes, Mahadev WhatsApp Stickers, Happy Maha Shivratri GIF videos, and more. Maha Shivratri Images & Lord Shiva HD Wallpapers for Free Download Online: Wish Happy Mahashivratri 2019 With WhatsApp Sticker Messages and GIF Greetings.
Gods, humans, demons, and just about everyone reveres Lord Shiva. He is called Mahadev, i.e. God of Gods and is viewed as the embodiment of Supreme Godhead. No one knows about his origin and is believed to be present forever. The 'Destroyer' within the Holy Trinity (Trimurti) formed along with Vishnu (preserver) and Brahma (creator), Lord Shiva is worshipped in the form of Linga which is symbolic of the source of all cosmos. Mahadev is everything – a yogi who is also an epitome of family man, his anger is limitless though he is easy to please. Those who are seeking to attain his blessings, they must know Lord Shiva seeks honesty and purity of mind and soul in his devotees.
On the auspicious occasion of Mahashivaratri, greet your family and friends and by sending blessings and good wishes online! There are many ways to do it. You have a list of Mahashivratri text messages, Mahadeva photos, Shankar Bhagwan images, Om Namah Shivay GIF greetings, Shivratri WhatsApp Stickers, Mahashivratri wishes, Mahashivratri greetings, Mahashivratri images with text messages, and more. These photos and text can be used both to send sweet greetings to your loved ones as well as set as background wallpaper on your desktop and mobile, post it on Facebook wall, set it as WhatsApp DP, WhatsApp and Facebook status as well as be posted on Instagram and Twitter along with 'Happy Mahashivratri 2019' caption.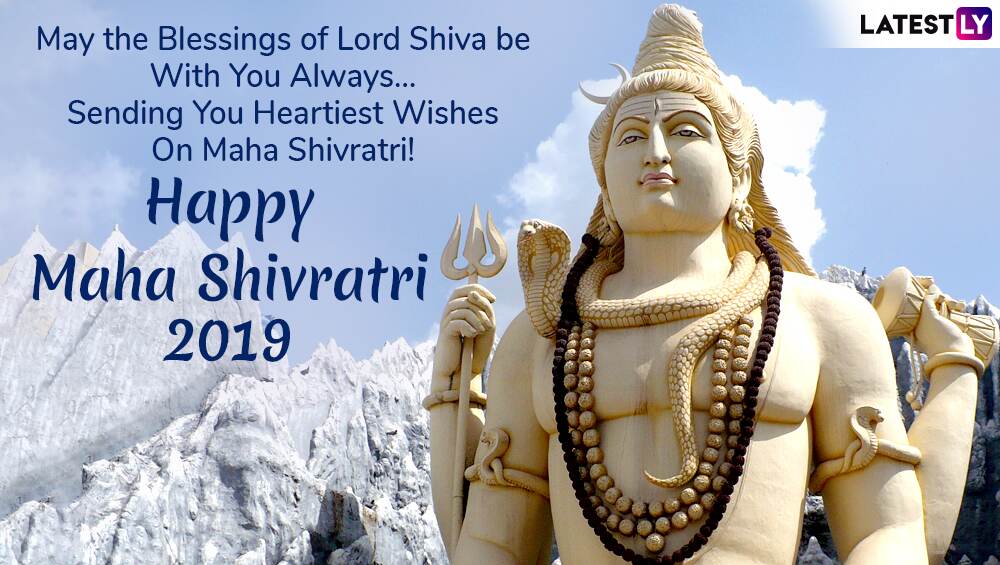 WhatsApp Message Reads: May the Blessings of Lord Shiva Be With You Always…Sending You Heartiest Wishes On Maha Shivratri! Happy Maha Shivratri 2019.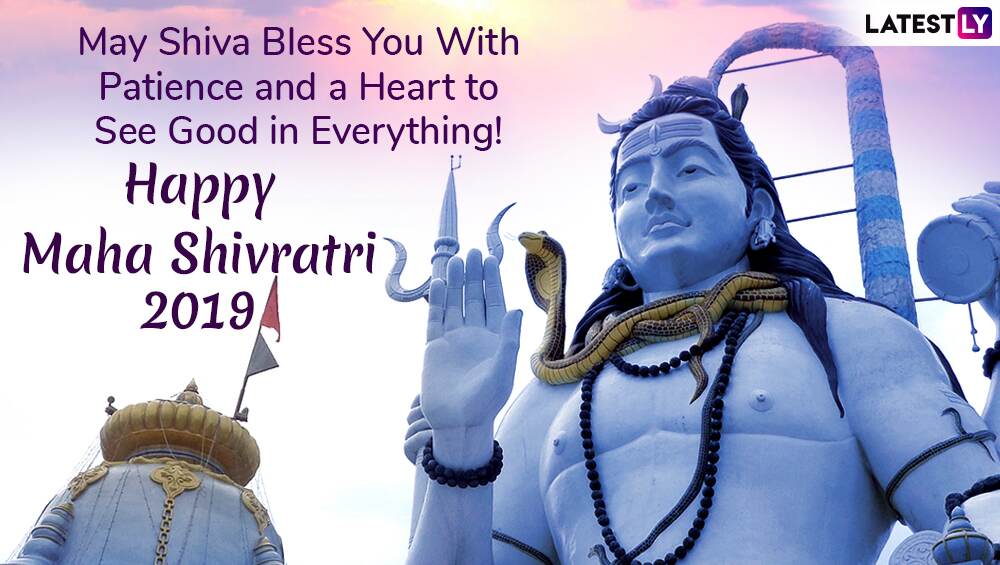 WhatsApp Message Reads: May Shiva Bless You With Patience and a Heart to See Good in Everything! Happy Maha Shivratri 2019.
WhatsApp Message Reads: Celebrate Maha Shivratri the festival of Lord Shiva. Spread the message of honesty and love through this world on this day when Lord Shiva descended on this earth to kill evil. Wish you a very Happy Maha Shivratri 2019.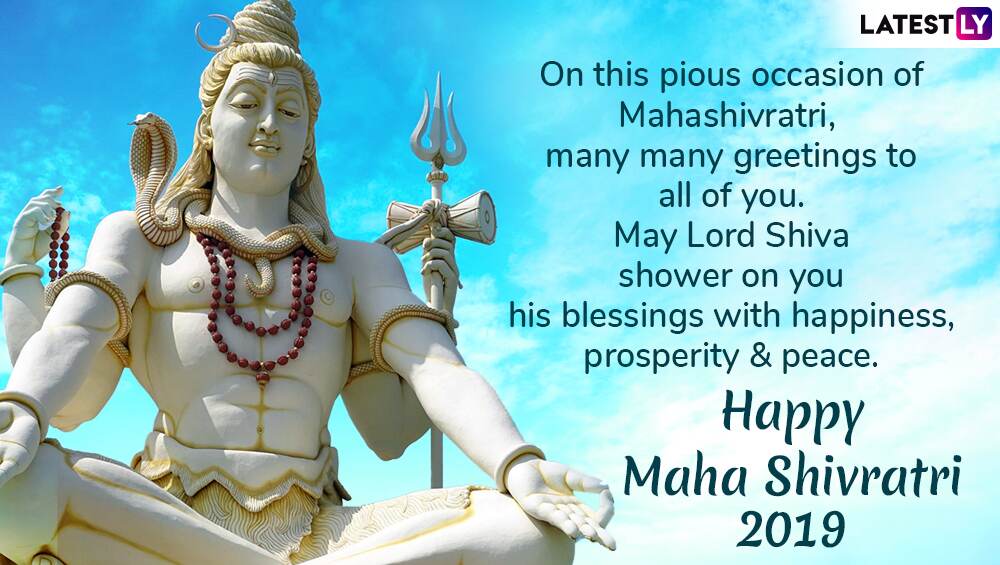 WhatsApp Message Reads: On this pious occasion of Mahashivratri, many many greetings to all of you. May Lord Shiva shower on you his blessings with happiness, prosperity & peace. Happy Maha Shivratri 2019.
WhatsApp Message Reads: May the blessings of Lord Shiva be showered on you this Maha Shivratri. Happy Maha Shivratri 2019.
WhatsApp Message Reads: May this Shivratri bring blessings to you and your family. May the almighty Lord Shiva bless you with all good things. Happy Maha Shivratri 2019!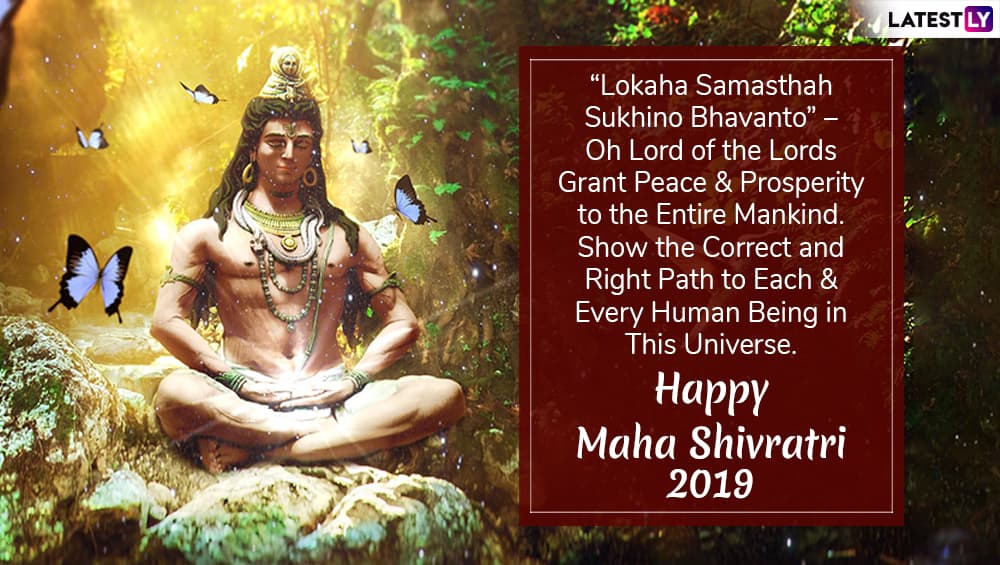 WhatsApp Message Reads: Lokaha Samasthah Sukhino Bhavanto" – Oh Lord of the Lords Grant Peace & Prosperity to the Entire Mankind. Show the Correct and Right Path to Each & Every Human Being in This Universe. Happy Maha Shivratri 2019
Download Maha Shivaratri 2019 WhatsApp Stickers
The craze for WhatsApp Stickers will only rise on Mahashivaratri 2019 because it will provide people with a wide range of Lord Shiva avatars. You can download Shivratri Stickers app and use it to wish a Happy Maha Shivratri. You can download it HERE.
So, that was it from our end for this article on 'Mahashivratri 2019 messages'. We have been doing full coverage of Maha Shivratri festival and bringing you everything from in-depth topics such as Mahashivratri vrat time and puja vidhi, things to be avoided while worshipping, know everything about 12 Jyotirlinga, Mahashivratri images and wallpapers HD for free download and wishes in Hindi. Keep glued to LatestLY as we next bring more exciting topics such as Shiva Tandava, and more.