Nag Panchami 2019 is being celebrated today. Naga Panchami is celebrated on the fifth day of the bright half of the Hindu lunar month of Shravan. This year it is being celebrated on Monday, August 5. On this day, devotees worship snakes or serpents, who they call Nag devta. They offer milk to the serpent God and pray for blessings from snakes, considered God in Hinduism. People also send blessings to their loved ones in the form of Nag Panchami wishes and messages in English, Hindi, Sanskrit and other languages. Nag Panchami 2019 Date: Significance, Rituals, Traditions Related to the Day to Worship Snakes.
The names of twelve snakes which are worshipped on Nag Panchami include Ananta, Vasuki, Shesha, Padma, Kambala, Karkotaka, Ashvatara, Dhritarashtra, Shankhapala, Kaliya, Takshaka and Pingala. It is said that a person gets good fortune by offering milk and prayers to the serpent God and also offering prayers to Lord Shiva and Vishnu on the occasion of Nag Panchami. LatestLY brings you Nag Panchami wishes, greetings, WhatsApp messages, stickers and quotes in Hindi to share on this auspicious day.
Nag Panchami wishes in Hindi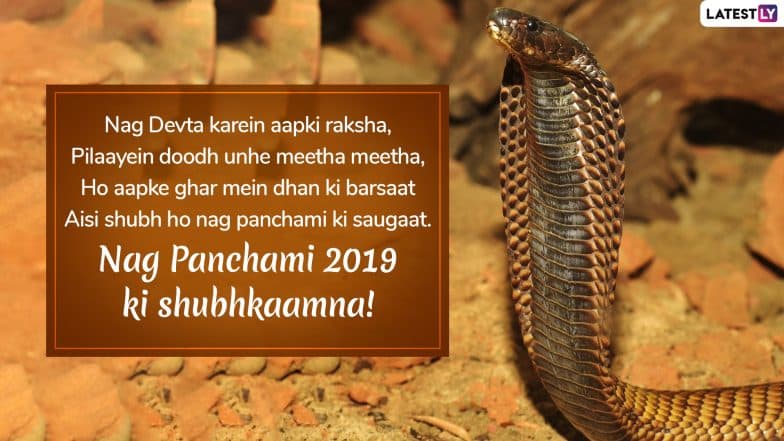 WhatsApp message reads: Nag Devta karein aapki raksha, pilaayein doodh unhe meetha meetha, ho aapke ghar mein dhan ki barsaat, aisi shubh ho nag panchami ki saugaat. Nag Panchami 2019 ki shubhkaamna!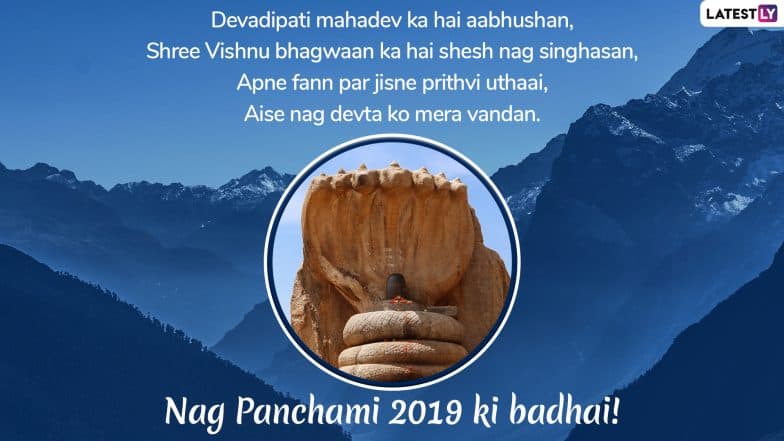 WhatsApp message reads: Devadipati mahadev ka hai aabhushan, Shree Vishnu bhagwaan ka hai shesh nag singhasan, apne fann par jisne prithvi uthaai, aise nag devta ko mera vandan. Nag Panchami 2019 ki badhai!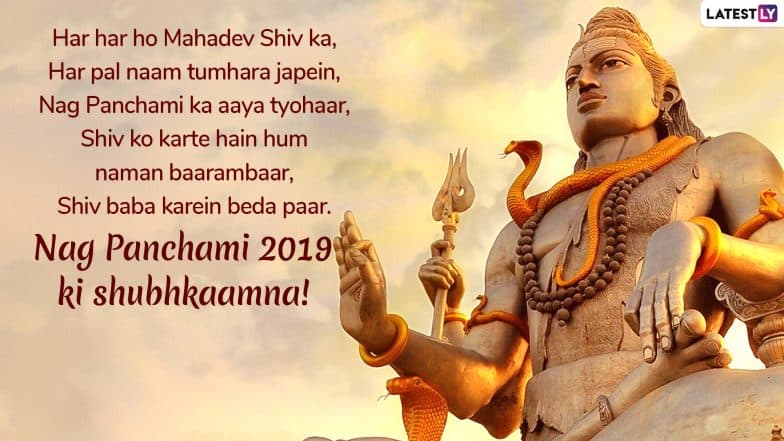 WhatsApp message reads: Har har ho Mahadev Shiv ka, har pal naam tumhara japein, Nag Panchami ka aaya tyohaar, Shiv ko karte hain hum naman baarambaar, Shiv baba karein beda paar. Nag Panchami 2019 ki shubhkaamna!
WhatsApp message reads: Gale mein Shiv Baba ke viraaje Nag, apne fann par rakhe hain prithvi ko, aise hain shaktishali devta hamaare Nag, inke charno mein hamaara koti koti pranaam. Nag Panchami 2019 ka badhaai!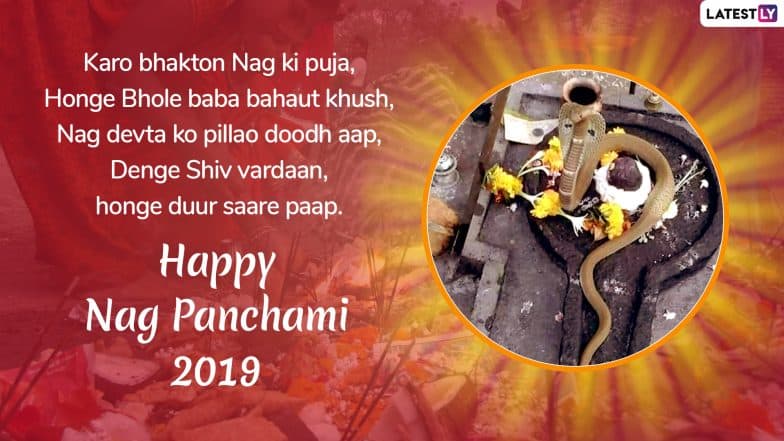 WhatsApp message reads: Karo bhakton Nag ki puja, honge Bhole baba bahaut khush, nag devta ko pillao doodh aap, denge Shiv vardaan, honge duur saare paap. Happy Nag Panchami 2019!
While North India observes Nag Panchami on the Shukla Paksha Panchami of the Shravan month, in Gujarat, it is observed 15 days after the rest of the other states. According to new moon lunar calendar followed in Gujarat, Nag Panchami falls during Krishna Paksha Panchami of Shravana month. LatestLY extends Nag Panchami 2019 wishes to all its readers.
(The above story first appeared on LatestLY on Aug 05, 2019 06:00 AM IST. For more news and updates on politics, world, sports, entertainment and lifestyle, log on to our website latestly.com).