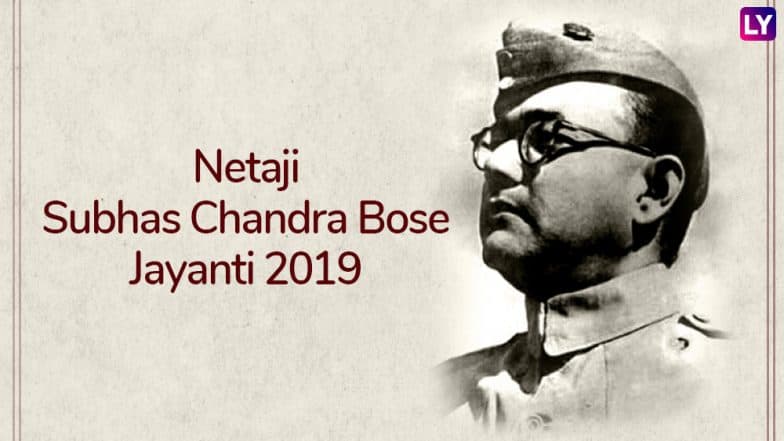 Subhas Chandra Bose was one of the prominent freedom fighters who contributed greatly to the Indian freedom struggle. He was born on January 23, 1897, in Cuttack, Orissa and belonged to a family of an advocate. A bright student and a string follower of Swami Vivekananda, he stressed the importance of religion. He was deeply influenced by the behaviour of the British towards the countrymen, along with the outbreak of World War I and it fuelled it nationalism. He was so committed to his stance that upon completing his ICS examination, he did not return to service under the British government. He quit and turned himself completely to nationalism. January 23, 2019, marks the 122nd birth anniversary of the great leader. On Netaji Subhas Chandra Jayanti, let us know some more facts about him. PM Narendra Modi Asks Crowd at Port Blair Rally to Switch On Mobiles' Flashlights as Tribute to Netaji Subhas Chandra Bose; Watch Video.
Subhas Chandra Bose was a brilliant student and displayed a patriotic zeal within him from an early age. His political career was no short of ups and downs. He was associated with the Indian National Congress in the year 1922. He started the newspaper called Swaraj. But during 1928 in a parliamentary session, there was a difference of opinion between the old and new members of the Congress, Bose thus quit the party in 1939. His great contribution was the formation of the Indian National Army (INA) during India's struggle for independence. 6 Inspirational Sayings by the Great Indian Philosopher Swami Vivekananda on His 156th Birth Anniversary.
Some More Facts About Netaji Subhas Chandra Bose
Subhas Chandra Bose started his political stance when he took charge of the publicity for the Bengal Provincial Congress Committee. In the year 1923, he became the President of All India Youth Congress and also the Secretary of Bengal State Congress. He also served as the Mayor of Calcutta in the year 1930 for a little while.

The honorific title of Netaji which means a 'Respected Leader' was granted to Subhas Chandra Bose in the early 1940s by the Indian soldiers of the Indische Legion and by the German and Indian officials in the Special Bureau for India in Berlin. The name stayed throughout the country later on. 

"Tum Mujhe Khoon Do, Me Tumhe Azaadi Dunga" (Give me blood, and I shall give you freedom!) is the most famous quote given by Netaji Bose. He said this during a motivational speech for the Indian National Army at a rally of Indians in Burma on 4 July 1944.

Bose's vision of Independent India was discussed with great thinkers in England. Although Indian freedom struggle was against the Britishers, Bose was impressed by their structured way of life. He spoke with political thinkers from England about possibilities of Independent India.

Subhas Chandra Bose featured on the Indian stamps during the years 1964, 1993, 1997, 2001, 2016 and 2018. Recently, an island in Andaman and Nicobar, formerly known as Ross Island was renamed to Netaji Subhash Chandra Bose Island.
Netaji Subhas Chandra Bose died on 18 August 1945, but the exact cause of his death still remains a mystery. It is said to be caused by a plane crash in Japan. Conspiracy theories ruled around the time of his death, whether Bose died due to an accidental plane crash or was it a plotted death. Subhas Chandra Bose's leadership was respected not just by the Indian fighters but also the Japanese were deeply moved by his ways of leading the country towards independence.