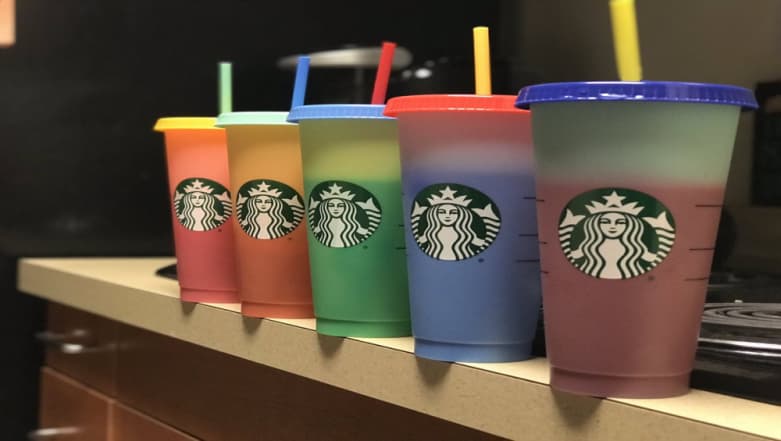 Just in time for summer, famous coffee chain Starbucks has added a new addition on their stacks and people are going crazy. They have introduced a new set of reusable cups and what's so crazy about them is they change colours. Ardent lovers of their ice teas are going crazy with the newest colourful range and in some stores, these cups are already off the racks. Currently, the reusable colourful cups are available in all stores across the US and Canada but are selling out fast. People on social media were also too excited to add these to their collection. McDonald's Moves to Eco-Friendly Straws; Old Plastic Straws Sold for £1,000 on eBay While Thousands Sign Petition to Bring Them Back.
These cups come in five packs and priced at $16.95. They have reusable straws and lids over them and the unique colour changes with the temperature of the cup. Starbucks Indonesia Creates Breast Cancer-Themed Pink Drinks For Awareness About #PINKVOICE Campaign.
The colours of the cups are:
Rose - changes from pink to red

Citron - changes from yellow to green

Sky - changes from light to dark blue

Apricot - changes from light to dark orange

Arctic -  changes from turquoise to magenta.
Since they are reusable they help to decrease the plastic waste. According to Starbucks, customers who bring these cups for their order will get a 10 cents off the price of their drinks. The rainbow range tumblers are already getting all the love on social media.
Check Tweets About Starbucks' Colourful Reusable Cups:
if you're a slut for iced coffee and saving the environment (like me), Starbucks is selling a reusable color changing cup set. 5 cups, lids, and straws and you save when you bring them in 💓💓 pic.twitter.com/GZ5DcZZlCF

— kay (@kaylaisblisss) April 30, 2019
Prettiest cups for the environment are here
THESES ARE THE PRETTIEST CUPS TO USE TO SAVE THE ENVIRONMENT pic.twitter.com/RYoJkO3OiG

— Pay (@payton_watson22) May 1, 2019
People are obsessed 
Starbucks literally has color changing cups and I'm so obsessed pic.twitter.com/LuA6fUZEMA

— 🐝 (@ba1leye) April 29, 2019
literally obsessed 😭 pic.twitter.com/PG1Jarzpsz

— kay (@kaylaisblisss) April 30, 2019
Drooling over the new color changing Starbucks cups! ❤️🧡💛💚💙

— Meg Reynolds (@MegReynolds_21) May 1, 2019
Soon as the tweet went viral, people headed to the coffee shop to get their hands on the newest range of cups. Some stores are already out of stock and disappointed customers are also asking on Twitter where they can get their hands on these cups. So this one's an instant hit. Starbucks has successfully brought in a way to beat the summer heat with colour pop.