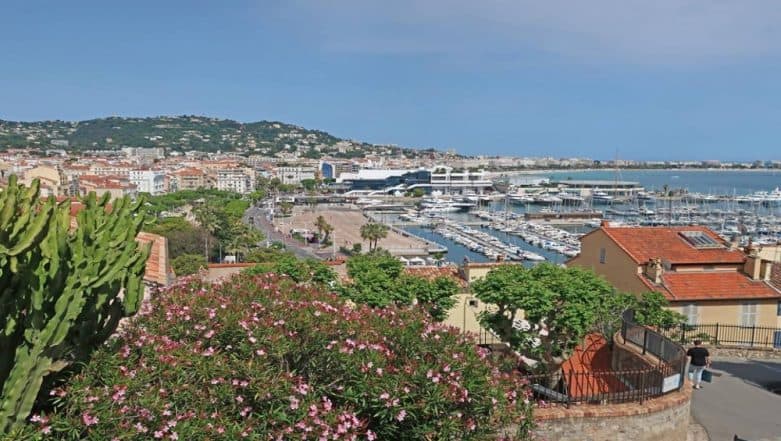 The lovely city etched on French Riviera, the city of Cannes is back to the headlines, for being an annual host to one of the most privileged events of the Cannes Film Festival. The International Film Festival has made a notable contribution to put this city on the global map. And there is definitely more to visit and explore in this city other than attending the coveted Festival de Cannes. Since Cannes 2019 is already trending with its beginning in the oncoming week, we thought of getting you some tips to travel here. Read further to know the best time to visit, the weather of the place and how to best explore this little city with major luxury feels. Cannes Travel Guide: Ahead of Festival De Cannes 2019, Know Places to Visit and Activities to Do in This City on French Riviera.
How to Reach Cannes
The easiest way to reach Cannes is taking the air route until Nice airport. There is a regular bus service that runs between Nice Cote d'Azur airport and Cannes. The distance of 28 kms is covered in about 45-50 minutes. Other suitable airports to reach France are  Cannes Mandelieu (local) and Marseille Provence.
Alternately, you can reach Cannes by taking a road trip on the European roadways. You can take the A8 Esterel Motorways which also connects to the cities of Nice and Monaco. There are taxi services available. Although it is convenient, the cost is expensive.
Cannes is located on the Marseille-Nice railway, so you could also opt for train transport. It is easily accessible from the cities of Paris, Marseille, Basel, Milan, Venice and Rome, Brussels by the Trans-Europe Express (TEE).
Weather of Cannes, Best Time to Visit
The city of Cannes enjoys a Mediterranean climate throughout. So the summers are not too harsh and the winters are mild. It rains typically during the months of October and November. So, summer season ie from May to September is a good time to visit this city. You can also explore the small city on foot, without worrying about the harsh sunny weather. July to September is also a convenient time to enjoy the beachsides. The temperatures here start dipping towards the end of the year. If you want to save some money, then winters are the best.
Watch Video of Places to Visit in Cannes City:
Cities Around Cannes
Cannes is not too big a city to explore. So you can very well plan a good trip in the cities around. The famous cities to explore would be Nice, Monaco, Antibes, Monte Carlo, Menton. There are also little French villages here which can be a delight to go through.
Other Tips
The native language here is French, so before visiting know at least the basics of French which can help you communicate with the locals. Learn quick phrases to blend in with the people.

There are several rental agencies which can provide you with city tours and packages. If you are in a group then this is a good option.

Cannes is good to explore on foot. So if you don't mind walking some kilometers, you can enjoy the stroll.

Most hotels, restaurants and clubs here are on the expensive side. So make sure you plan your trip well financially.

On a certain day of the week, tourist places have free entry. So research a bit and find out which day you can enjoy a free excursion.

If you want to stick to a budget, then you can enjoy a day trip here and stay a little farther away from the city.
We hope the above pointers help you to sort out your trip to Cannes. Plan a trip well in advance because during the peak summers and the festival season, the rates escalate. Hope you have a lovely time exploring through the cinema city, but something other than just cinema.