When it comes to buying and selling things online, the first thing that comes to our mind is- OLX and Quikr, thanks to their robust marketing. However, buying and selling on any of these classified sites is not as easy as it is shown in the advertisements. There are several scams and numerous people get duped on these sites every day. With the growth of digital payment portals, like Google Pay, BHIM, PayTM and others, fraudsters have found new ways to cheat people. Amitabh Bachchan's Old Car Mercedes Benz S-Class is on Sale on OLX For Rs 9.9 Lakh!
Wondering how it works? From the moment you post an ad for selling, you will start getting calls from prospective buyers. Many of these will be fake, and will call with the only intention to cheat you. From posing as Indian Army man, so busy with his work that he won't be able to come and personally see the product, to urging the seller to bear the cost of transportation/courier and send the product, such fake users are many.
View the screenshot of fake buyer posing as Indian Army personnel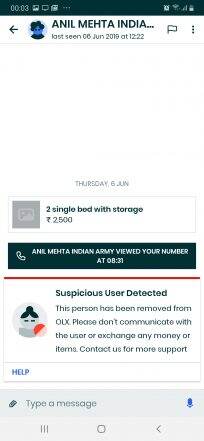 If you are a buyer, things are no less different, it is just that the modus operandi may vary. Sellers posing as men in uniform wanting to share expensive cars, gadgets at lucrative rates are out in the market. If the customer is well educated and wants to see the documents, the fraudsters prepare a set of fictitious documents and urge the buyer to make the payment online.
Check the screenshot of a suspicious user blocked by OLX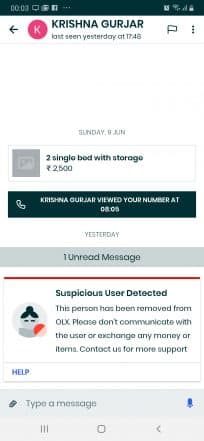 If you happen to fall prey to their tricks and you end up sharing your Google Pay id, these scamsters will withdraw all the money in your account and will immediately switch off these phones, thus, making it extremely difficult to track.
There are certain red flags which you should keep in mind before making any transactions on any of the classified sites:-
Double-check if a person is too eager to buy your product and is willing to buy it even without seeing the product.

If the person is okay with the price which you have quoted and doesn't show any interest in bargaining

If the person insists on making the payment only Via PayTM or Google Pay, instead of cash.

If a person cites an excuse- I am too busy at work, so I can't come to see the product

If the person wants you to pay the transportation/courier charge
Things to remember:
Never pay anything in advance, it is a favourite with fraudsters.

Never share your personal details

If you doubt the buyer, report immediately and don't entertain him/her further

Never click on any links shared by the buyers on your mobile or on your email

Always see the product before buying things from the site

Don't believe in any offer which is too good to be true.
So stay alert and don't fall prey to any of the tricks by the fraudsters who are on a prowl to cheat your hard-earned money.