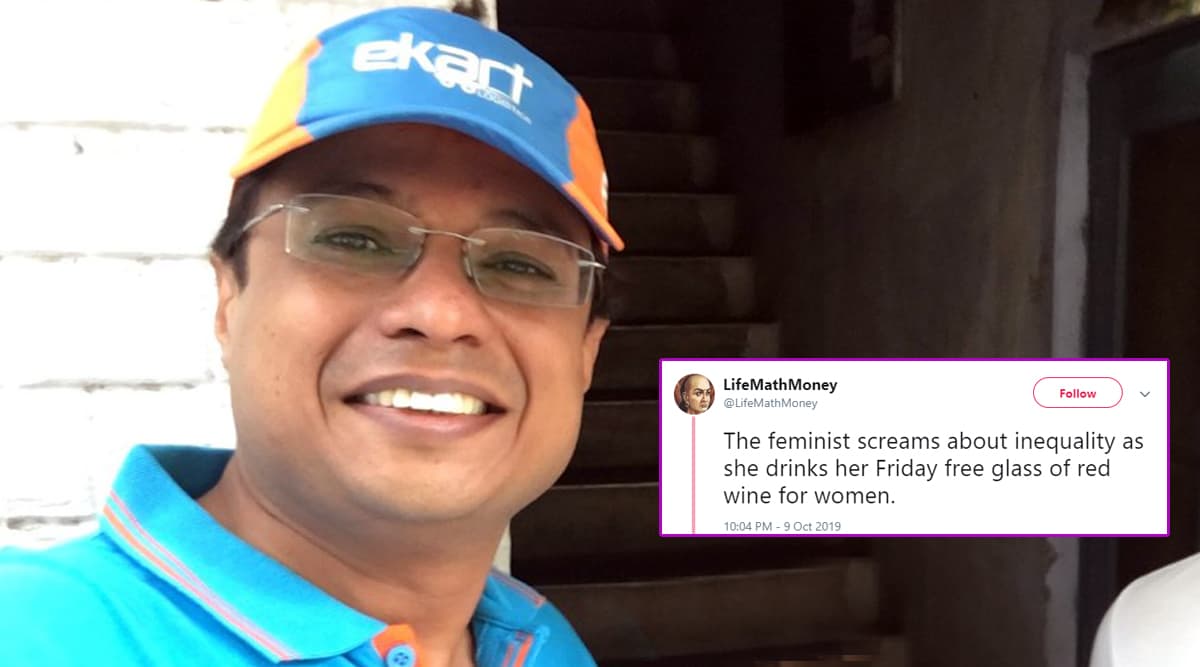 People's impressions about each other are created from their social media profiles these days; after all, that is where we all are most active. Likewise, Flipkart co-founder Sachin Bansal received a lot of flak after he shared a Twitter handle and specifically asked men to follow it. The account he suggested posts sexist and misogynistic content and Twitter users slammed Bansal for his suggestion.
Bansal tweeted about an account called @LifeMathMoney two days ago and said that men could learn a lot from it. He added that women could follow the account too if they want. Twitterati decided to check out for themselves what the account is all about and came across some really sexist tweets, targetting women. Twitter users decided to school Bansal on promoting such thoughts. Sexist, Senseless, Crass: 10 Most Mindless Statements by Indian Politicians in 2018.
Check Sachin Bansal's Tweet on Recommending The Twitter Account:
One of the accounts I recommend that all men on twitter follow is @LifeMathMoney

He will teach you many things you need to know.

Women can follow if too, if they want.

— Sachin Bansal (@_sachinbansal) October 9, 2019
Here Are Some Sexist Tweets From The Said Account:
Ugly and Pretty Women
What's the difference between ugly women and pretty women?

Pretty girls feel everyone is helpful and life is easy while ugly girls feel like men.

Ironically, the latter fights for equality.

— LifeMathMoney (@LifeMathMoney) October 3, 2019
Targetting Feminism
Entrepreneurs gotta love feminism.

- Single women consume more because they're alone and less happy.

- All the extra divorce means more weddings, and weddings are great business.

- Working women double the labour force, reducing salary outgoes.

What's not to like?

— LifeMathMoney (@LifeMathMoney) October 6, 2019
The feminist screams about inequality as she drinks her Friday free glass of red wine for women.

— LifeMathMoney (@LifeMathMoney) October 10, 2019
And while the account keeps other motivational and inspiring quotes too they were quick to spot these glaringly sexist tweets. Angry reactions soon started coming in against Bansal for promoting such an account.
Are You Serious?
Are you seriously recommending this account? This is absolute misogyny in many tweets.

— Kiran Manral (@KiranManral) October 10, 2019
Absolute Misogyny
"Women can follow if too, if they want, after they have finished making us a sandwich."

— Kajol Srinivasan (@LOLrakshak) October 10, 2019
What Are You Endorsing Exactly?
interesting to see you recommend an account that endorses marital rape, among other things.

— Kavitha Rao (@kavitharao) October 10, 2019
All Marked
Misogyny - check ! Sexism - check !

Indian Online Retail Co-founder who doesn't get schooled on basic human rights - check- check-check !

— Ananya Agni (@anan1295) October 11, 2019
It is indeed shocking to see such a great entrepreneur promoting such thoughts to more than 1.5 lakh people. At other times, he tweets positive and motivating quotes like a life coach himself, but his suggestion is definitely not taken lightly by people on the internet.