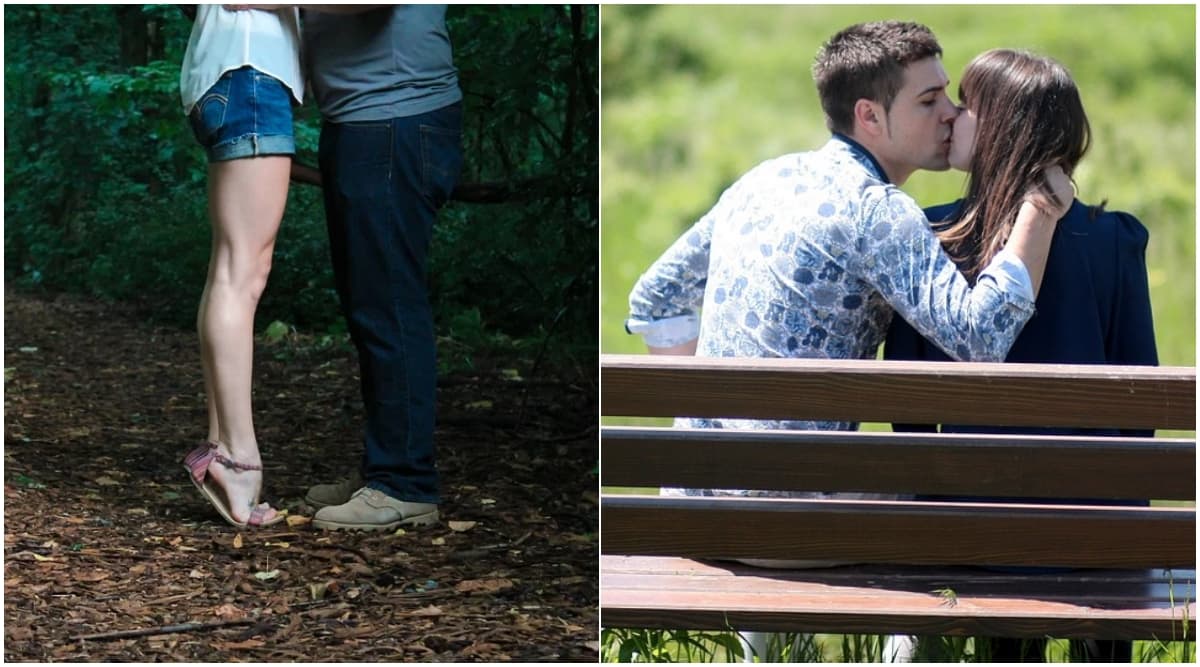 Gone are the days when people were shy to talk about or divulge into personal life details. Now with broadening minds, people are open to talk about it even in public. A fun tweet talking of making out in risky places has got a lot of funny responses. People are sharing the places that they have made out at. While some seem to be quiet common, like washroom and elevators, few people had some weird responses and experiences. Funnier are the ones, who have never made out as yet and were responding to all the comments. Delhi Couple Caught Making Out on Bike in Rajouri Garden; IPS Shares Video, Asks For New Traffic Regulations.
Not to forget, several couples making out in public have been exposed and taken action against in the country. A Twitter user @baskehdiya tweeted how making out in risky places is "greater than" (better than) that in a comfort zone. Soon as more and more people joined in to share the places they have made out at, the tweet became viral. Mall washrooms, changing rooms, back of a car, elevators were some of the common answers. Netizens Are Replacing Dil With D**k in Hindi Songs And The Results Are Hilarious… If You Have a Dirty Mind.
Check the Viral Tweet Here:
Making out in risky places>>>>>>>> comfort zone.

— Ko (@baskehdiya) January 11, 2020
Classroom Memories for Many
In an empty classroom with the teacher very close. https://t.co/Z7BewjX3aO

— Where's the discourse tonight? (@Kcchaturvedi13) January 12, 2020
Made out in class with students and a teacher https://t.co/UmbeKbAsWM

— کائنات (@kh899234048) January 12, 2020
Fire Exits for Inner Fire!
Mall fire exits FTW https://t.co/t7IeVXIxfK

— diary of a wimpy b¡tch (@shivaniii_) January 12, 2020
Among the Dead?
I made out in a cemetery once (Unknowingly, in my defence) https://t.co/zWFsFI41Al

— Sagar Dattani (@Subpar_Dattani) January 12, 2020
Someone Got More Than Just Pizza!
Made out in a pizzeria kitchen with the chef https://t.co/azzzPTNpAn

— Vanshoe (@thevanforyou) January 11, 2020
Umm Stinky!
Made out in a train washroom https://t.co/jwl9AFhcKw

— Tanuja Yadav (@ae_ajnabi_) January 12, 2020
Nothing Bothers
Made out outside a cafe. Found out my senior/ assistant professor was sitting right behind me. Then we resumed to making out again. https://t.co/6SO9AhufW7

— 🌿 (@dhrutzpah) January 12, 2020
This One Wins!
made out of bed today https://t.co/9CJVHgDIUG

— Terayaarbolda (@guitarnahiaata) January 12, 2020
The Responses Have Got Some People Like...
Me after reading all the comments pic.twitter.com/iVuzzYHi6h

— RS (@AwaraRish) January 12, 2020
Such fun tweets keep coming up every few days on this microblogging platform and soon evolve into a trend. This also reminds us of the time when a Twitter user revealed that she has kissed a stranger at Eiffel Tower for a picture and many others joined in. It became a viral Twitter thread where many others revealed they have resorted to this technique.