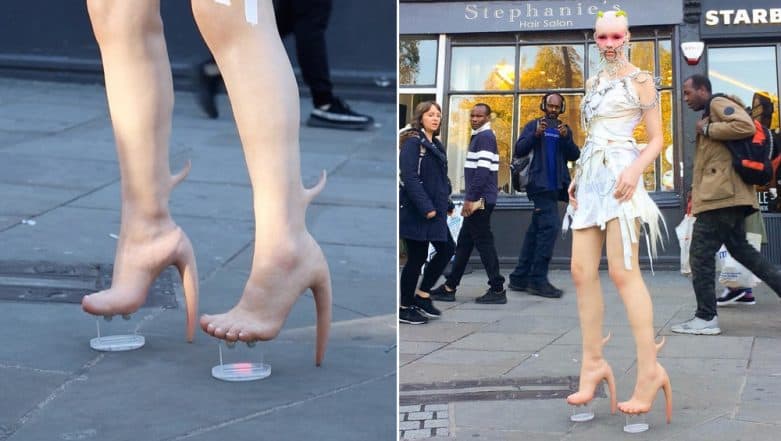 The time for Halloween sees of the weirdest fashions coming in the market. It is not just the clothing but a lot of accessories too start flooding the shops. A Canadian fashion label Matieres Fecales which translates to Fecal Matter, has seized the opportunity to introduce one of the creepiest shoes one would've ever seen for Halloween 2018. These thigh high boots look like human skin and have devil horns for the toes. The shoes are so unthinkable that people are divided on whether to appreciate the creep factor or completely dismiss them. And what's more shocking is the price of these boots. This bizarre-looking pair of boots cost $10,000! Nordstorm is Selling 'Taped Up' Sneakers for Rs 41000! Netizens are Losing Their Cool Against The Brand for Glorifying Poverty. 
These boots are a just perfect addition to Halloween costumes, with an extra bone-like structure protruding on them. Designers Hannah Rose Dalton and Steven Raj Bhaskaran have created these boots. They are made of silicon and the colour fits with the details of the wearer, making it look like the person has creepy legs altogether! The designers can also make the shoes to match the exact details of the person's skin like moles or blemishes. Halloween 2018: Venom, Pennywise, The Nun and Other Trendy Makeup and Costume Ideas For This Year's Spookfest. 
Check Pictures of the Creepy Alien-like Boots
View this post on Instagram
Talking about the design to Vogue, Bhaskaran was quoted, "We can get this alien look and present it and tweak it with Photoshop and make it look really realistic. But at the same time, there is always this dysphoria in us. There is this urge inside of us to take what we do on the Internet and try to create that via real life. That is what we are doing with the shoes." People online are commenting that the design is disturbing.
And if you are wondering whether these shoes are actually walkable, they have posted a video to show it is very much possible.
View this post on Instagram
The makers design the changes on Photoshop and give it to the customers as per their needs. The fittings and customisations are made available. What do you think about these quirky shoes, creepy or uber cool in time for Halloween?