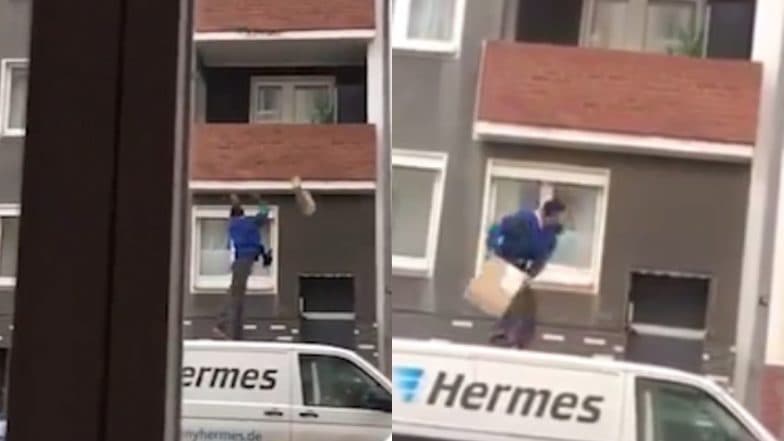 A video going viral on social media shows a delivery boy standing atop a vehicle to deliver an item to the first floor. The clip shows the man standing on the roof of a Hermes van throwing a package into a house's balcony. As the video went viral, the delivery service garnered a lot of criticisms for handling the packages so roughly. Hermes' delivery service and the efficiency of their employees were questioned.
According to reports, the video is believed to have been recorded in Germany. The man can be seen trying to attempting to throw the package multiple times, when it crashes on the ground. After two attempts, it lands inside the balcony only the third time. Meanwhile, some praised the man for his creative way of delivering the package. Inviting Girlfriend to House Proved Dangerous for Ahmedabad Man, Gets Badly Beaten Up by Neighbours!
Watch the video here:
Expecting a #Hermes delivery anytime soon...? #delivery #deliveryfail pic.twitter.com/jO0hC976Hb

— UK Industry News (@ukindustrynews) January 26, 2019
A Hermes spokesman told The Sun Online: 'We believe that this video was taken in Germany and we are liaising with our colleagues, who are investigating this clearly unacceptable behaviour.'
A comment on the video reads: "I genuinely don't see the problem here. Parcels delivered and it's safe. Anyone that orders fragile items online needs their head read anyway. These guys have a seriously packed timeline & work unbelievably hard!" Meanwhile, some said people he deserves a 'medal' for his shortcut method. What do you think about the video? Do let us know in the comments section below.