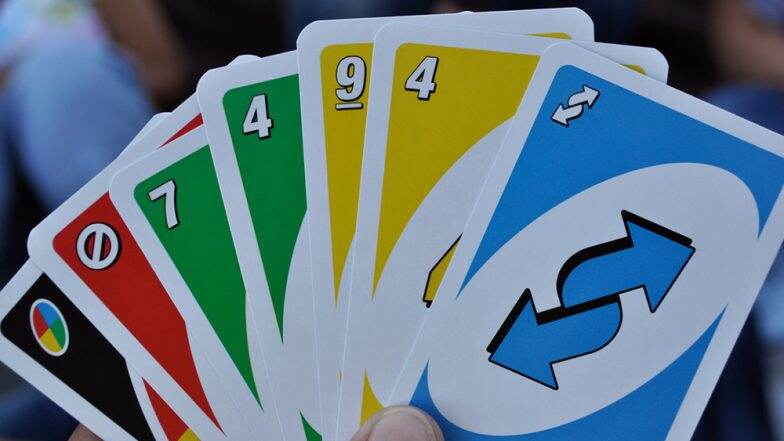 Uno a game that has caused such big fights over the cards you pick to play. It is one of those card games that begins in all excitement but one cannot predict who will win until the very end. Played by the rules, this game of Uno cards has literally caused fights too. But now, after years of playing by the stated rules, Uno has given an official rule which is no less than 'changing lives' moment. The game has given a brutal ending by announcing that you can play an action card as your last move! Can You Find the Hidden Number in the 8 of Diamonds Card? Twitterati Are Already Amazed Over the Revelation (View Pics).
There has always been confusion whether you can end the game of Uno by playing a Draw 2, Draw 4 or a colour change card. Keeping it for the last move had been a bad idea until today. Because Uno mentioned on their Twitter to a user's query and said it is possible to end the fame with an action card. Thank You, Uno! A user tweeted to their official account if one can use an action card as the last one. Uno replied in the affirmative and well, people are losing it thinking of all the games they lost in the past. Poker Rules Video: How to Play Texas Hold'em Poker.
Check UNO's Tweet About Ending the Game With An Action Card
Hi Samitha! You can end on an action card, however, you can only play one card per turn.

— UNO (@realUNOgame) January 28, 2019
The action cards have made the game so interesting and now that is one of the most important cards of the game because it is clearly a win-win situation if you have one. After this tweet, several users came up with their doubts. And Uno was more than welcome to answer them all. But one of the most important rules about ending the game was revealed and people couldn't be any happier. So are you ready to play a winning game of Uno the next time?