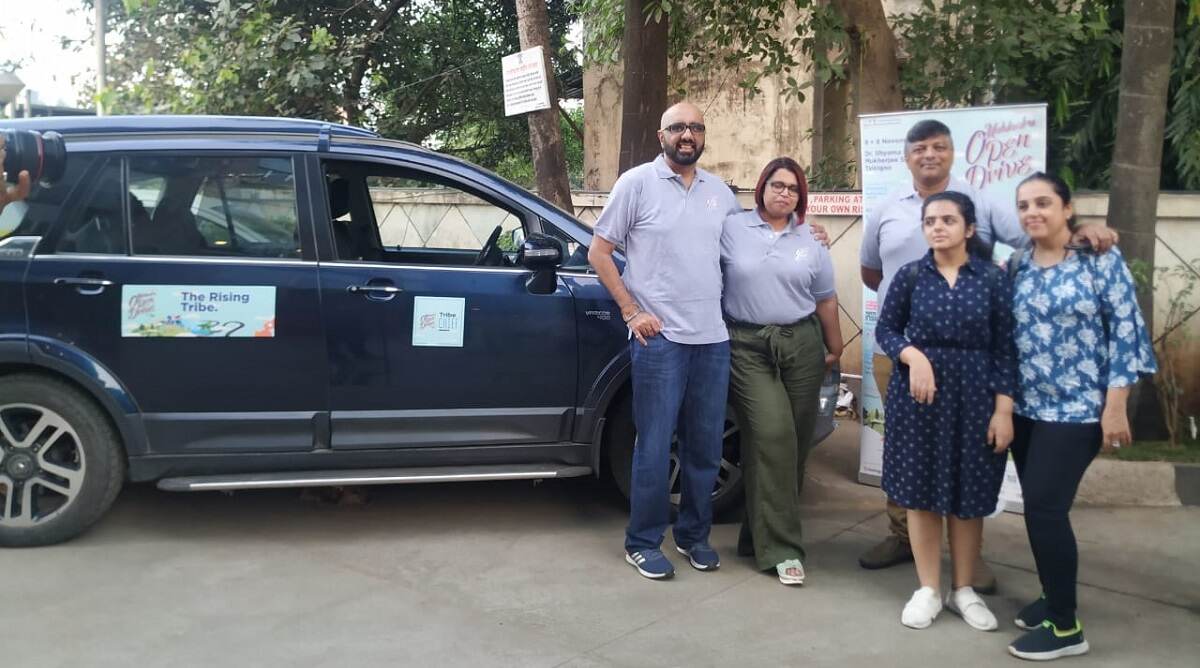 Country's first do-gooder festival aka drive-a-thon festival has kick-started which will be held from November 8 to November 9 2019, at Dr Shyama Prasad Mukherjee Stadium in Goa. Dubbed as Mahindra Open Drive, this festival aims to bring together people from different cultural backgrounds for forming a tribe of goodness and contribute for a cause. One such contributor is Jagdish Peswani, who is an ardent SUV driver for the past three years. He has organised many a local and National Trip for his SUV group. Never knew that a time would come that he will do a similar activity but for a cause. So when he was informed by United Way of Mumbai in July, that they are launching Mahindra Open Drive, he decided that he will participate in the drive to Goa. The only hitch was that the dates were 8th and 9th November and 9th November was his son's  Krisshna's birthday.  Once Krisshna agreed to support him, he decided to join the event.
Many people support school fees, books, uniforms for the Girl child. But very few know, every year, over 23 million girls in India drop out of school after attaining puberty. Due to lack of gender-segregated sanitation units, young girls stop going to school during menstruation for fear of being shamed. A study showed nearly 70% of the girl child use cloth instead of sanitary pads.
Absence of toilets, lack of access to sanitary pads and knowledge of menstrual hygiene make them vulnerable to major infections, which left unaddressed, affects reproductive health and their overall health.  This made him choose Stay at School campaign for the Girl child.
Habitat for Humanity does three things in Stay at School campaign:-
A.    Build gender-segregated school sanitation units.
B.    Provide Hygiene Kits including stock of sanitary pads (3 months, 6 months, one year- depending upon the donor requirement and funding).
C.    Conduct the session on Menstrual Health Management.
On his interest in long drives, Jagdish Peswani says "Well as they say life begins at 40. And I began to think about what I want to do.  I discovered, seeing different parts of India in an SUV would be satisfying for me. That made me buy an SUV (Tata Hexa), and I started going on long drives. I have done Pench, Jaisalmer, Ganpati Phule. In my list is this Goa drive and then all India meet at Mangalore. In my bucket list is a drive to Ladakh and Bhutan."
Currently, Jagdish is the first-ever Tribe Chief at Mahindra Open Drive and also the leader on the leader board.  He adds "This is a small consolation for me, but the greatest satisfaction is the nos of girl child I would be able to impact I have raised around Rs. 3.8 lakhs and aim to raise Rs 4 lakhs to impact 140 girl children. It's a small beginning, but it had to be made. I am confident of crossing Rs. 4 lakhs."
Over last one month, he reached out to more than 600 contacts in his network through one to one message on Whatsapp, Facebook, Linked In and Instagram. The response was overwhelming, and he hadn't expected the same. Jagdish says " Every day in the evening I spend around a couple of hours and on weekends at least half a day to connect with my friends and family. I got support from my School alumni of Sacred Heart boys high school & College alumni of Narsee Monjee Commerce, ex-colleagues, society friends, my SUV owner group (Tata Hexa). Apart from the satisfaction that I will be helping Girl child stay at school, this Drive helped me re-establish old connections with decade long friends."
His son Krisshna also came forward and joined his team and went door to door seeking funds. A couple of other friends also joined him.  He ends up his experience with a couplet "Main akela hi chala tha janib-e-manzil magar Log saath aate gaye aur karwaan banta gaya".