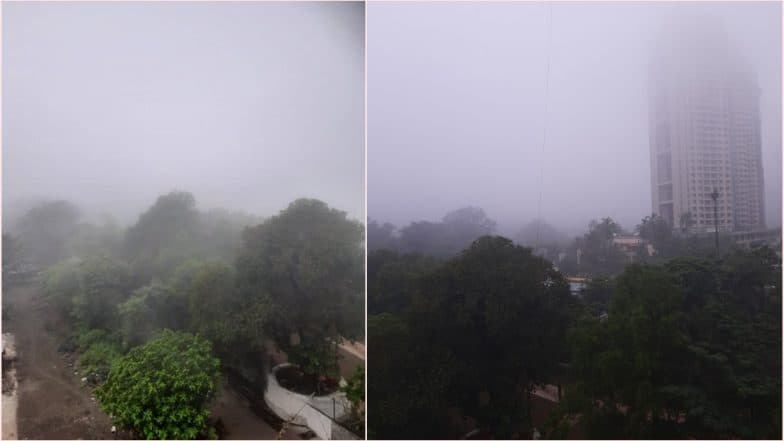 Is it pollution or is winter coming? Twitterati is puzzled with the weather in Mumbai and Thane as they woke up to an unusually foggy morning today, November 10, 2019. For non-residents in Mumbai, you must be wondering what is to be so confused about it! Well, air pollution in Delhi is an international headline. Hence, it is quite natural for the Mumbaikars to be sceptical before they jump to a conclusion about the "fog" they witnessed in the morning. Twitter is filled with videos and images of Mumbai and Thane weather accompanied by trending hashtag as it is extremely rare to see such a serene atmosphere.
Mumbaikars are currently experiencing unusual weather. Usually, the city gets very little rain after mid-October and none in November. But, this week, the city experienced rainfall, in keeping with the year's unusual rain pattern. According to the weather forecast, the rare rainfall this month was the result of the effects of Cyclone Maha, which reportedly has now weakened and lying as a cyclonic circulation over Southern parts of Gujarat. This could be one of the reasons for such a foggy morning today.
As and when, people began to share the images and videos of today's morning, some were quick to clear the confusion that is fog and not smog. They rightly pointed out that the Air Quality Index (AQI) is 39, which is considered satisfactory and air pollution poses little or no risk.
Smoke or Fog?
What's this? Smoke or fog? AQI shows 39 points. @lovelyweather_ @SriGmfl #thane #Mumbai #weather #Winteriscoming #foggy pic.twitter.com/RoNntvIKoW

— Railfan 100rabh (@WeatherNewsMH04) November 10, 2019
Clip From Thane:
Are we going to pay a price for all those jokes we cracked on Delhi's Pollution?

This is Thane right now!#Mumbai #mumbaifog #mumbaiweather #MumbaiRains pic.twitter.com/P036RAqSRO

— RJ Prerna (@mirchiprerna) November 10, 2019
Fog Not Smog:
Fog not Smog with AQI of 39 Thane/Mumbai.

Feeling for Delhi people.😌#Mumbai #Thane #mumbaiweather pic.twitter.com/uvnb8a0zP5

— Abhishek Khandelwal (@Abs_Khandelwal) November 10, 2019
Foggy Morning:
Beautiful #Mumbai morning.

Winter like conditions early morning - foggy - especially suburbs. Pretty smooth transition from monsoon to winter (literally skipped second summer)

Oncoming #WesternDisturbance to keep good weather going. AQI may take hit in some areas#MumbaiWinter

— Weathercast (@SriGmfl) November 10, 2019
How Beautiful!
Foggy morning in thane #thane #mumbai #Winteriscoming pic.twitter.com/nZIsbW1hIH

— Sumit Gupta (@captain_tuber) November 10, 2019
The climate is changing, and such a rare occurrence is expected in all parts of India. This year, Jammu and Kashmir witnessed an early snowfall, where Delhi's air quality remains to be worrisome. For Mumbaikars, you can enjoy your Sunday with a cup of coffee amidst the cosy weather. Let us hope; the atmosphere continues to be this pleasing.