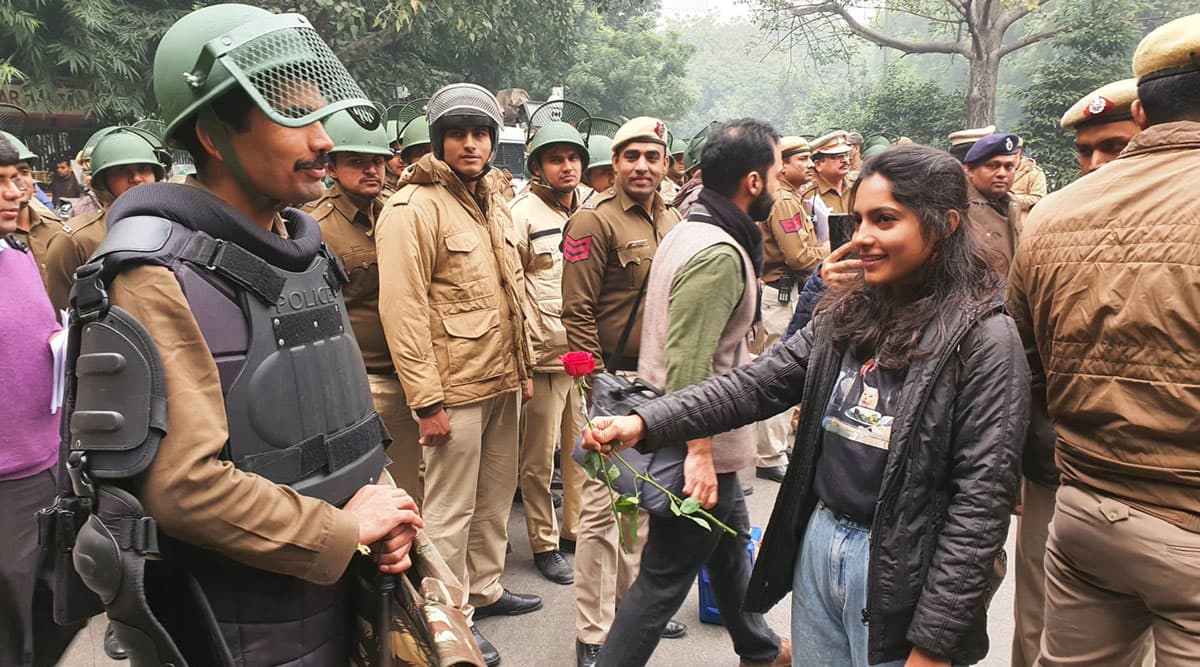 Hundreds of people against the government's Citizenship (Amendment) Act (CAA) protested on the streets of Delhi on Thursday. The police detained around 120 protesters including socio-political activist Yogendra Yadav. As the agitation continues, a light moment from the protest has gone viral on social media platforms. The photo shows a protester giving a red rose to a heavily armed police officer. The girl holding placard in one hand hands the rose as a sign of peace to the cop who smiles at her in return. A few other armed cops standing next to the scene can be seen smiling at the light moment. What is ironic is the caption written on the placard that the girl is holding. It reads, "My dad thinks I am studying History. He doesn't know I am busy making one." Well, this photo truly seems to be going in the pages of history as a light-moment during the ongoing protests, just like her placard says. Internet Blocked in Parts of Delhi? Mobile Users Complain About Network Blockage, Airtel Confirms Suspension on Govt Orders Amid CAA Protests.
The picture has since then been shared widely on Twitter and other platforms showing a heartwarming moment or rather the other side of the ongoing protest. In several other areas, protesters were seen handing over red roses to police officers. It went viral after a journalist who captured the moment shared it on Twitter with the caption, "Protesters giving red rose to #DelhiPolice at #jantarmantar #CAAProtest."
Protestor Handing Over a Red Rose to Police Officer:
Protesters giving red rose to #DelhiPolice at #jantarmantar #CAAProtest pic.twitter.com/lfqU8y4xBM

— Saurabh Trivedi (@saurabh3vedi) December 19, 2019
As the protest continued, authorities imposed Section 144 in New Delhi however, the people continued to throng the streets of the national capital raising slogans against CAA. More than 16 metro stations were closed in view of the protests and internet services shut down in several areas of the Delhi.