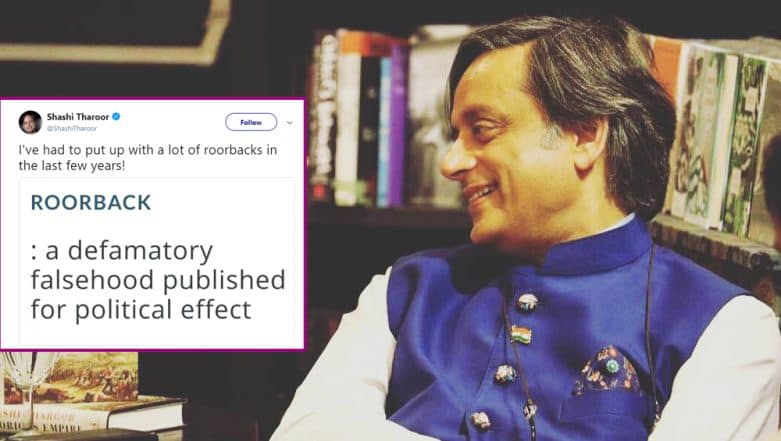 If there is one dedicated teacher online for Vocabulary then it is Congress MP Shashi Tharoor. Time and again he posts unique words from his vocabulary, making some people on the internet his awaited students. While people are quick to open their dictionaries to understand what he means, at times he also tweets meanings of his new words. The online teacher has given the internet a new word this morning. It is 'Roorback' which means "A defamatory falsehood published for political effect." The word Roorback seems to be a dig at the political situation within the country. Tharoor's words are so relatable at times. Remember lalochezia?
Soon after Tharoor tweeted the word and its meaning, Twitterati went into a flurry of usage, some targeting his party, some for the opposition. Tharoor captioned his tweet: "I've had to put up with a lot of roorbacks in the last few years." Tharoor's tweet has got some amazing responses as usual, some funny, some expressing gratitude for his imparting knowledge. Shashi Tharoor Shares the Word "Moledro", And Twitter Can't Stop Thanking Him
Take a look at Shashi Tharoor's tweet about the new word:
I've had to put up with a lot of roorbacks in the last few years! pic.twitter.com/WeBl865R81

— Shashi Tharoor (@ShashiTharoor) April 19, 2018
Pun game strong! 
When you revert to a Roorback, its called a, 'Tharoorback'.

— Harihar Goswami (@harihar_goswami) April 19, 2018
Tha ROOR is BACK 😉

— ŜỖĤẸĹ ЌĤÃŇ (@SuhayllPathan) April 20, 2018
Students have started the usage 
Sir is this statement correct-

BJP is the master manufacturer of all roorbacks in Indian politics.

— Vaishali ✌🏼 (@TimeTideRide) April 19, 2018
Start your official classes already, Sir!
Always grateful for your vocabulary tweets. You are the best! pic.twitter.com/sjCaCv6Xcw

— Renuka Nambiar (@RenukaNambiar) April 19, 2018
The ad campaign for the classes is also ready
*in @trivago 's ad style -

Kya aap GMAT/CAT me acche score laane chahte hai

Kya aapki English Kala Akshar behes Barabar hai

To follow kare @ShashiTharoor Ko aur paaye naye aur trending words.

Words matlab Tharoor!

— Amit Sharma (@sharma_amyth) April 20, 2018
Who needs a dictionary when you have Tharoor?
Good that u r telling us the meaning too..So that the Webster site doesn't crash! #Tharoorians, #Tharoor

— मैंAnita (@anitashahakella) April 20, 2018
Well, Tharoor's ardent followers must be keeping a notebook with all his new words taught by them. But we wonder if these words ever make it to usage a day after he tweets them. Anyway, Tharoor and his vocabulary will always have good students willing to learn.