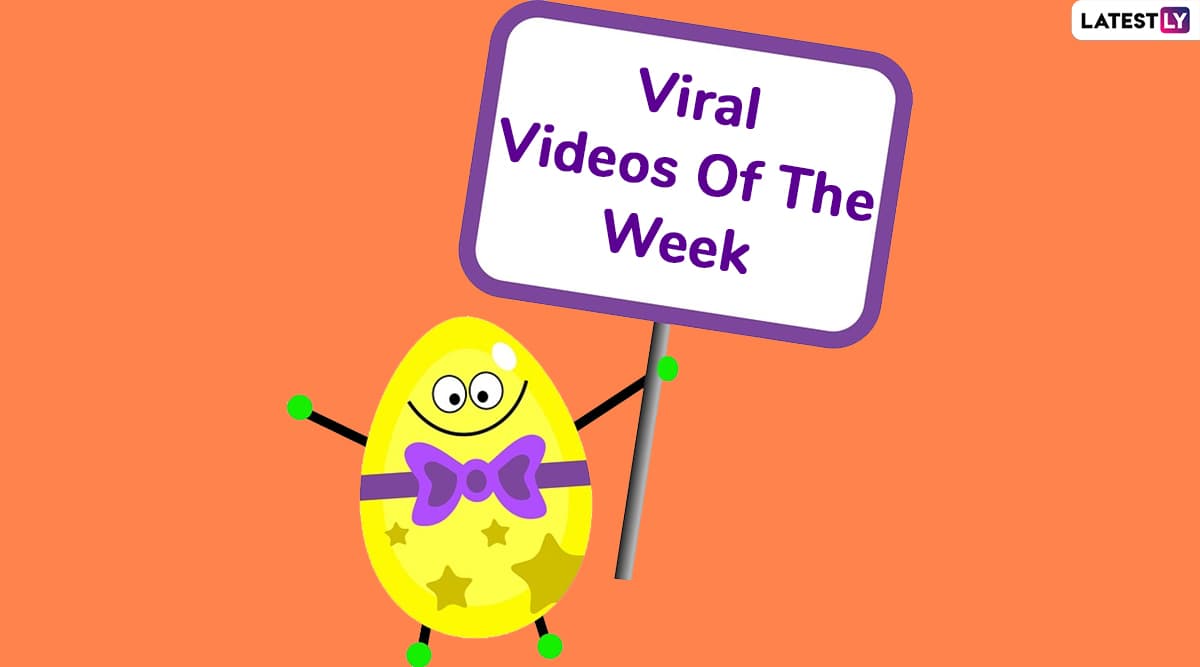 Social media keeps us updated with everything big and small happening across countries across the country. From various observances to occurrences, social media platforms keep us updated with an array of incidents. Videos play a major role in grabbing the attention of the internet users and they do it rightly so. A list of videos kept the social media glued to their screens this week. Everything from the video of Indian Prime Minister Narendra Modi picking up waste from Mahabalipuram beach to clip of a monkey giving massage to Uttar Pradesh police inspector had gone viral. And as the week comes to an end, we have compiled a list of videos that went viral this week. Viral Videos Of The Week: Woman Entering Lion Enclosure to Cancer Survivor's Dance Performance, Check Out Viral Clips That Glued Social Media Users to Their Screens!
Animal videos, especially adorable ones of cats and dogs get shared widely on social media. Another section of videos that quickly audiences' attention is that of babies. Cute clips of toddlers go viral on YouTube and other video sharing platforms in no time. Netizens also love to watch funny clips, mostly candid ones. Here, we bring to you videos and clips that top trending videos of the week.
Monkey Gives Cop a Head Massage:
पीलीभीत के इन इन्स्पेक्टर साहब का अनुभव ये बताता है कि यदि आप काम करने में व्यवधान नहीं चाहते हैं तो रीठा, शिकाकाई या अच्छा शैम्पू इस्तेमाल करें ! #Shampoo #Hair #Police #monkeylove #Monkey pic.twitter.com/7sPQtuS2A6

— RAHUL SRIVASTAV (@upcoprahul) October 8, 2019
Video of a monkey giving a head massage to a cop at a police station in Uttar Pradesh had gone viral on social media. Inspector Shrikant Dwivedi can be seen calmly doing his work as the monkey continue to sit on his shoulders. As the video went viral, some commented that the monkey was picking lies from the cops' head. The incident took place at a police station in Pilbhit.
Security Guard Dancing in Houston:
This security guard absolutely crushed it DO NOT COME AT HIM 🕺🕺 pic.twitter.com/rVdos3Y80u

— FOX Sports: MLB (@MLBONFOX) October 9, 2019
People watching American League Division Series between Houston Astros and Tampa Bay Rays were treated with more than the game. The security guard who had earlier gone viral for his dancing during a game, attempted a similar stunt in ALDS Game 4. He did a cartwheel, a split, front flip leaving the audience stunned. The video was quick to viral garnering praises from social media users.
Lion Chasing Tourists at Karnataka Zoo:
Video of a ferocious lion chasing a tourist safari was widely shared on social media platforms earlier this week. While looking at a lion from distance during from a safari jeep can be exciting, the 'King of the Jungle' running after you may be really nerve-racking.
Texas Man Miraculously Survives Lightning:
Surviving to tell the tale of being struck by a lightning is quite rare. However, a 27-year-old man named Alex Coreas is alive and kicking after being struck by a bolt of lightning while walking his dogs. Video of the incident had gone viral widely leaving internet users stunned.
Narendra Modi Plogging at Mahabalipuram Beach:
Plogging at a beach in Mamallapuram this morning. It lasted for over 30 minutes.

Also handed over my 'collection' to Jeyaraj, who is a part of the hotel staff.

Let us ensure our public places are clean and tidy!

Let us also ensure we remain fit and healthy. pic.twitter.com/qBHLTxtM9y

— Narendra Modi (@narendramodi) October 12, 2019
Strengthening his fight against plastic pollution and advocating environment cleanliness, Prime Minister Narendra Modi cleaned the Mahabalipuram beach in Tamil Nadu on Saturday. Video of the PM plogging (jogging while picking up litter) has gone viral on social media platforms. The clip was quick to go viral with netizens saying #SayNoToPlastic.
While these are some of the popular videos of the week, many other clips also captivated the internet audience. Shocking video of a priest blessing his devotees with his feet had angered netizens. Another video doing rounds on social media is of MSNBC correspondent whose son walked into the newsroom while she was reporting on live camera. While these videos made headlines this week, do let us know your favourite ones.