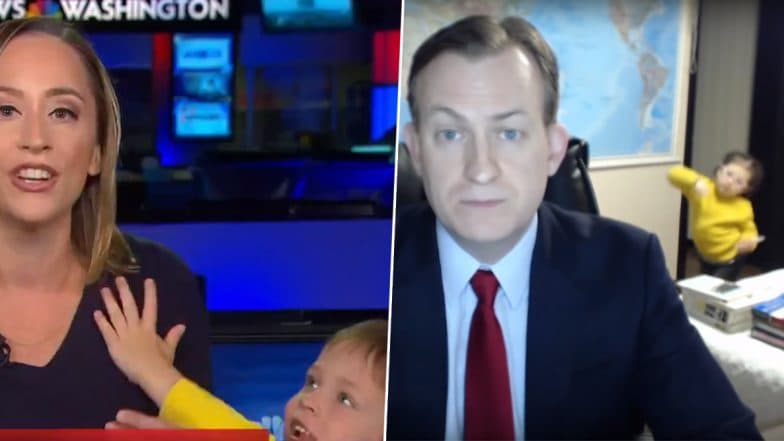 Videos of funny interruptions during live reporting have gone viral on social media multiple times in the past. Kids play a major role in these clips as their innocence results in hilarious reactions. And the latest video is that of a boy reaching for his mother who was reporting on live camera. This child seems to be walking in the footsteps of the girl who went viral for interrupting the live interview of her father on BBC. MSNBC national security correspondent and Pentagon correspondent Courtney Kube was talking about Turkish airstrikes on live on national television, when her son came to meet her. As the video went viral, people couldn't stop laughing at the funny incident. People were quick to point out how this was another 'BBC Dad moment'. Bird Lands on News Anchor's Head During Live Broadcast, Reminds us of These Videos Where News Presentators Remained Calm.
The recent video shows one of Courtney's twins coming up to her, much to the amuse of social media users. Seeing her child standing next to her in the frame,  Courtney Kube says, "Excuse me, my kids are here..live television."  MSNBC posted the video on Twitter with the caption, "Sometimes unexpected breaking news happens while you're reporting breaking news. #MSNBCMoms #workingmoms."
Video of Boy Interrupting Mother's Live Reporting on MSNB:
Sometimes unexpected breaking news happens while you're reporting breaking news. #MSNBCMoms #workingmoms pic.twitter.com/PGUrbtQtT6

— MSNBC (@MSNBC) October 9, 2019
Everyone After Watching The Video:
— Andrew Coleman Francis (@AndrewCFrancis) October 9, 2019
Quick Move!
Kudos to the savvy producer in the control room who thought, "uh...now's probably a good time to run a graphic for a few seconds."

— Elliot Williams (@elliotcwilliams) October 9, 2019
Kudos to Work Friendly Workplaces!
I think it's fantastic that she's allowed to have her kids around while working.

Good on you MSNBC.

— Kassandra Seven (@KassandraSeven) October 9, 2019
What's Up With Yellow?
IKR? Even wearing a yellow shirt. 🤷🏼‍♀️

— Emily is Still With Her (@zenscreamer) October 9, 2019
Claps Claps
Perfectly handled. Smiling....loving....and didn't miss a beat on her reporting.

— Waiting For KonTiki (@HerbSpeaks) October 9, 2019
Take a Bow!
— realtruth04🌊🌊 (@realtruth94) October 9, 2019
Here is The 'BBC Dad' Video Went Viral in 2017:
As the video went viral, it generated funny reactions on Twitter. One of the comments read, "BBC Dad, you're not alone anymore." Video of Robert E Kelly, a political science professor giving his expert opinion on South Korean politics from home had gone viral after his daughter interrupted him on live camera. She was followed by her younger sibling who was followed by the mother who rushed both the kids out of the room. The video had gone massively viral even resulting in a cartoon on them called the 'Adventures of Mina and Jack'.
Meanwhile, some pointed out how the producer immediately changed the screen and ran graphics. Earlier this month, another video of an MSNBC s correspondent, Julia Ainsley who was pregnant dashing off live TV due to morning sickness had gone viral.