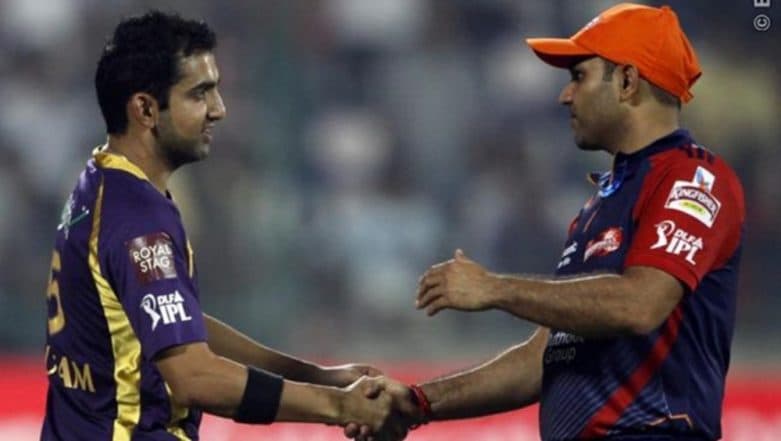 The Indian Air Force (IAF) on Tuesday carried out strikes at terror camps at multiple places in Pakistan Occupied Kashmir (PoK) and Khyber Pakhtunkhwa in Pakistan, destroying control rooms of Jaish-e-Mohammed (JeM) and some other infrastructure. The news broke out in India in the morning and Twitter was abuzz with reactions pouring from all corners. #SurgicalStrike2 #IndianAirForce and #airstrike were some of the trending topics on social networking sites. Former Indian cricketers Virender Sehwag and Gautam Gambhir also took to Twitter and reacted on the air strike carried by IAF. Surgical Strike 2: Indian Air Force Strikes JeM Camps in Pakistan Days After Pulwama Attack, Pak Officials Cry Intrusion.
Sehwag, in his trademark style, wrote, "the boys have played really well." The line is often used to mock English skills of Pakistan cricket team. Sehwag also used a hashtag #SudharJaaoWarnaSudhaarDenge, which roughly translates to "behave yourself or else we will teach you how to"
Apart from Sehwag, Gambhir too reacted on the strike carried by IAF across LOC. In one of his tweets, the former Indian opener wrote, "JAI HIND IAF". IAF Strikes On JeM Camps Across LOC Live News Updates.
Here's Sehwag's tweet
The boys have played really well. #SudharJaaoWarnaSudhaarDenge #airstrike

— Virender Sehwag (@virendersehwag) February 26, 2019
Here's Gambhir's tweet
JAI HIND, IAF 🇮🇳 @IAF_MCC @adgpi #IndiaStrikesAgain #IndiaStrikesBack #IndiaStrikes

— Gautam Gambhir (@GautamGambhir) February 26, 2019
Meanwhile, the terror camps in Chakothi and Muzaffarabad, both in PoK and in Khyber Pakhtunkhwa region were struck by 12 Mirage 2000 jets with 1000 kgs of explosives at around 3:30 am, IAF sources said.
The sources said Pakistan scrambled F-16 fighters to retaliate but turned back owing to the size of the Indian formation. The targets included the control rooms of Jaish-e-Mohammad outfit which carried out a terror attack on a CRPF convoy in Pulwama in Jammu and Kashmir on February 14 in which 40 security personnel were killed and five injured. How IAF Destroyed JeM Camps in Balakot, Chakothi and Muzaffarabad Across LoC in Pakistan: Timeline And Video of Surgical Strike 2.
The JeM control room was completely destroyed in the air strike, sources said. The air strike was coordinated by the Western Air Command. This is the first time that India has taken a pro-active action using the air force across the LoC as even during the three-month-long Kargil conflict of 1999, the IAF planes did not cross the LoC even while hitting the positions occupied by Pakistani forces on the Indian side.
(Inputs ANI)