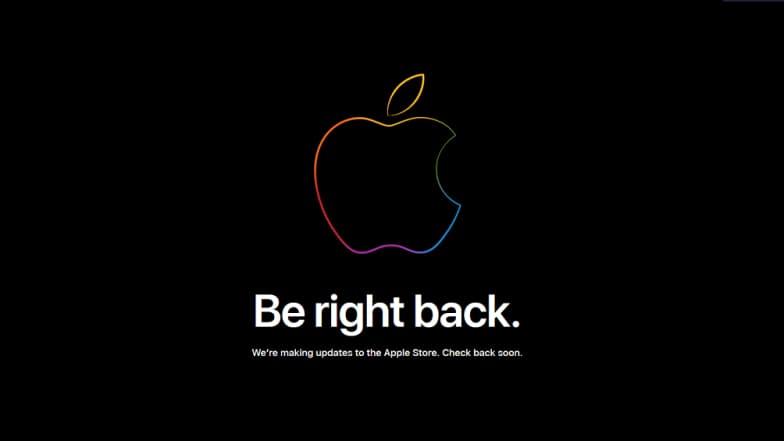 Today is a big day for Apple, as the Cupertino-based technology giant will be launching the new iPhones today. Hours ahead of Apple's Special Event 2019, the official online store of Apple is down right now. Apple's upcoming next-gen iPhones are one of the hot topics in the market right now. With number of speculations and rumours, the American technology company will be putting all the rumours to rest. As per the latest rumours, Apple is expected to launch three iPhone models - iPhone 11, iPhone 11 Pro, and the iPhone 11 Pro Max. Ahead of iPhone 11 Launch, Funny Memes and Jokes on Apple Event Start Trending on Social Media.
The users visiting the Apple Store right now, they are greeted with a message - "Be right back. We're making updates to the Apple Store. Check back soon." It is important to note that Apple Store going down is not surprising, as we have seen this before during the previous Apple events as well.
We know that Apple has taken down the online store for updating the site with new products and details before the scheduled launch, which is slated to happen today. The launch event will commence at 10AM PDT (10:30PM IST). Apple's Special Event 2019 will be live streamed on Apple's website, Apple Event app as well as YouTube channel. Apple iPhone 11, iPhone 11 Pro & iPhone 11 Max, Apple Watch Series 5 & iOS 13 Launch Today; Watch LIVE Streaming of Apple's Special Event 2019 Here.
Specification-wise, the three new iPhones will be powered by Apple's new A13 chipset and will run on the latest iOS 13 software. The three iPhones will get same screen size as the predecessors – iPhone 11 (6.1-inch), iPhone 11 Pro (5.8-inch) & iPhone Pro Max (6.5-inch). It is also reported that Apple could be removing the 3D touch technology from the top-end models to make space for Haptic Touch. The affordable 2019 iPhone will pack dual camera at the back whereas the other two iPhones will sport triple cameras at the rear. Apple Special Event 2019: All Eyes on Apple TV+ Subscription & Arcade Gaming.
As far as the prices are concerned, the cheapest model of the next-gen iPhone family is expected to get a starting price of $749 (around Rs 53,700). However, the most event iPhone 11 Pro Max with 512GB storage could be priced at $1,299 (around Rs 93,000). It is also speculated that the pre-orders for the new iPhone 11 models will commence from September 13 onwards. The new Apple iPhones are expected to be made available from September 20, 2019. It is believed that these phones are likely to be offered in four storage variants - 64GB, 128GB, 256GB & 512GB. More details about the new generation Apple iPhones will be revealed today at the launch event.