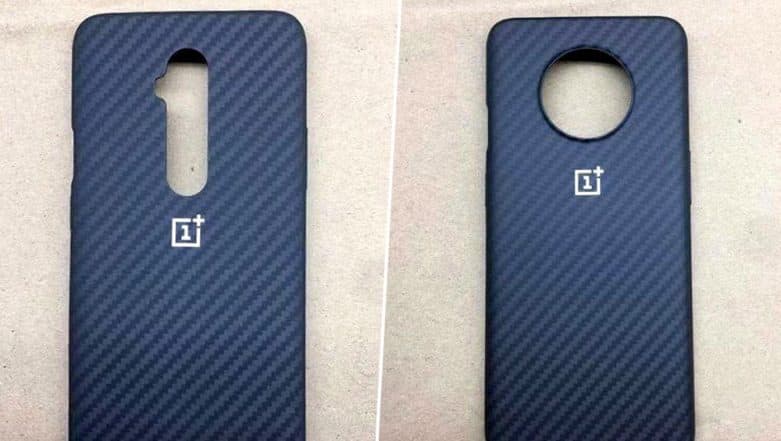 The Chinese phone maker OnePlus is expected to launch next-in flagship devices in the market later this month. The phone maker is also expected to launch OnePlus TV alongside the 'T' derivative of OnePlus 7 Series. As a reminder, OnePlus 7 Series comprises of OnePlus 7 and OnePlus 7 Pro models that were rolled out just four months ago. Now, the phone maker is looking to make few design changes on the forthcoming OnePlus 7T series. Courtesy of GizmoChina, a new set of images leaked online that resulted in a new rumour claiming OnePlus 7T series will come with two separate camera designs. Amazon Great Indian Festival Sale 2019 Announced; To Bring Never Seen Offers on Xiaomi Mi A3, OnePlus 7 Pro, Samsung's Galaxy M30 & More.
Going by the leaked images, it features smartphone cases with two different designs. The leaked images show two smartphone cases hinting few design changes on the OnePlus 7T series. The upcoming OnePlus 7T will sport a new round-shaped camera design at the back whereas the 7T Pro version will get a vertically mounted rear camera design similar to OnePlus 7 Pro. OnePlus 7 Pro, OnePlus 7 Smartphones To Get Android 10 Aka Android Q Update on September 3.
The phone maker is expected to revamp OnePlus 7T's rear camera design by incorporating a circular shaped housing that would be in-line with the previously leaked images. On the other hand, the OnePlus 7T Pro will borrow the design from the predecessor. However, the phone is also expected to feature a ToF (Time-of-flight) sensor for better depth sensing images. OnePlus 7T Reportedly To Get 90Hz Display & Snapdragon 855+ Chipset.
Apart from the design changes, the new OnePlus 7T and 7T Pro smartphones are rumoured to get hardware upgrades as well. As per the market reports, OnePlus is expected to pack these phones with a new Snapdragon 855+ processor. Moreover, we could also see an upgraded Quad HD+ display screen with a 90Hz refresh rate on OnePlus 7T. On the other hand, the OnePlus 7T Pro is likely to be backed by a more powerful battery with fast charging technology.