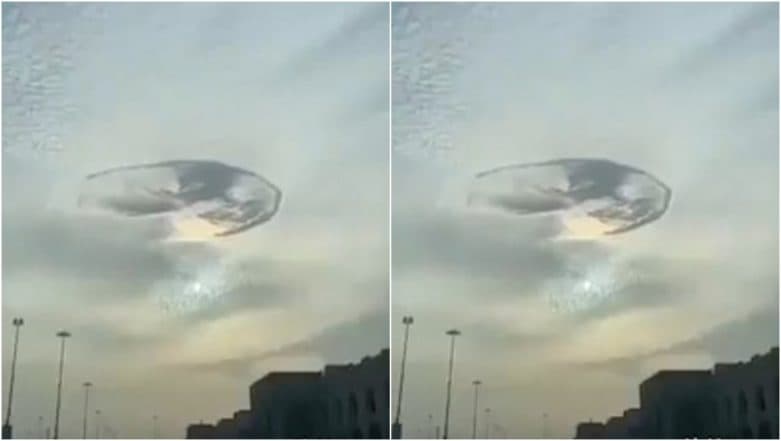 Citizens in the UAE were left perplexed on seeing a hole in the skies above Al Ain. Locals said that a mysterious 'whirlpool hole' appeared in the sky this weekend. The incident got social media talking after astronomer and meteorologist Ebrahim Al Jarwan posted a short video clip of the hole on Twitter. He referred to the sight as 'rare and beautiful' and that it was a 'Fallstreak hole' or 'hole punch cloud'.
The video was quick to go viral with people coming up with various explanations. Some said the hole in the sky looked like a 'fallstreak hole'. One said that 'God has thrown a stone into a lake' while others suggested it could be an extraterrestrial UFO. As the video was being widely shared on Twitter, meteorologists explained the scientific phenomenon. The so-called 'holes' are generally formed in mid- to -high-level clouds made of supercooled water droplets. This happens when water droplets are below zero degrees but not frozen. It is also known as hole-punch cloud and generally looks elliptical or circular in shape. 'Flaming Orange' Meteor Spotted in Skies Above Adelaide in Australia (Watch Video)
Here is what 'Whirlpool Hole' looked like:
What was that mysterious hole in the UAE sky? pic.twitter.com/gKDEcIXTUy

— Malik Shahzad (@Shayaanputri) March 18, 2019
Watch the video below:
شوهدت هذه الظاهرة النادرة والجميلة صباح اليوم في مدينة العين

تُسمى hole punch cloud

أو ظاهرة fallstreak hole pic.twitter.com/NbOd9zofNk

— إبراهيم الجروان (@ibrahimaljarwan) March 17, 2019
A change in temperature makes the supercooled droplets to freeze and form ice crystals. They are large and fall from the sky in a different pattern. At times, holes in fallstreak formations can expand upto 50 km across within an hour as neighbouring droplets freeze. The incident is completely a scientific phenomenon but people generally mistake it for a UFO. Fallstreak holes are quite rare and not often appear in the skies.