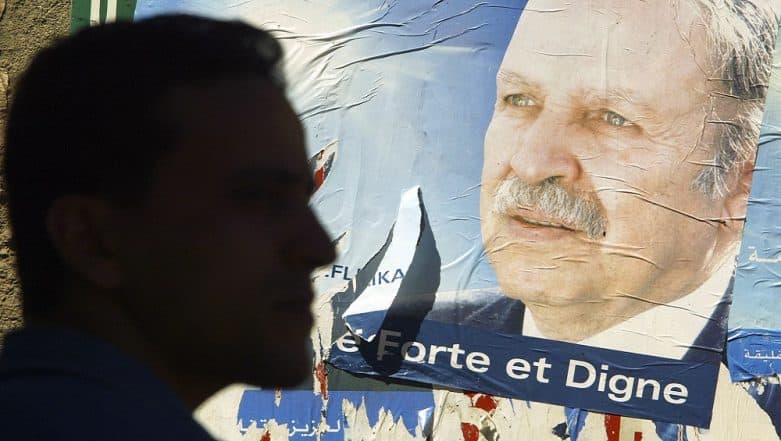 Toronto, April 3: Algerian President Abdelaziz Bouteflika, who has ruled the North African country since 1999, has resigned after weeks of mass protests. Bouteflika, at 82-years old had initially sought to contest elections for a fifth time but mass protests erupted against his decision as he has rarely been seen in public since he suffered a stroke in 2013.
Students and opposition party leaders have been demonstrating for over a month demanding that Bouteflika and his associates step down after remaining in power for twenty years.
After the initial round of protests, Bouteflika announced that he would not contest elections but the protesters said this was not enough. The continued protests then led to Bouteflika announcing that he would step down before April 28. Post this announcement which again seemed like the octogenarian ruler was hedging, Algeria's chief of army staff demanded immediate procedures to remove Bouteflika from office. General Ahmed Gaid Salah called for "the immediate application of the constitutional procedure for removing the head of state from power," according to APS news agency. The general added that Bouteflika was being pushed to stay in power by family members and others in Algeria's ruling elite who sought "the preservation of their narrow personal interests".
This demand seemed to force Bouteflika's hand who submitted his resignation to the president of the constitutional council on Tuesday, April 2.
🔴 #Urgent

Le président de la République, Abdelaziz #Bouteflika, a notifié officiellement au président du #Conseil_constitutionnel, sa décision de mettre fin à son mandat en qualité de président de la République. pic.twitter.com/cjunX9gwsL

— APS | وأج (@APS_DZ) April 2, 2019
But it remains to be seen if the protests die out after Bouteflika's resignation or they continue to demand the complete overhaul of the political system in which Algeria's military plays a significant role.
Bouteflika's resignation seems to be a delayed Arab Spring as neighbouring countries of Egypt, Tunisia, Libya and Yemen have pushed out their autocratic rulers in the past decade.