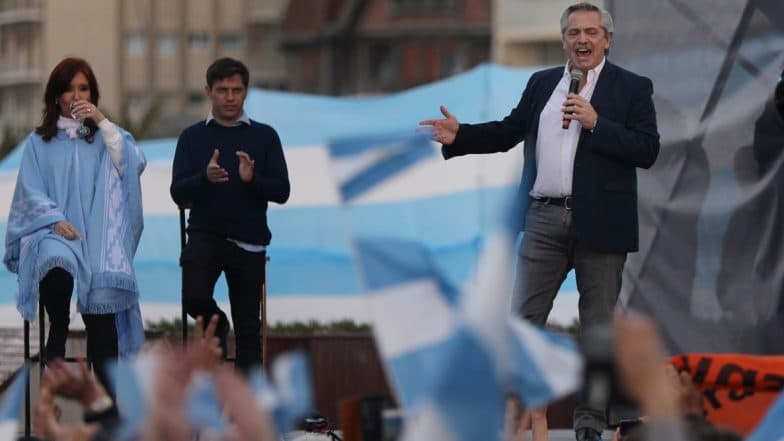 Buenos Aires, October 27: The presidential elections are underway in Argentina, with the nation of 34 million people all set to elect the leader who will preside over their struggling economy. Pollsters have rooted for the ouster of incumbent President Mauricio Macri as anger fuels over looming unemployment and inflation touching the 55 percent mark. The challenger who, according to surveys, is poised to replace him is Alberto Fernandez. Evo Morales Narrowly Wins First Round in Bolivia Elections 2019, Faces Runoff.
Fernandez is the candidate of the Centre-Left Frente de Todos (Front for All), and has led a charismatic campaign over the past three months promising to end the austerity imposed by Macri if voted to power. His running mate is former President Cristina Fernandez de Kirchner, a divisive yet powerful political leader.
In the primaries held in August, the pair ended up defeating other presidential aspirants in Frente de Todos by an unprecedented 16-point margin. To win the elections being held today, they would have to defeat Macri by at least a 10-point margin, or secure above 45 percent of the total votes polled.
In case a candidate wins over 40 percent of the votes but fails to secure a 10-point margin over his nearest rival, another round of polls would be held on November 24 featuring the candidature of only the the top two voted candidates.
As per the scheduled released by the Argentine election body, the polls will be held between 8 am local time (11:00 GMT) and will close at 6pm (21:00 GMT). The results are expected to be declared on Monday.
The struggling economy of Argentina has been at the centre of the elections this year, with one US dollar trading at 75 peso - the domestic currency. Considering the impending crisis, the Argentine Central Bank poured $220m of its reserves into propping up the official value of the currency on Friday.