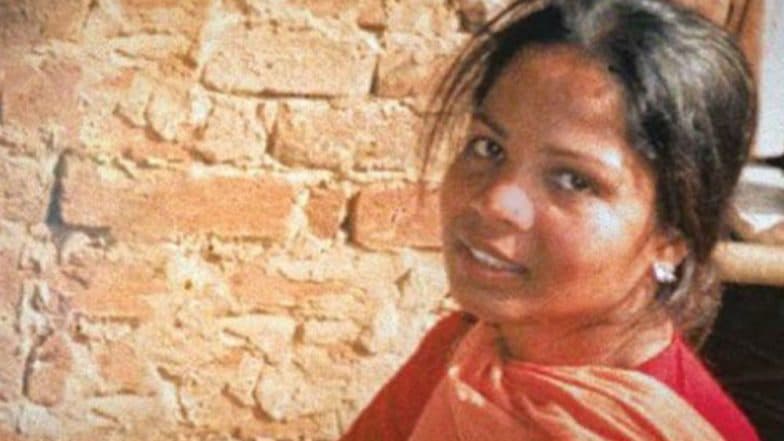 Islamabad, November 8: Days after Pakistan Supreme Court acquitted Christian woman Asia Bibi in a blasphemy case, authorities released her from jail in Multan on Thursday. While there were reports that Asia Bibi would leave for the Netherlands, foreign office spokesperson Mohammed Faisal clarified that she is still in Pakistan. "There is no truth in reports of her leaving the country. It is fake news," Faisal told Dawn News TV.
According to a Lahore-based news channel, Asia Bibi was released from New Jail for Women in Multan and taken to Noor Khan Airbase, Rawalpindi, from where a chartered plane would take her to the Netherlands. Her acquittal in the blasphemy case triggered countrywide protests from religious groups and death threats from hardliners. Protestors led by Tehreek-i-Labaik Pakistan and other groups had blocked major highways and roads in different parts of the country.
Asia Bibi, a 47-year-old mother of four, was found guilty of insulting Islam during an argument with three Muslim women. She was sentenced to death in 2010. However, a three-judge special bench headed by Justice Nisar, Justice Asif Saeed Khosa and Justice Mazhar Alam Khan Miankhel had heard Asia's 2014 appeal against her conviction and death sentence and overturned the ruling in favour of her.
The protests were called off after the Imran Khan-led government reached an agreement with the TLP for taking legal actions not to allow Asia and her family to leave the country. The government also assured that it would not oppose a review petition filed against the Supreme Court's judgement in the Asia Bibi blasphemy case.
Earlier, Italy had said that it was working to help Asia Bibi leave Pakistan, amid warning from the woman's husband that her life was in danger. Her husband, Ashiq Masih, had also urged US President Donald Trump, and the UK and Canada premiers to help her leave Pakistan.