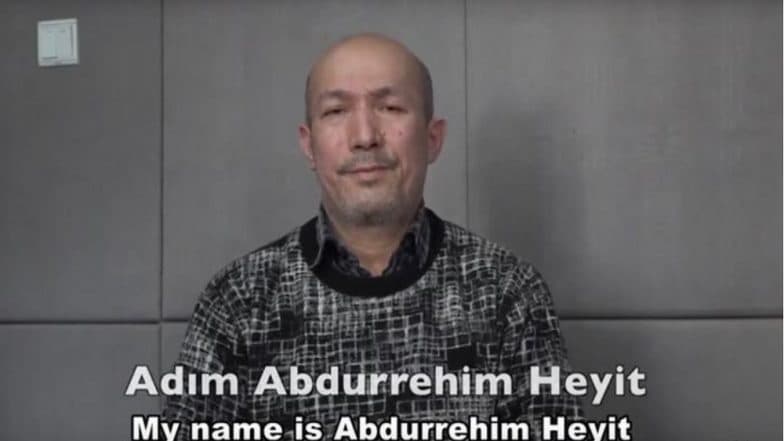 Toronto, February 12: A day after Turkey slammed China's alleged mistreatment of its Muslim minority population of Uighurs in the Xinjian province, Beijing has refuted the charges along with calling for Ankara to withdraw its statements.
Based on media reports, Turkey had slammed China for the alleged death of a Muslim Uighur musician Abdurehim Heyit who was reported to have died in a detention camp. Turkey called China's treatment of the Uighurs a "great embarrassment for humanity".
In a statement on Saturday, Turkish Foreign Ministry spokesman Hami Aksoy said it's "no longer a secret" that China has detained more than 1 million Uighurs in "concentration camps." He said they faced "systematic assimilation" in western China. Aksoy said Turkey had also learned of Heyit's death in prison after being sentenced to eight years over one of his songs. "This tragedy has further reinforced the reaction of the Turkish public opinion toward serious human rights violations committed in the Xinjiang region," Aksoy said.
However, within 24 hours of Turkey making this statement China has released a video which purportedly shows Heyit alive. The video released by China Radio International's Turkish-language service, said Turkey's criticism of China was unfounded. The video features a man said to be Heyit stating that he is in "good health".
The musician says he is "in the process of being investigated for allegedly violating national laws". He gives the date of the video and says he has "never been abused".
Abdurrehim Heyit ölmedi, Türkiye Dışişleri'nin #Xinjiang iddiaları asılsız. Abdurrehim Heyit'in sağlık durumunun iyi olduğu açıklandı. https://t.co/cqmcyeVS2s @TC_Disisleri @TurkEmbBeijing @anadoluajansi @trthaber @ntv @cnnturk @Hurriyet @Postacomtr #AbdurrehimHeyit pic.twitter.com/hFryakReEr

— CRI Türkçe (@CRI_Turkish) February 10, 2019
China, following the release of this video has asked Turkey to revoke its "false" claims. A Chinese foreign ministry spokeswoman said the musician was "very healthy". "We hope the relevant Turkish persons can distinguish between right and wrong and correct their mistakes," spokeswoman Hua Chunying told reporters. China has described the comments as "completely unacceptable".
Turkey's comments on the plight of Uighur Muslims come after various reports from human rights organisations as well as the UN that accuse China of mass detention of Uighurs. Various human rights groups have said that China has forcefully detained thousands of Uighurs on charges of harbouring separatist sentiments. Uighurs are considered ethnically closer to Central Asians and there have been instances of separatist groups trying to establish their presence in the Xinjiang autonomous region. Turkey's silence on the issue of Uighur detention was being called a black mark against Ankara's attempt at being recognised as a seat of power for the Muslim world.
Uighur musician Abdurehim Heyit too was reportedly detained after he performed a historical poem that calls for younger generations to respect the sacrifices of those before them. The BBC reports that three words in the poem's lyrics - "martyrs of war," led Chinese authorities to treat Heyit as a security threat.