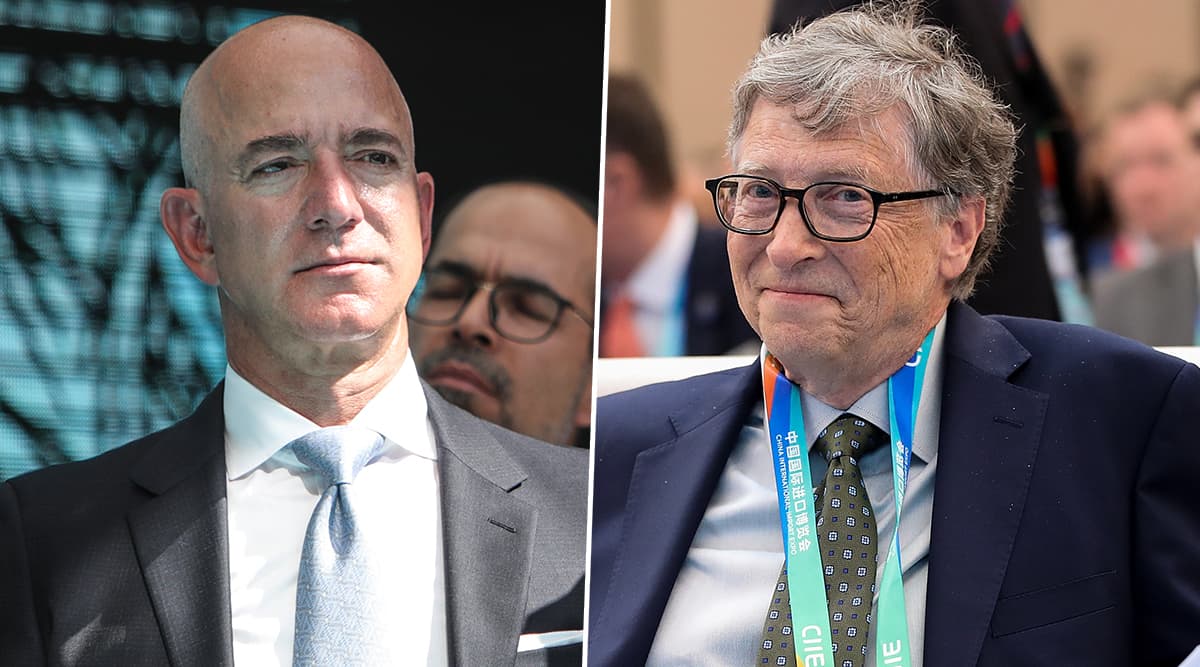 New York, October 26: After losing the world number spot to Microsoft co-founder Bill Gates for a day, Jeff Bezos jumped back to the top position on Friday. On October 24, Amazon shares fell 7 per cent in after-hours trading on leaving Bezos down to USD 103.9 billion. However, on Friday, Bezos net worth rose to USD 109.9 billion. Jeff Bezos Retains Top Spot as Richest Man in Bloomberg Billionaires Index, Bernard Arnault Jumps to Second Place, Bill Gates Slips to Third.
On October 25, though shares of Amazon fell compared to Thursday's market close, the drop was not that steep. According to a report published in Forbes, Amazon shares fell one percent to USD 1,760.78 in after-hours trading on Friday, due to which Bezos' net worth jumped to USD 109.9 billion. Gates is now USD 4.1 billion behind Bezos. As per the report, Bezos could lose the number one spot once more as Amazon continues to invest heavily in infrastructure to support one-day shipping. Amazon Founder Jeff Bezos Finalizes Divorce With USD 38 Billion Settlement: Report.
Bezos ended Gates' 24-year run as the richest man in 2018 and became the first man on earth with a net worth of USD 160 billion. Gates debuted on Forbes' first-ever billionaire list in 1987 with a net worth of USD 1.25 billion. Bezos first joined The Forbes 400 list of richest Americans in 1998, one year after Amazon went public, with a net worth of USD 1.6 billion.