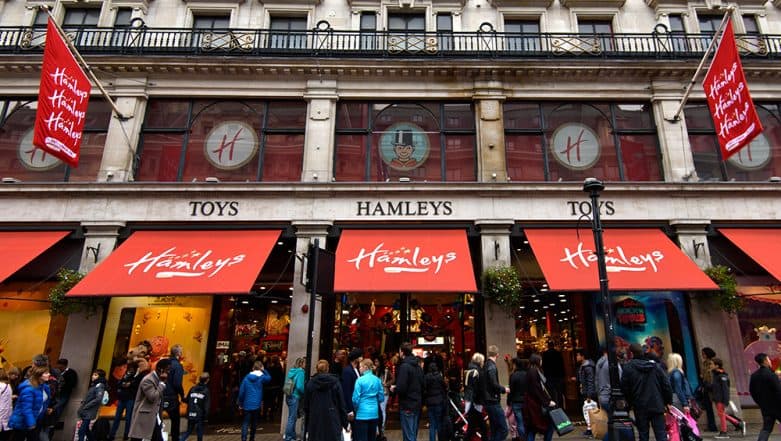 Mukesh Ambani-led Reliance Industries acquired the iconic British toy-maker Hamleys for 67.96 million pounds (around Rs 620 crore) on Friday. The deal comes at a time when the 259-year-old British toy-maker is going through a series of losses coupled with frequent change of ownership. Reliance Industries bought the store from Chinese fashion conglomerate C Banner International who had acquired it in 2015 for 100 million pounds (Rs 9 billion). Since 1760, Hamleys which boasts of being the "oldest and largest toy shop in the world" has sailed through tough times after being bombed during the second world war. Hamleys has also been shut down before due to bad business. Reliance Industries Acquires British Toy Maker Hamleys.
While the chain has ten other outlets in the United Kingdom and more than 60 franchises worldwide, in the past 15 years, the company has been witnessing a steady shift in ownership as profits continue to tumble.
Talking about the deal, Reliance Industries in a statement said, "Reliance Brands Ltd, a subsidiary of Reliance Industries, and C Banner International Holdings, a Hong Kong-listed company, today signed a definitive agreement for Reliance Brands to acquire 100 per cent shares of Hamleys Global Holdings Ltd, the owner of Hamleys brand, from C Banner International." And as with this acquisition of Hamleys brand and business places, Reliance emerges on the front-line of global retail, we have a look at the toy store's timeline of events from the past.
Timeline of Hamleys, world's biggest toy-store
In 1760, William Hamley, a Cornishman from Bodmin, set up his toy shop Noah's Ark in Holborn. The location of the shop was quite ideal to attract customers. By 1837, the shop was owned by his grandsons who had become famous.

In 1881, they opened a new branch in London's Regent Street.

However, in 1901, the original Noah's Ark located at 231 High Holborn was destroyed by fire. It was then relocated to Holborn.

Between the 1920s and 1930s, Hamleys witnessed its lowest times to the point of closing in 1931. However, it later re-opened the same year after Walter Lines bought it. Walter Lines along with his two brothers, who owned Tri-ang Toys brought the company back to life.

Their hard work paid off in 1938 when Queen Mary gave Hamleys the Royal Warrant. In 1955, H.M. Queen Elizabeth II followed in Queen Mary's footsteps issued a Royal Warrant again.

Hamleys was bombed five times during the Second World War.

Following which, Hamleys moved from No. 200 Regent Street to its current location at Nos. 188–196, Regent Street, in 1981.

They opened multiple stores at different locations in the UK in 1987-88, but it closed down less than 12 months later. Currently, the UK has 10 Hamley stores.

Hamleys had two websites, one for the UK, and a US version. They launched hamleys.com in 1999.

In 2003, Hamleys was bought by the Baugur Group, an Icelandic investment company for 68.8 million (Rs 4 billion).

However, Baugur was largely affected by the Icelandic financial crisis in 2008 and applied for bankruptcy protection in February 2009. Following Baugur was also delisted from the London Stock Exchange (LSE) in 2003.

As Baugur collapsed, its stake in the toy store was taken over by the Icelandic bank Landsbanki, their largest creditor.

In September 2012, Groupe Ludendo, a toy retailer that owns shops in different countries, based in France bought Hamleys for £60 million (Rs 5 billion).

Reportedly, in October 2015, Groupe Ludendo negotiated the sale of Hamleys with a Hong Kong company owned by a relative of the owner of department store House of Fraser. Subsequently, it was purchased by C Banner, a large Chinese footwear and fashion wear conglomerate based in Nanjing. They also own the Chinese units of marquee consumer retail brands such as Steve Madden and Sundance.

In 2018, Hamleys reported a profit after tax of 2.44 million pounds following a loss of 11.24 million pounds in 2017.

Hamleys currently has 167 stores across 18 countries. Other than the UK, they have stores in China, Germany, Russia, India, South Africa and West Asia.
Watch the video below:
Hamleys' flagship store in Regent Street London is set over seven floors covering 54,000 sq ft, with over 50,000 lines of toys on sale. It is considered to be one of London's popular tourist attractions and receives more than five million visitors each year.