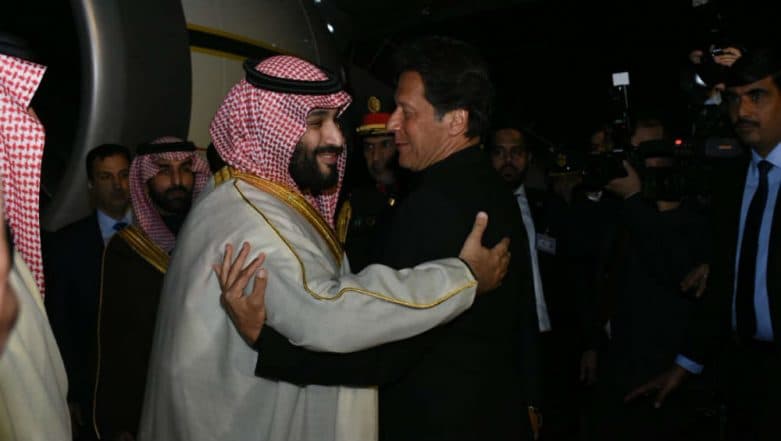 Toronto, February 19: A day after Saudi Arabia's Crown Prince Mohammed bin Salman also known as MBS signed over $20 billion in investments in Pakistan, he has been awarded the country's highest civilian honour Nishan-e-Pakistan.
Prince Mohammed bin Salman was awarded the honour by Pakistan's President Arif Alvi during the second day of his visit to Pakistan. The award ceremony in Islamabad was attended by Pakistan's Prime Minister Imran Khan and other senior leaders.
President of Pakistan Dr. Arif Alvi gives highest civil award ''Nishan-e-Pakistan'' to Saudi Crown Prince Muhammad Bin Salman

Prime Minister Imran Khan was also present at the ceremony.

🇵🇰🇸🇦#CrownPrinceinPakistan#ThanksPMIKandCrownPrince pic.twitter.com/ue1GaYV1Xl

— Prime Minister's Office, Pakistan (@PakPMO) February 18, 2019
Saudi Arabia and Pakistan signed provisional agreements and memorandums of understanding in the energy, petrochemicals and mining sectors, according to reports. Of the latest deals, Prince Mohammed bin Salman said, "It's big for phase one, and definitely [our commercial relationship] will grow every month and every year, and it will be beneficial to both countries."
The Saudi investment comes at a time when Pakistan is facing a severe financial crisis and is in talks with the International Monetary Fund for a bailout package of almost $8 billion dollars. Pakistan's foreign reserves are down to just US $8.2 billion which is enough to pay for two months' worth of imports in to the country. The $20 billion in investments for an oil refinery in Gwadar, the acquisition of two government-owned power plants by Saudi corporations, and other mining projects are on top of a $6 billion loan provided by Saudi Arabia. The generous gesture by Saudi Arabia has elicited the comment that Riyadh is 'Pakistan's friend in need.'
Saudi Arabia's largess comes at a time when Crown Prince Mohammed bin Salman seems to have embarked on a charm offensive targeted at the country's neighbours after facing global condemnation for his alleged role in the killing of Saudi journalist Jamal Khashoggi.
MBS is scheduled to visit India and China on the second leg of his tour of Asia.