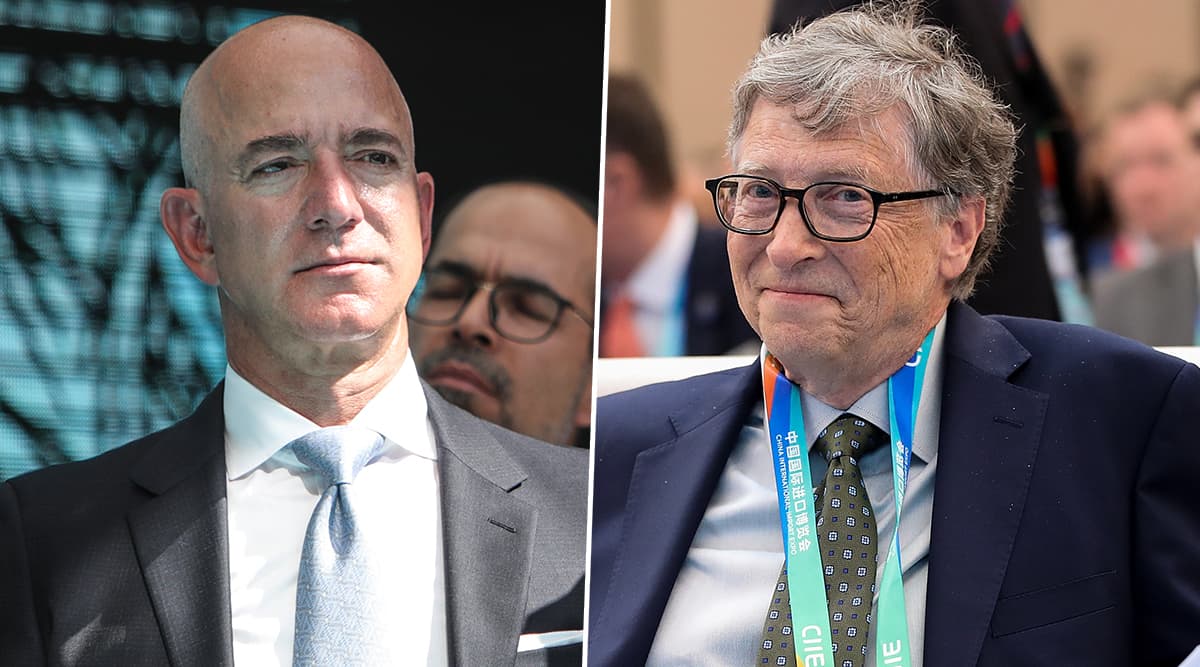 Washington, January 1: On New Year's Day 2020, Amazon Chief Executive Officer (CEO) Jeff Bezos has topped the chart of world's richest persons. The list, as updated on January 1, 2020, shows Bezos as the person with the maximum net worth on the globe. He is succeeded by Microsoft Corporation co-founder Bill Gates, who narrowly trails behind Bezos in terms of net worth. Amazon Founder Jeff Bezos Finalizes Divorce With USD 38 Billion Settlement: Report.
Among Indians to feature in the list of 100 billionaires are Mukesh Ambani, the Chairman of Reliance Industries Limited (RIL) and Azim Premji, the Chairman of Wipro Limited. As per the Bloomberg Billionaires' Index, Ambani is on the 14th spot with a total net worth of $58.6 billion, whereas, Premji is on the 65th spot with net worth of $18.3 billion.
Bezos, who ranks first in the index, has net worth of $115 billion, followed by Gates with net worth of $113 billion. LVMH chief executive Bernard Arnault ($105 billion), Berkshire Hathaway CEO Warren Buffett ($89.3 billion) and Facebook CEO Mark Zuckerberg ($78.4 billion) feature at 3rd, 4th and 5th spot, respectively.
The list of billionaires is updated by Bloomberg on daily basis. The top spot remains fluctuating, with Bezos and Gates competing for the title of "richest person". The maximum billionaire, in the list of top 100, belong to the United States of America, which is considered to provide the most conducive environment for business to expand and flourish.