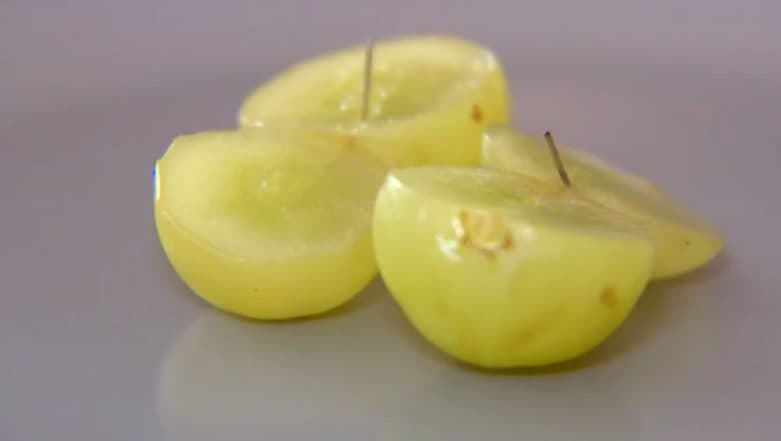 A couple in Melbourne was shocked when they found needles hidden inside grapes bought from a supermarket. Skender Hasa and Shams Alsubaiy, from Craigieburn, were snacking on some grapes after dinner when a needle pricked Ms Alsubaiy. On cutting the grapes, they found a needle inserted within the fruit. They decided to cut all the grapes and found a second needle in the bag. Ms Alsubaiy is pregnant and thankfully did not happen to eat the grapes. Police are now investigating the case and with this incident once again the problem of fruit contamination comes to fore. In September 2018, the country saw a major scare when needles were discovered in strawberries. Strawberry Needle Case in Australia: Queensland Police Arrests 50-Year-Old Woman in Connection With Fruit Contamination.
The couple had brought the grapes from Woolworths outlet in Craigieburn. The supermarket released a statement saying they will work with the police to find out the cause and culprit behind this. "We're aware of the customer report and will work closely with the authorities as they investigate this matter," the statement read. Ms Alsubaiy has decided on not eating grapes for the next few months altogether. "I thank God I didn't eat them. I'm pregnant, and I don't want anything to happen," she was quoted to 9news.
Watch Video of Needles Discovered in Grapes by Australian Couple
Last year in September, Australia saw a major crisis of needles in fruits. Strawberries, apples and mangoes were found contaminated with needles. The incident was termed as a 'vicious crime' and investigations were lead into arresting a boy who started it as a prank! A man was seriously injured after he ate a strawberry which was contaminated with a needle. About 13 people had reported of finding needles in strawberries and it resulted in a lot of fruits being dumped due to the scare. While the reports were done, looks like the prank has shown up again. The couple is now urging everyone else to be careful with the fruits they buy and cut them before they eat it.