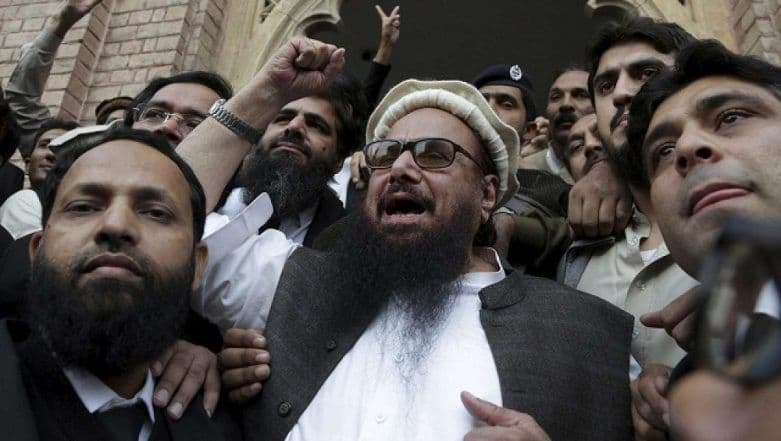 Global pressure headlined by India against UN designated terrorist and 26/11 mastermind Hafiz Saeed seems to be working as The Hindu has reported that China wants the Pakistan government to look into relocating the Jamaat-ud-Dawa chief.
The Hindu report says Chinese President Xi Jinping gave Pakistan Prime Minister Shahid Khaqan Abbasi this option when it came to dealing with Saeed — allowing Saeed to live a quiet life in a West Asian country. This suggestion was made on the side-line of the Boao Forum in China last month. "At a 35-minute meeting, at least 10 minutes of the discussion dealt with Saeed. The Chinese President was keen on pressing the Prime Minister to find an early solution to keep Saeed away from the limelight," a close aide of Abbasi told The Hindu, requesting anonymity.
Earlier this year, the JuD was put on the list of banned organisations just before the Financial Action Task Force (FATF) meeting in Paris. The JuD was reported by Indonesia after the authorities detected some money channelled through the country by the outfit. Indonesia notified the FATF, according to The Hindu. A Presidential Ordinance was issued to freeze all assets of Hafiz Saeed, linked to the JuD and its charity arm, Falah-i-Insaaniyat Foundation by Pakistan government. Interestingly, the JuD was not put in Schedule 1 of the Anti-Terrorism Act under which the leaders of a banned organisation must be arrested without which Saeed free to roam the country.
However, hours after the report was published, Beijing has dismissed it as "shocking" and "baseless".
Chinese Foriegn Ministry spokesperson's office today said the report that Xi has asked Abbasi to relocate the Pakistan-based Jamaat-ud-Dawa (JuD) chief to a West Asian country was "shocking and baseless". "It is shocking and baseless that's all we can say," the official told PTI here.
Saeed carries a $10 million American bounty for his role in terror activities. His organization - JuD is believed to be the front organisation for the Lashkar-e-Taiba(LeT) which is responsible for carrying out the 26/11 Mumbai terror attack. The LeT was declared a foreign terrorist organisation by the U.S. in June 2014. Saeed is also the alleged mastermind behind the 2008 Mumbai terror attack in which 166 people, including six U.S. nationals, were killed.
The U.S. Department of the Treasury has designated Saeed as a Specially Designated Global Terrorist, since 2012. (With Agency inputs)