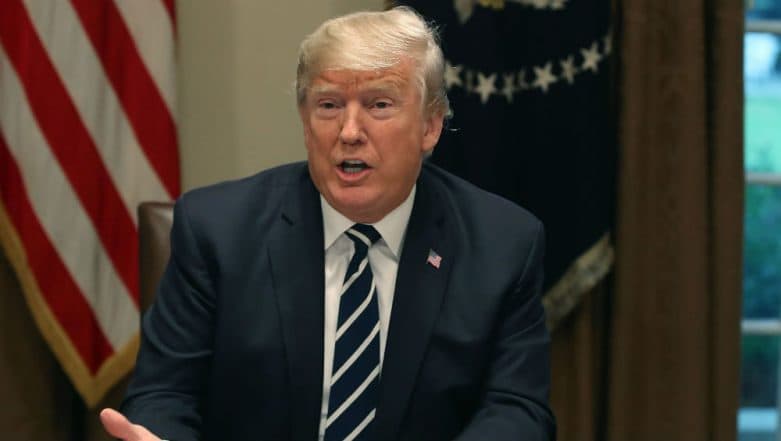 Toronto, February 3: US President Donald Trump in an interview with CBS has admitted that he is aware of the threat of a resurgence of the terrorist group ISIS also called Islamic State, after US troops are withdrawn from Syria.
Trump had announced in December 2018 that ISIS had been defeated and hence US troops would be withdrawn from their deployment in Syria. When questioned about his decision by CBS's Margaret Brennan, who asked the US President, "Because the concern in here by your intelligence chiefs, though, is that you could in that vacuum see a resurgence of ISIS," Brennan said.
"Sure," Trump replied.
"See a resurgence of terror groups like Al-Qaeda?" Brennan continued.
"And you know what we'll do? We'll come back if we have to," Trump said.
"We have very fast airplanes, we have very good cargo planes. We can come back very quickly, and I'm not leaving," he said. "We have a base in Iraq and the base is a fantastic edifice. I mean, I was there recently, and I couldn't believe the money that was spent on these massive runways. And these -- I've rarely seen anything like it."
This admission from Trump of a continued threat from ISIS comes even as his own military has maintained that US troops are needed in Syria to fight the remaining fighters who have held out despite an offensive against the Islamic State. US Defence Secretary James Mattis resigned in protest over Trump's decision to withdraw troops from Syria. The Pentagon too believes that ISIS could re-emerge and take back territory in Syria within months if the US does not maintain military pressure on the terror group, according to a report by CNN.
At the peak of its power, the Islamic State controlled an area the size of Britain, approximately 34,000 square miles spread across Syria and Iraq. But today, just a few hundred of the most die-hard Islamic State fighters remain who are making their last stand in the villages of Marashida and Baghuz Fawqani on the banks of the Euphrates River, a few miles from the Iraqi border in southeastern Syria. They have been hemmed in an area of six square miles and face the threat of US-backed Syrian Democratic Forces on one side and Bashar Al-Assad's army on the other.
However, Trump believes the threat from ISIS can be tackled with the U.S.'s base in Iraq. He explained in the interview that some of the troops in Syria will be shifted to Iraq. "They're starting to, as we gain the remainder, the final remainder of the caliphate of the area, they'll be going to our base in Iraq, and ultimately some will be coming home."