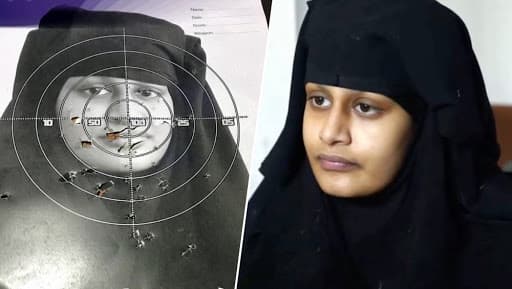 London, February 28: Days after the United Kingdom government revoked Shamima Begum of its citizenship following her joining the Islamic State, another controversy marred in the British land with a shooting range in Wallasey in Merseyside used her image for as a target. The Ultimate Airsoft shooting range in Merseyside was criticised for using 19-year-old as a target and gave the explanation that they did it for 'fun'. Begum (then 15) had left the United Kingdom in 2015 to join ISIS and was stripped of the citizenship.
Facing a backlash on the social media for using the image of Begum as a target, the shooting range came with a defence stating they used it because of a 'record number of requests' from its customers. It further stated that it also allows people 'to have some light-hearted fun bringing out the inner child in all'. In its reply on its website, the shooting range also clarified that they offer other 'celebrity targets' at their unit on Marine Road in New Brighton including Jose Mourinho, Donald Trump, Margaret Thatcher and Justin Bieber. UK: 19-Year-Old Shamima Begum, Who Fled in 2015 to Join ISIS in Syria, 'Will be Stripped of Citizenship' Despite Her Plea to Return. 
Earlier, the use of the image of IS bride by the shooting range in Merseyside was criticised in Britain. Labour MP Angela Eagle too expressed her dissatisfaction over it and stated she was "disapproving" of the use of living people's faces by Ultimate Airsoft Range in Wallasey.
It is to be known that the UK stripped Begum's citizenship, after which a debate took off. Begum in her reply to this move had called it 'heartbreaking' and 'hard to swallow'. Expressing her opinion over this, she said, while speaking with BBC correspondent Quentin Sommerville, "It's kind of heartbreaking to read. It's kind of hard to swallow." Adding more, she said, "It is wrong I being deprived of my citizenship without anyone from the home office speaking to me first."
On being asked of her reaction on Bangladesh's reply, she had said, "I wasn't born in Bangladesh, I've never seen Bangladesh, and I don't even speak Bengali properly, so how can they claim I have Bangladeshi citizenship." Earlier, Bangladesh Interior Minister Asaduzzaman Khan had said that citizenship of 19-year-old Shamima Begum who left east London to join IS is a matter for the UK Government and "Bangladesh has nothing to do with this". Shamima Begum, Who Left UK to Join ISIS, Delivered Baby in Syria: Family. 
To this, Begum had said, "I have one citizenship... and if you take that away from me, I don't have anything. I don't think they are allowed to do that."
In the interview with the BBC's Middle East correspondent, the IS bride hoped that Britain would understand she made a mistake (by joining ISIS), as she was young and naïve. Begum had expressed her desire to return to the country; however, Britain is most unlikely to entertain her request.