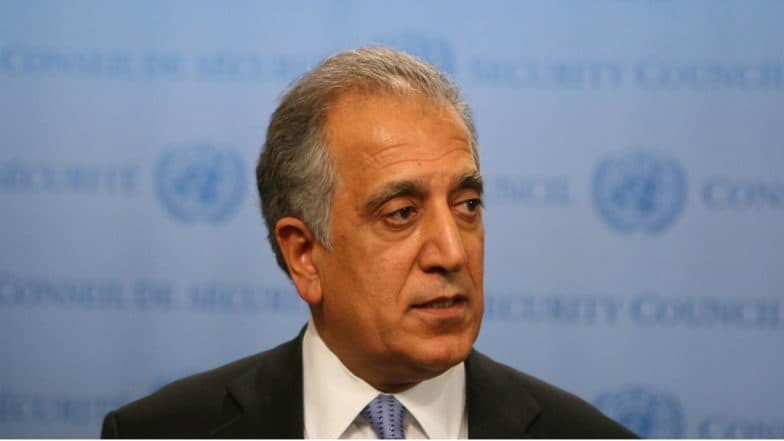 Toronto, January 28: Week-long talks between US's special envoy Zalmay Khalilzad and representatives of Afghan Taliban have led to an agreement on a draft framework for a peace deal that would try and end 17-years of fighting in Afghanistan.
Zalmay Khalilzad who spear-headed the talks in Doha, Qatar reached Kabul to brief the Afghan government about the progress in negotiations. The US special envoy, confirmed the existence of the draft in an interview with the New York Times (NYT).
The peace agreement requires the Taliban to observe a ceasefire and to talk directly with the US-backed Afghan government led by President Ashraf Ghani – two conditions which the Taliban have not yet agreed to. Read: Afghanistan's President Ashraf Ghani Tells Taliban to Engage in Direct Talks or Be Used As 'Tool'
If the talks led to a full deal, US troops would be phased out from Afghanistan within 18 months. The deal also requires the Taliban to ensure and to stop Afghan territory being used by terrorists.
Khalilzad said, "The Taliban have committed, to our satisfaction, to do what is necessary that would prevent Afghanistan from ever becoming a platform for international terrorist groups or individuals. We felt enough confidence that we said we need to get this fleshed out, and details need to be worked out." Read: US Officials, Taliban Continue Talks in Qatar – US Troop Withdrawal Main Point of Contention.
However, President Ashraf Ghani soon released a statement saying that any peace deal should be "Afghan led." "We want peace, we want it fast but we want it with a plan," Ghani said on Monday. "We should not forget that the victims of this war are Afghans and the peace process should also be Afghan-led," the president added.
From the Taliban side, eight-members represented the insurgent force including Taliban chief Mullah Abdul Ghani Baradar, three members from the political office including Abbas Stanikzai and one senior member of the Haqqani Network. Mullah Yaqoob who is the youngest son of Mullah Omar and ex-Afghan Taliban chief also took part in talks.