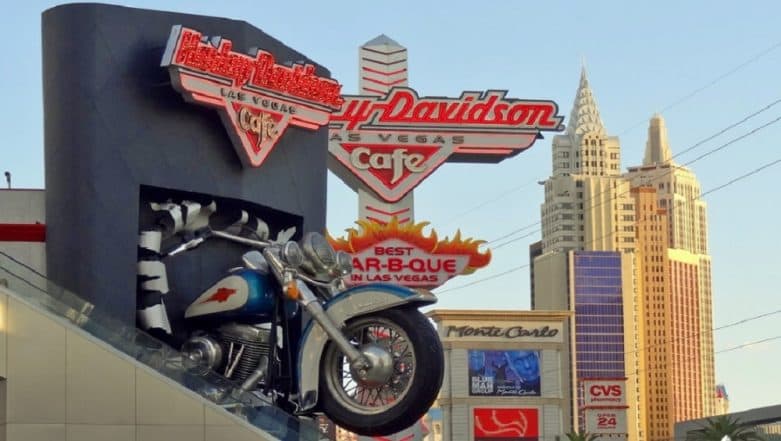 Iconic motorcycle manufacturer, Harley Davidson has announced that it plans to shift some of its production overseas after the EU said it would tax the bikes as a counter-measure over U.S. President Donald Trump's tariffs over steel and aluminium imports into the country.
The European Union hit the American motorcycles with duties of 31 percent on Friday, up from six percent, boosting the cost to EU consumers by about $2,200.
Harley-Davidson's shares have dropped after it announced that the EU counter-tariffs, made after Donald Trump's own taxes on European products, will cost the company up to US$100 million a year.
The company said it would not raise retail or wholesale prices for its dealers, and expects the tariffs to result in incremental costs of US$30 million to US$45 million for the rest of 2018. "Harley-Davidson believes the tremendous cost increase, if passed onto its dealers and retail customers, would have an immediate and lasting detrimental impact to its business in the region," the company said.
"Increasing international production to alleviate the EU tariff burden is not the company's preference, but represents the only sustainable option to make its motorcycles accessible to customers in the EU and maintain a viable business in Europe."
Europe is Harley-Davidson's second biggest market after the U.S. The company reported $521.8 million in earnings in 2017 on $5.6 billion in revenue. In 2017, Harley sold nearly 40,000 new motorcycles in Europe, which accounted for more than 16 per cent of the company's sales last year.
Trump had vowed to make the iconic motorcycle maker great again when he took office last year. But since then the President's decisions have adversely impacted the company.
In late April, Harley said Trump's metal tariffs would inflate its manufacturing costs by an additional US$15 million to US$20 million this year on top of already rising raw material prices that it expected at the start of the year.
U.S. President Donald Trump said today he was "surprised" by Harley-Davidson's decision to shift some manufacturing of its iconic motorcycles overseas to avoid European tariffs. "Surprised that Harley-Davidson, of all companies, would be the first to wave the White Flag," Trump said on Twitter. "I fought hard for them and ultimately they will not pay tariffs selling into the EU, which has hurt us badly on trade, down USD 151 Billion. Taxes just a Harley excuse - be patient!" (With Agency inputs)