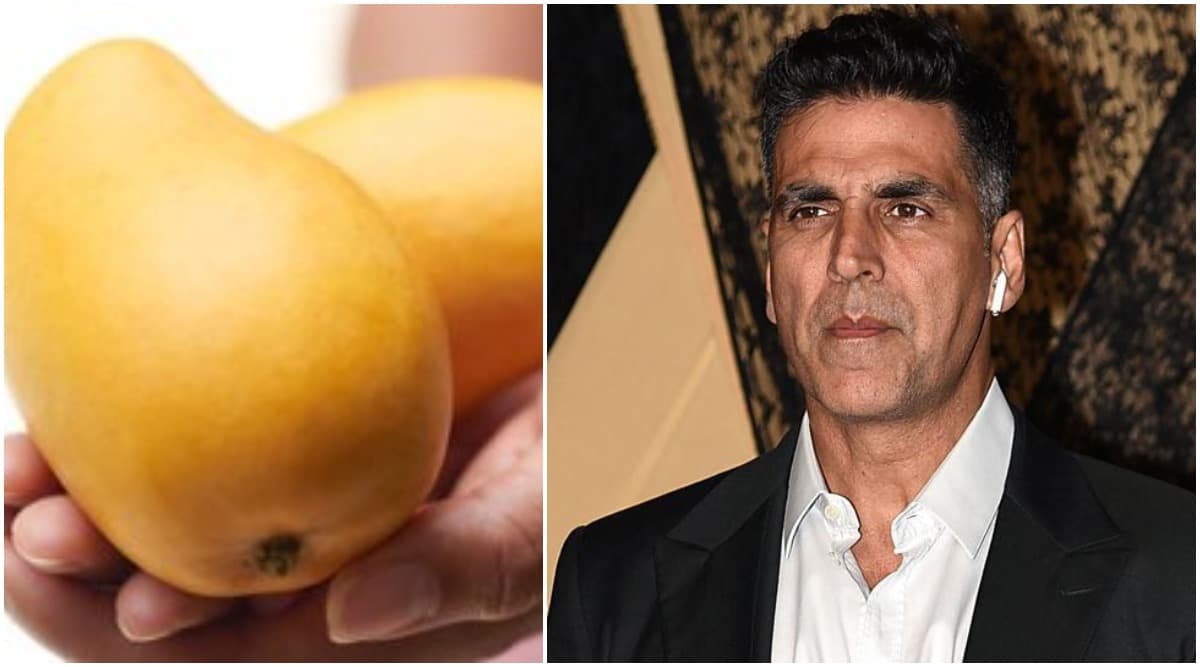 Akshay Kumar is currently hailed as the hero of the nationalists, the Manoj Kumar of his generation. The reason? He has been the lead in quite a few socially conscious movies. Akshay Kumar has also been a face of Government's various social initiatives, despite his closeness to the BJP party bringing him a lot of flak. Akshay Kumar has also been quite vocal about various women issues, especially when the conversation was tied around his past movies, Toilet- Ek Prem Katha and Pad Man. Sooryavanshi: Akshay Kumar Introduces us to Bollywood's Cop Universe with Ajay Devgn's Singham and Ranveer Singh's Simmba (View Pic).
So it would be quite embarrassing for the National Award-winning actor and his devoted fans, when an old quote of his, where he distastefully compares heroines to mangoes, is going viral right now. Akshay Kumar had made this statement in 2012 when he was buoyed by the double successes of Rowdy Rathore and Housefull 2. Speaking to TOI, he was asked about his heroines - Sonakshi Sinha and Asin - when he made this statement.
He had said, "Sonakshi is a wonderful actress who has her own style of acting. She has an absolutely different figure – a typical, Indian figure and not size zero. Khaate peete gharane ki lagti hain. I am a pure Punjabi. I like heroines who are hari bhari (fullsome). Chusa hua aam na lagey! (they shouldn't look like sucked up mangoes)." He then went on to ask the journalist if 'chusa hua aam' really means 'sucked up mango', before giggling on his own joke.
We have no clue as to why this quote was brought out of the debris now, all of a sudden. But Akshay Kumar's detractors are using this statement to put holes into the actor's carefully manicured social image. Some of them are even recalling Akshay's interview with PM Narendra Modi, where they discussed how the Prime Minister likes to have his mangoes. Coming to think of it, ewww!
Check out some of the tweets below
Damn! That Burns!
That 'aap aam kaise khate hain' question sounds even more disturbing now. https://t.co/SUqAHUvUBG

— Rofl Gandhi 2.0 (@RoflGandhi_) October 16, 2019
More Sins Revisited!
Aap Bell Bajao, Main Aap Ko Baja Tha Hoon.

I like Heroines who are hari bhari. Chusa hua aam na lagey@akshaykumar is the definition of sexism & misogyny & objectification of women.

First no one used to give him attention.

Now hes learnt how to use PR & media to his favor. pic.twitter.com/IorgGCmzaR

— 🅰️🇳​🇦​🇳​🇩​ 🇯​ 🇸​🇮​🇳​🇬​🇭 (@being_daring1) October 16, 2019
Poor Twinkle Khanna is Dragged In Here Too!
Here is a blast from the past! Tharki Canada Kumar does not like chusa hua aam. 😅

Feminist Wifey likes getting expensive real estate as gifts from Dewan Housing.#TharkiKhiladi #HawasKaKhiladi

— Dharmaa Sankar 🌈🌈🌈 ധർമ്മ ശങ്കരത്തിൽ (@dharmaasankar) October 16, 2019
Goes Around Comes Around
What goes around comes around eventually...

Once Akshay Kumar shamed actresses by saying "Chusa Hua Aam" to them, now he himself looks like CHUSA HUA AAM. Even Amitabh Bachchan looks younger in front of him.

Mr. Chusa Hua Khiladi 😭😬😂#KARMA pic.twitter.com/C38leXj7qa

— #D3 (@SalmanKhanReign) October 15, 2019
Is There Any Connection?
I found this interview 2012 interview of Bollywood actor Akshay Kumar, who interviewed Indian PM Modi and asked him about his love for mangoes.

He reportedly said in 2012: "I am a pure Punjabi. I like heroines who are hari bhari. Chusa hua aam na lagey."https://t.co/xmLSQdYgBf

— Uzair Hasan Rizvi (@RizviUzair) October 16, 2019
Another Dig to Twinkle Khanna
Hello feminist @mrsfunnybones

First tecah your husband not to judge women by their size of breast. https://t.co/OmOCXeWany

— Shadow Home Minister of 🌈 (@Bhaujan_connect) October 16, 2019
Blast From the Past!
"I like heroines who r hari bhari. Chusa hua aam na lage"

This is d real face of Canadian @akshaykumar frm his pre Deshbhakti era, degrading women

And Now he loots innocent Indians in d name of Women centric films, stacking 💰💴 in Canada

Practice what you Preach You Hypocrite pic.twitter.com/kUjqHD7msj

— 🤩 (@Being_PreeTy) October 15, 2019
Disgusting!
Listen to this full clip carefully! Thanks to @akshaykumar , now you will understand the meaning of "Aam kaise khaate hain"!! Disgusting!!😡 pic.twitter.com/uLwG4vwn1t

— Pankaj Mishra (@pankaj_mishra23) October 16, 2019
Ah, Well...
Seriously Canadian ji... Can you stoop any lower.

'Sucked out mangoes' WTF 🧐🧐

— Abbas Katwarawala (@KSAbby) October 16, 2019
To be a little fair, and we are no way in support of what he said, Akshay did give that silly statement nine years back, and we have learnt from Life, that people and their perceptions can change. So hopefully, Akshay's views on what he thinks make for a heroine, which then didn't include 'acting', might have changed. Anyway, this is the last kind of controversy Akshay Kumar needs right now when he is in the middle of promoting his new film, Housefull 4, whose song "Ek Chumma" has been accused of being derogatory to women.