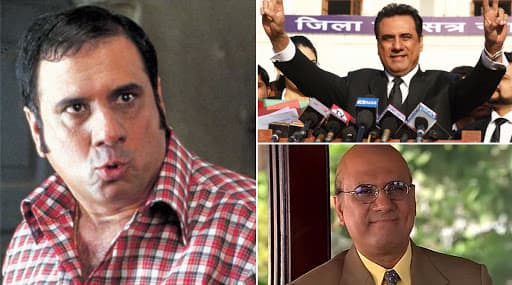 Boman Irani is one of those actors who make us believe that if you will it, you can be an actor anytime you want. He debuted in Indian Cinema when he was 41 and since then, has been one of the best performers of this industry. Despite being part of big commercial entertainers with huge superstars in the lead, Irani has always managed to leave an impression and a lasting one at that. Be it the Munnabhai series or the Don franchise or Happy New year, Boman Irani has managed to make people notice him always. After all, talent can never be kept hidden even if you aren't in the forefront. Boman Irani: Older People Gain Experience but Don't Seem to Be Learning Anymore
Our first memory of Irani on screen was for the Krack Jack commercial where the man showed his comic flair. Although he has been dangerously typecast in funny roles, he has shown his prowess in serious characters as well. On his birthday today, we will tell you five memorable characters played by Irani which prove he is a versatile talent.
Dr Asthana -Munnabhai MBBS
Dr Asthana, played by Irani, is one of our favourite characters in Indian Cinema. He is exactly how our fathers are - Strict, determined and rigid! Irani was on point as the man who is dead against a goon marrying his daughter. But then there's nothing that Jaddu Ki Jhappi can't sort!
Deepak Suri - Page 3
Although Irani doesn't have an elaborate role here, his portrayal of an editor of a newspaper was accurate. How the rich and the powerful manipulate the truth was brought across really well by the man who was only thought to be more of a comic relief than a serious actor.
Farokh Sethna - Being Cyrus
Saif Ali Khan gets a lot of credit for Being Cyrus which is right but we need to remember the man who played Farokh Sethna. A strong combo of malice and humour, Boman Irani made a killer appearance in the film. Those who have not watched this film, please do or you won't know how delectably crafty this man is.
Oscar Fernandez - Honeymoon Travels Pvt LTD
We don't know how many of you have watched this Reema Kagti wonder but we have to say, you missed a lot if you didn't. A middle-aged couple on honeymoon was unheard-of in film literature then, strictly talking about commercial films here and yet, Irani scored.
Advocate Rajpal - Jolly LLB
We know there are many characters that he played in-between which should have made it to the list, but we would like to jump to this one because Irani was sort of a revelation here. He was pure evil and also, very suave in that! His flair gets justice in this film where he is not a caricature of his character. Fantastic performance by the man!