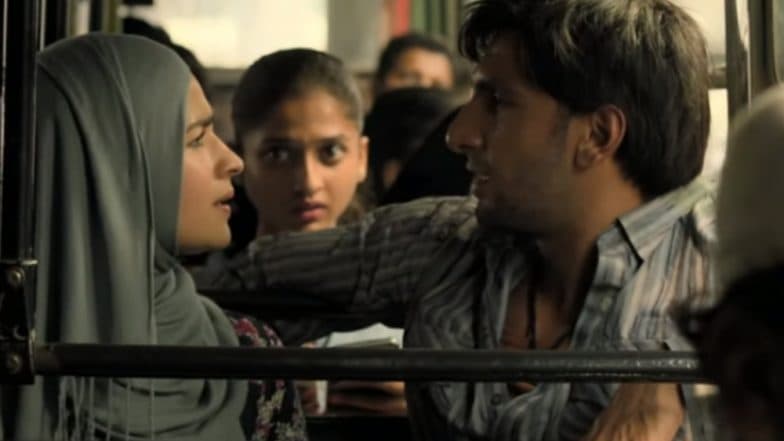 Ever since the first promo of the upcoming film Gully Boy came out, we knew that the rapping scene in India is going to change. Stars like Naezy and DIVINE are set to propel to an all new level of stardom, thanks to Ranveer Singh breathing life into a character inspired by them in the movie. Directed by Zoya Akhtar, Gully Boy had its world premiere at the prestigious Berlin Film Festival. The embargos on reviews and social media updates have been lifted because many took to Twitter to share their first reaction to the film.
Many known critics and many fans have watched the film and most seem to have absolutely loved it. Artistic Director of TIFF, Cameron Bailey, was in awe of the turn up for the Gully Boy more than the film itself. He tweeted that Gully Boy received the biggest cheers has heard in more than 20 years at Berlinale. Divine and Naezy, The Real Life 'Gully Boys', Pin Hopes on Ranveer Singh's Rapper Avatar.
Watched the GULLY BOY world premiere tonight in a packed house with @RanveerOfficial, @aliaa08 & @ZoyaAkhtarOff present. Biggest cheers I've heard in 20+ years at the Berlinale. pic.twitter.com/Lk8OUoA663

— Cameron Bailey (@cameron_tiff) February 10, 2019
Baradwaj Rangan wrote in his review for Film Companion that "Gully Boy could be seen as an update on the Angry Young Man template – it's moving, it's rousing, it's everything". He added, "Ranveer Singh smoulders marvellously. He affects a slang that sounded ghetto enough to my non-Mumbai ears, and it's terrific to see him demonstrate his more "sophisticated" acting side. We caught glimpses of this underplaying in Zoya's Dil Dhadakne Do, where he was part of an ensemble, but here, he fills the film from the first frame to the last, and it's a superb showreel for his range,"
The Hollywood Reporter noted, "Zoya Akhtar (Zindagi Na Milegi Dobara) directs with flair and passion and, aided by explosive performances from a right-on cast, triumphs over the familiarity of the star-is-born storyline."
They wrote in their review, "The music is a high quality throughout, as confident and inventive as Jay Oza's camera. Though most of the rappers are young men, it's worth mentioning that the women characters stand out as strong and individual, from Murad's furiously humiliated mom to wildcat med student Safeena and free spirit Sky, none of whom are in sexual denial, but none are sex objects for the camera, either,"
Those words by The Hollywood Reporter are music to the ears. Especially to the ones who are tired of Bollywood's sexist portrayal of women in movie after movie.
Check out some more reactions to Ranveer Singh's Gully Boy Below:
Watched the world premier of #GullyBoy @berlinale . Intense movie, strong characters, emotional , focused direction, different narrative, superb direction, @RanveerOfficial intense role, gripping performance, @aliaa08 show stopper, #ZoyaAkhtar, brilliant, @ritesh_sid innovator,

— Chaitanya Prasad (@Chatty111Prasad) February 10, 2019
#GullyBoy is an excellent, excellent film! There is no better director than #ZoyaAkhtar at the moment. An absolute must watch. @RanveerOfficial @aliaa08 #Berlinale2019

— Aryaman Bhatnagar (@aryaman89) February 9, 2019
So, those were some of the early reactions to the film. Gully Boy opens in theatres on Friday in India. Fans of the actor are eagerly waiting to see him in his rapper avatar. Going extra miles for his character, Ranveer has also rapped for his songs in the film. It is one of those rare instances when an actor has sung for his songs in a Bollywood movie.