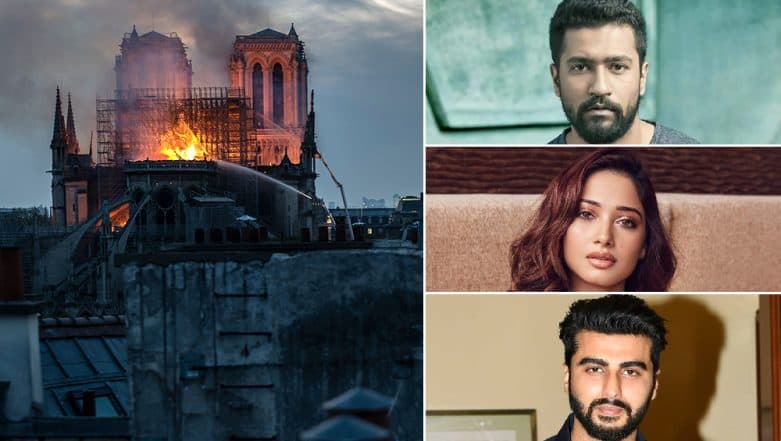 The reports of fire at Paris' Notre Dame Cathedral has left everyone in a state of shock. Be it the commoners or personalities from across domains, the destruction of the historic monument drew responses from all around the world. The social media platforms are flooded with messages of grief. Celebs such as Vicky Kaushal, Tamannaah Bhatia, Arjun Kapoor, Raveena Tandon and many others from the Indian cinema have voiced their heartache on seeing the Notre Dame Cathedral getting destroyed in flames. Notre-Dame Cathedral in Paris Goes up in Flames, Know the History And Facts of Famous French Tourist Attractions (Watch Pics and Videos).
Innumerable French fire fighters worked to put out the flames. There is no clarity on how the fire started and neither there are reports of any injury. The onlookers have shared pictures and videos of the Notre Dame Cathedral burning down in flames. As per reports, two-thirds of the Cathedral's roof have been destroyed in the fire. Take a look at the messages shared by celebrities: Paris Fire: Firefighters Battle to Save Iconic Notre Dame Cathedral.
Vicky Kaushal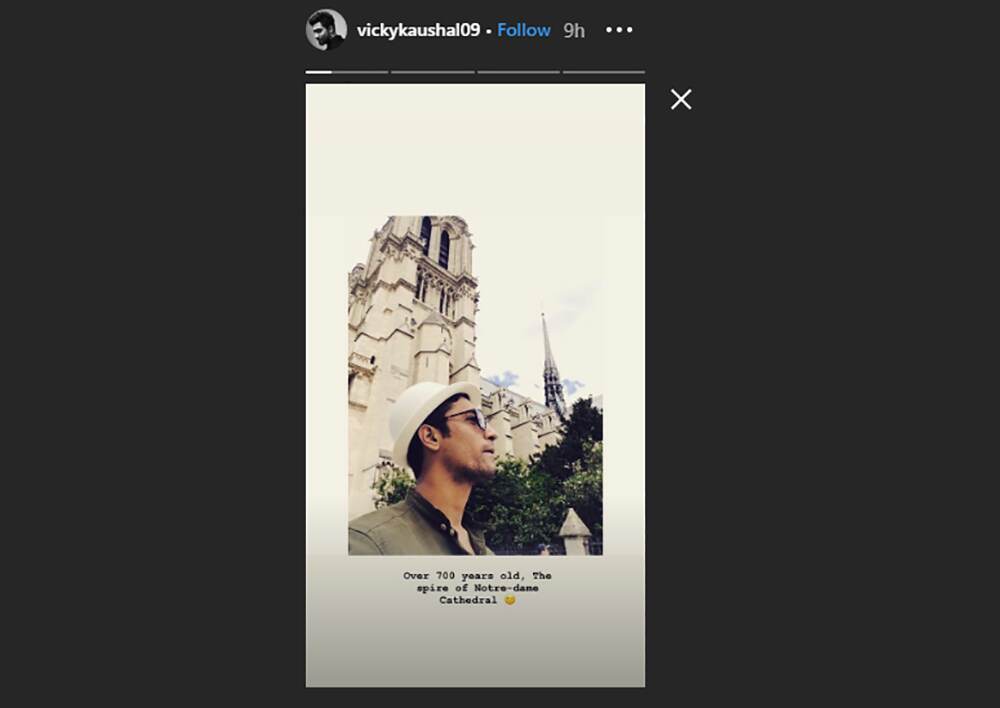 Arjun Kapoor
Devastated on seeing the fire at the Notre Dame Cathedral.. a piece of history turn to ashes.. Our hearts are with the people of France ❤

— Arjun Kapoor (@arjunk26) April 16, 2019
Tamannaah Bhatia
She's been around for over 800 years not just as a testament of our history but also place for many that found their peace, hope and faith in. This iconic monument is an inspiration to artists across the globe and it's really sad to know that humanity has lost #NotreDame today. pic.twitter.com/WwhkNU7xfD

— Tamannaah Bhatia (@tamannaahspeaks) April 15, 2019
Boman Irani
The Notre Dame tragedy is hard to watch. The people of France must be devastated. We hope and pray that its restoration will serve to heal.#NotreDame #Fire#NotreDameCathedral

— Boman Irani (@bomanirani) April 16, 2019
Raveena Tandon
Omg . Terrible . Terrible . This is a horrible loss to history and ancient heritage. https://t.co/E2HPc6OgkO

— Raveena Tandon (@TandonRaveena) April 15, 2019
Riteish Deshmukh
This is a world tragedy #NorteDame -I have no words to express my sadness. To every Notre Dame lover - am so so sorry. pic.twitter.com/FcCQaN6qhI

— Riteish Deshmukh (@Riteishd) April 15, 2019
French President Emmanuel Macron's declaration
LIVE | Déclaration depuis le parvis de #NotreDame.https://t.co/Bs2p4cpftB

— Emmanuel Macron (@EmmanuelMacron) April 15, 2019
The fire has taken place during the Holy Week and that has broken many hearts. French President Emmanuel Macron has vowed that Paris' Notre Dame Cathedral will be rebuilt. An international fundraising campaign will be launched to rebuild it. Stay tuned for further updates.