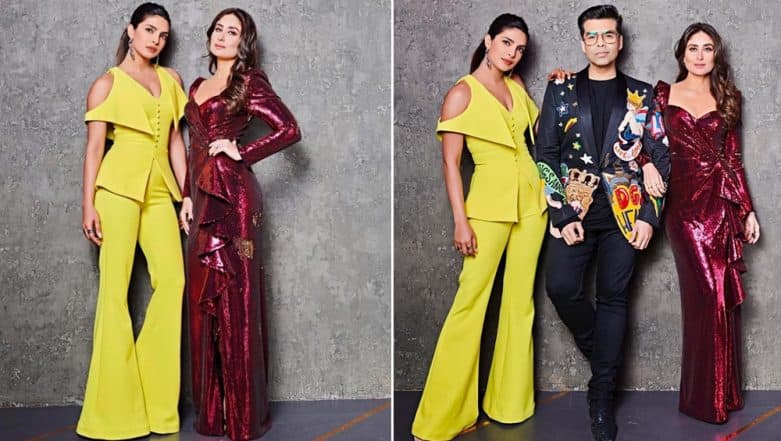 The opening episode of Koffee With Karan 6 was fantastic as girl Power took over the Karan Johar show, and now, the show is all set to end with a bang with another set of powerful women - Priyanka Chopra and Kareena Kapoor. We had told you earlier that there could be a possibility that KJo might get PeeCee and Kareena together for one of his episodes and voila! Here's the first pic of Bebo and Priyanka from the sets of Koffee With Karan 6. The two seemed to have had a cold war for quite some time for taking nasty jabs at each other on one of the previous seasons of KWK but now, looks like the two have buried the hatchet! Priyanka and Kareena posed with Karan Johar before they shot for the episode last night and the ladies look absolutely amazing. While Priyanka looks classy and utterly stylish in a lemon yellow coloured pantsuit, Bebo sizzles in a shimmery maroon dress. Karan is seen wearing his signature style jacket, which is from Dolce & Gabbana, his current favourite! Priyanka and Kareena Shoot for Koffee with Karan 6 and We'll Finally Know Where the Accent Came From – View Pics.
Check out these photos Karan shared from the finale episode of KWK 6 featuring Bebo and PeeCee-
Season finale!
While Kareena is the Queen of Bollywood, Priyanka is ruling the hearts of millions across the glob. They've both broken stereotypes in their own way and continue to hustle and strive every day! What we'd like them to talk about on the show? Well, obviously their "cold war" and how they decided to move on and of course, spill some beans on more Bollywood gossip. Since they're both empowering women in so many ways, we hope they also talk about serious issues like gender equality and wage gap. After all that's what real Girl Power is about and not bonding over your current and ex boyfriend! If you know what I'm hinting at!