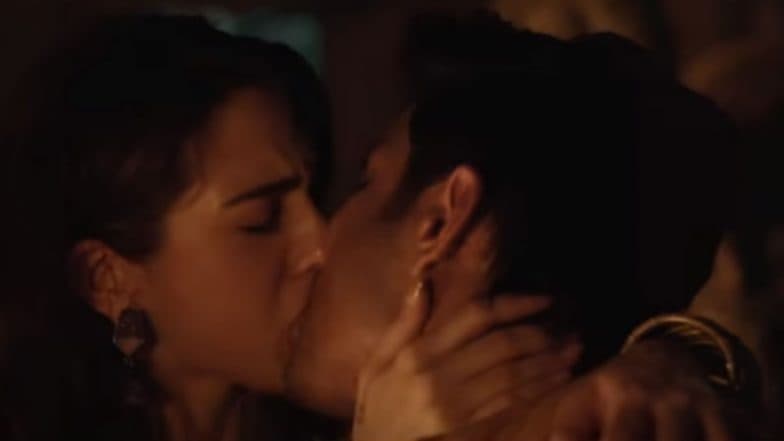 And the teaser of the much- awaited film - Kedarnath is finally here and we can't wait for the movie to hit the silver screens. Looks like Sara Ali Khan is all set to make a rather impressive debut opposite Sushant Singh Rajput. The two share a a mind- boggling chemistry in this pilgrimage love story which is set in the backdrop of the Kedarnath floods. Kedarnath Teaser: Sara Ali Khan and Sushant Singh Rajput's Pilgrimage Love Story Looks Promising - Watch Video.
The teaser is gripping in every frame and SSR and Sara's chemistry is the main highlight of the teaser. They look extremely good- looking together and there is not even a dull moment throughout the trailer. What's raised eyebrows is Sara and Sushant's steamy lip lock scene in the teaser! They share a steamy kiss in one of the scenes which has been shown in the newly released teaser.
Both Sara and Sushant look effortless in the teaser! We cannot wait to see them together on the big screens. 5 'Starry' Traits of Sara Ali Khan that Prove she is one step Ahead of her Counterparts Janhvi Kapoor and Ananya Panday.
Set on a 14km pilgrimage from Gauri Kund to Kedarnath ( the 2000 year old temple of Lord shiva ), this is a lovestory between Mansoor and Mukku played by Sushant Singh Rajput and Sara Ali Khan respectively.
#SushantSinghRajput and #SaraAliKhan's chemistry in #KedarnathTeaser

— LatestLY (@latestly) October 30, 2018
Mansoor, a reserved and reticent Pithoo (porter) who lives with his widowed mother, in a hamlet called Rambara helps pilgrims make an arduous journey upwards to the temple town. His world goes into a tailspin as he encounters the beautiful and rebellious Mukku who sucks him into a whirlwind of intense love. The mountain tsunami that wrecked the temple town in the June of 2013 leaving more than a hundred thousand dead sets the backdrop for this epic love story.
Kedarnath is a potent combination of love and religion, of passion and spirituality and is slated to release on December 7, 2018.