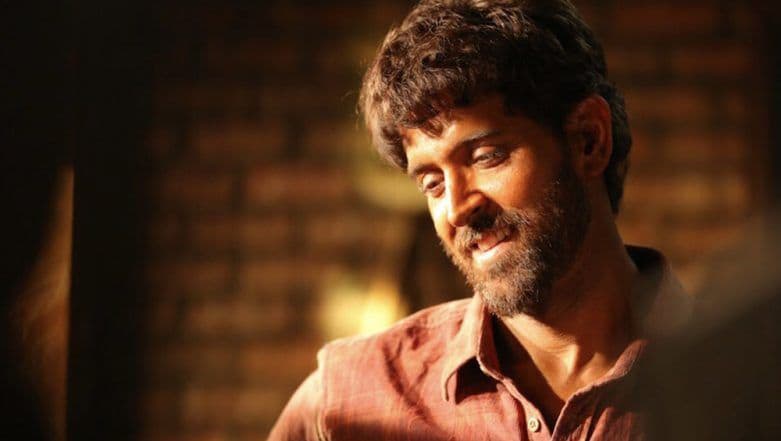 After a gap of two years, Hrithik Roshan returns to the big screen with this week's release, Super 30. The movie is his first biopic where he plays Anand Kumar, a Maths genius from Bihar. And Kumar is known for heading a successful chain of coaching classes called Super 30, that coaches underprivileged but brilliant students for IIT entrance. Mrunal Thakur is the female lead in the movie. Controversial filmmaker Vikas Bahl is directing Super 30, that also stars Pankaj Tripathi and Aditya Shrivastava. We are watching Super 30 right now and here's what we have to say about the first half. Super 30: Hrithik Roshan and Mrunal Thakur Fulfill the Wish of Underprivileged Kids by Dancing with Them (Pics/Video).
"Anand Kumar, a good medallist in Maths in Patna, aims to go to Cambridge University. And he even gets admission for the same. However, he couldn't arrange for finance and ends up selling
papads
to support his family. Fortune smiles at him when he gets an opportunity to teach at an IIT coaching class, and Anand begins to earn good bucks. But when he realises that only the rich are benefitting from his knowledge, Anand decides to start his own coaching class to teach the poor and the unprivileged but brilliant students. That too for free, even if it puts him at the risk of penury. And thus begins the journey of Super 30. 
Super 30: Censor Board Objects to Usage of 'Ramayana' in Hrithik Roshan's Film.
The first half of the film is quite decent with some good moments. Even though there is nothing ground-breaking about the narrative, Anand Kumar's life story has a lot of potential and the movie offers enough scope to display that. Hrithik Roshan's performance is equally decent, even though his accent still feels heavy-handed. The interval point arrives at a very interesting turn where we begin to find out how Anand Kumar manages to do the impossible."
In case you want to read the complete review of
Super 30
,
please check the link here
.
Super 30
is releasing all over India on July 12.