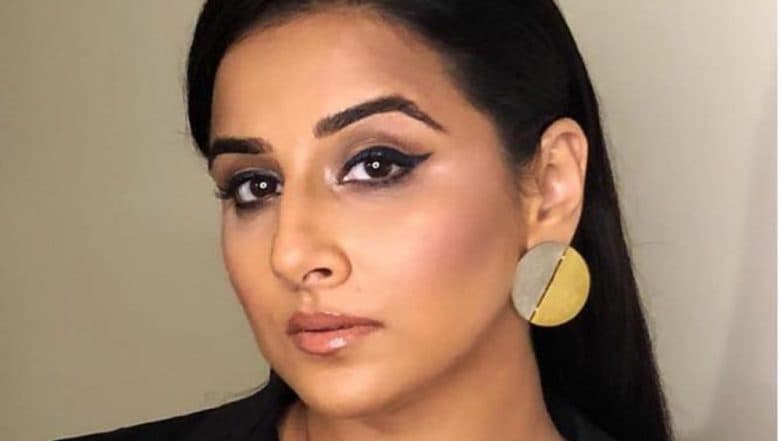 Vidya Balan is a powerhouse of talent. She has cemented her position in the industry with some brilliant performances in films like Kahaani, Bhool Bhulaiyaa, The Dirty Picture, Tumhaari Sulu and many others. We are next going to see her in Mission Mangal, which is scheduled to hit the theatres on August 15. Post that, she will start working on mathematician Shakuntala Devi's biopic, which will be directed by Anu Menon and produced by Vikram Malhotra.
Talking about the film, Vidya during an interaction with Times Of India told, "It was amazing to know that someone who is known as a human-computer is so much fun. She had a crazy side to her. I think math was the only straight side to her and this makes her life so fascinating. She is fun. And I never associate math with fun." Yo Or Hell No! Vidya Balan Spotted in Denim Jacket On Black Outfit At Bandra.
The biopic will go on floors in October and will release in the summers next year. "I am nervous about this because I haven't had much time to prepare. It is a very interesting character but she was a woman, about whom you have a certain perception of being a mathematician but she is fun. Also, she had a great sense of humour and I identified with it," she added.
What we are most excited about is Vidya's debut on the digital platform. The actress has brought the rights of a book for a web-series on Indira Gandhi. A few months back, she revealed in an interview that she was trying to do this. However, now it's confirmed that it's indeed happening as Vidya herself confessed, "I am doing one on a really powerful politician. I bought the rights of the book for a web-series on Indira Gandhi. If there were a few years apart it would have been fine. 'Daane daane pe likha hai khane wale ka naam' (what is supposed to happen, will happen)." Interestingly, Vidya was approached to star in the biopic of another female political figure, the late Jayalalitha. However, the role eventually went to Kangana Ranaut. We are definitely looking forward to see Vidya as the former Prime Minister of India.