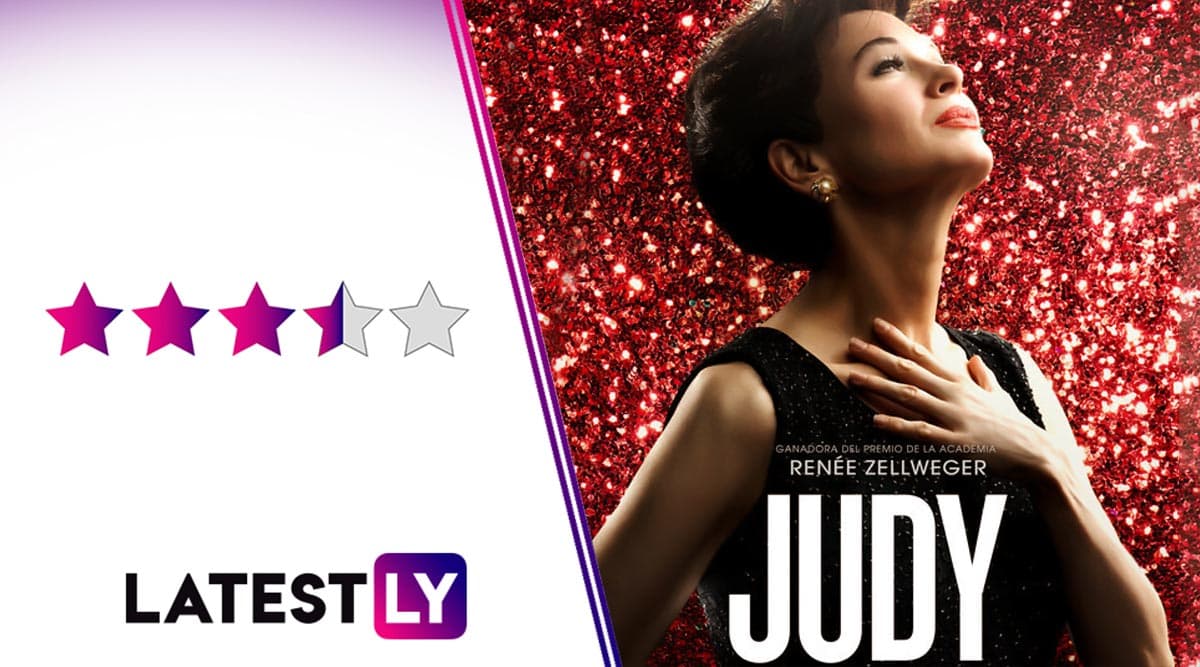 Judy Movie Review: My first memory of Judy Garland is watching The Wizard Of Oz, mind you not as a young child but way later in my twenties and still being mesmerised by her innocent act as Dorothy. My love for Garland further blossomed after I saw her in 1954's A Star Is Born with James Mason. She indeed shined like a 'star' in that film and ever since I found myself enticed by her voice and swinging to "The Man That Got Away". If Garland's acting was any less impressive, her musical contributions were a notch higher. When the announcement of a Judy Garland biopic first hit the news, I was scared it may fall prey to the usual biopic tropes and ruin the memory of Garland that many of us celebrate but lucky for everyone, the Rupert Goold film went way beyond that and much of its credit goes to actress Renee Zellweger's superlative performance. Judy: Renee Zellweger Stuns as Legendary Performer Judy Garland, the Academy-Nominated Film All Set to Release in India on January 24.
In a fashion that's common to most biopics, Judy too oscillates between Garland's early career as a pressured teenage star to a later stage when she's trying hard to stay relevant in the music business while also trying to make money to support her children after four divorces and a bunch of bad investments. We meet Renee's Judy in the final stages of her career when she signed onto perform in London's Talk of the Town for weeks of sold-out shows, about a couple of years prior to her passing at the age 47.
Showbiz isn't kind to most and for Judy, it was the abuse of her talent by the likes of producers such as Louis B Mayer, the MGM studio head that resulted in her struggling with substance abuse and depression from her early life. As the film moves in a non-linear pattern, on one hand we see young Judy (played effortlessly well by Darci Shaw) popping pills and skipping meals and on the other,  Renee's older Judy dealing with insomnia and struggling to get a hold of herself on stage at a packed auditorium in London.
Zellweger manages to get every face twitch, every reaction, every note quite close to that of Garland and almost brings to life the singer's unmissable persona. If you happen to catch a glimpse of the Judy Garland show, you'd realise how towering her personality was and how difficult it must have been for Renee to get it just right. The film tries hard to give us a picture of her struggles behind the celebrated musical persona that she was and a few scenes truly stand out such as the one where Judy heads off for a meal with two of her fans who happen to be a gay couple. In a crushing exchange between Judy and them, she says, " They hound people in this world. Anybody who's different". The exchanges between Jessie Buckley's Rosalyn who's appointed as Judy's manager for her London shows also bring out some of the best moments in the film.
The bits of flashback featuring a young Judy and her relationship with Mickey Rooney (Gus Barry), her MGM co-star turn out clumsy and don't bring as much depth to the story as one would expect. It almost seems like the flashback portions are a set-up to justify older Judy's erratic moments. Garland was a complicated figure and at some points, it does come across as though the film tries hard to make everyone sympathize with her situation as a byproduct of the toxic environment she grew up in. It is Zellweger's paralysed by doubt, forced onto the stage Judy that carries the film on her shoulders no doubt. Another weak point in the film is also the hurried storytelling around Judy's fifth marriage to Mickey Deans (Finn Wittrock).
Goold's direction is brilliant when it comes to showcasing that switch from Judy's troubled moments to her lighting up the stage on fire with a voice that Renee highly impresses with as she gives us a reminder of Judy's talent also co-exists as an artist herself by giving it her own touches to it. Zellweger's "By Myself" performance in the film is a golden moment in the film as it brings the right combination of Goold's skills and Renee's brilliance together. Yet another stunning sequence in the film is also the "Somewhere Over the Rainbow" performance which captures what the Judy Garland appeal truly was. The make-up and hairstyling departments deserve full credits for bringing Renee's phenomenal Judy Garland to further excellence by giving her the exact look. Renee's silhouette looks so close to Garland that it almost leaves you with gasp if you're a fan.
Watch the Trailer of Judy Here:
Performances:
This is a Renee Zellweger film all the way. Right from her first scene, she channels in Garland's spirit so well that it's not the make-up and her get-up that have to convince you that she's Judy. It's amazing how Zellweger has studied Garland's demeanour so well, especially her off-stage body language. The highlight of Zellweger's performance apart from being a heartfelt one is that it's not an imitation. Renee sings from her heart as a tribute to the talent of Judy and manages to give performances in the film that get us nostalgic and celebrate Garland without ever trying to disappoint us with any forced attempt to ape the legendary singer.  Oscars 2020 Nominations: Once Upon A Time in Hollywood, Parasite, The Irishman - Films to Watch Out for at the 92nd Academy Awards.
As for the supporting cast, there's no doubt that Darci Shaw's young Judy does a fabulous job of presenting the challenges faced by the young artists at the time. Another actor who impresses is also Jessie Buckley who captures the conflict of trying to figure out the complicated personality of Garland as a performer and her personal struggles while trying to do her job well. As for Finn Wittrock's Mickey, not only was the character poorly constructed but the actor too falls short in front of an impeccable performance of Renee.
Final Thoughts:
Judy is a film that is rough around the edges and struggles with formulaic storytelling but is saved gratefully by its lead star Renee Zellweger's excellent performance. Without ever letting herself go completely, Zellweger delivers a performance that is ideal for biopics, by finding a middle between the real-life persona and the film's character that Zellweger infuses with her own talents. Director Rupert Goold and screenwriter Tom Edge miss out on bringing any cinematic brilliance to it and safely rest on their lead star's staggering talent to make it shine.