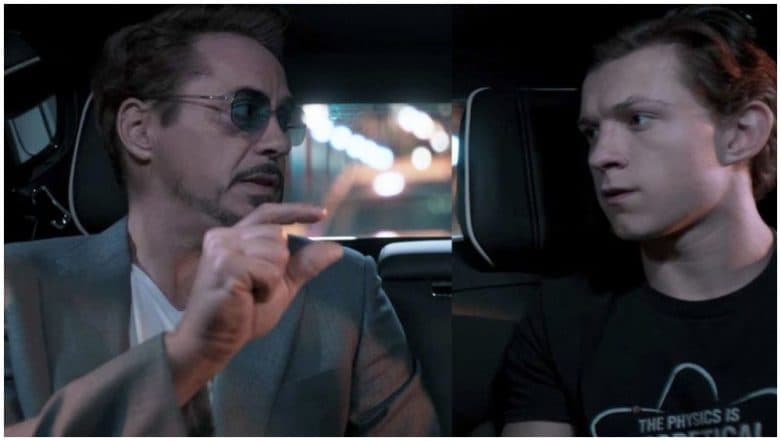 Spider-Man: Far From Home, the final film in phase 3 of MCU, has opened in theatres. Indian fans can watch the movie from tomorrow. The movie features our main man Peter Parker (Tom Holland) coming to terms with the death of his mentor, Tony Stark/Iron Man (Robert Downey Jr). And well, there are more than enough references to the deceased to make you emotional. We are about to enter the spoiler-heavy territory in the article now. So, proceed at your own discretion. SPOILER ALERT is officially in place. Spider-Man: Far From Home Movie Review: Tom Holland and Jake Gyllenhaal Team Up to Deliver a Thrilling, Surprise-Filled Superhero Rumble.
Tony Stark was quite popular for his wit and humour in the MCU. He had the knack for cracking jokes ALL THE TIME, even in the unlikeliest situations. He has even passed funny remarks right to the villain's face. When he died in Avengers: Endgame, one would think that was the last of his sense of humour. Well, that is not the case as Tony takes his last jibe at Peter Parker from beyond the grave.
Watch Peter Parker Using EDITH In The Video Below:
In Far From Home, Peter is gifted with a pair of sunglasses that Tony had left behind for him. The glasses are not ordinary but the billion-dollar worth technology that possesses the control to most of Iron Man's work. Tony has named it EDITH. Spider-Man: Far From Home SPOILERS: Both the Exciting Post-Credit Scenes of Tom Holland's Marvel Film EXPLAINED!
Peter learns EDITH simply stands for 'Even Dead, I'm The Hero'. He chuckles. The full form of EDITH is not just Tony's last gift to Spider-Man but also his last joke and final message. The situation is both funny and emotional. Watch out for it.