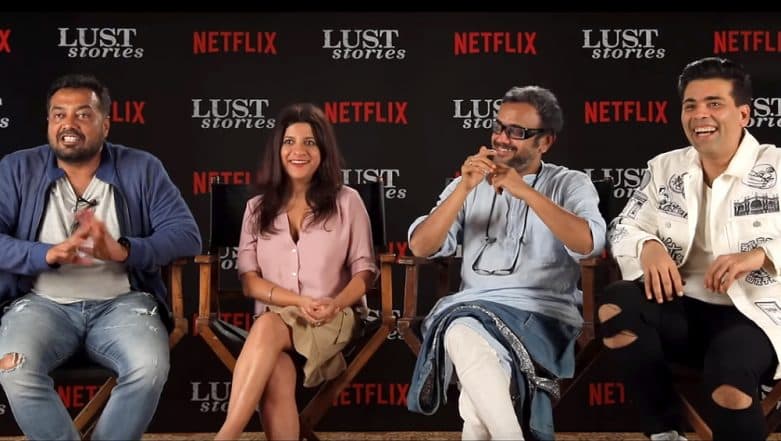 Netflix seems to have finally figured out what a gigantic market India is. The OTT platform is going all out with delivering original content to the Indian audience. We are not just talking about Sacred Games season 2. But much more than that is in store for the viewers. As per The Hollywood Reporter, Shah Rukh Khan is also producing a film, Class of '83, for Netflix apart from the spy thriller web series, Bard of Blood. Also, the four directors of Lust Stories - Karan Johar, Zoya Akhtar, Dibaker Banerjee, Anurag Kashyap - are reuniting for another anthology film. While fans would love for it to be the sequel of Lust Stories and see how the lives of the characters have developed, this is not it.
The new movie that the four directors are reuniting for is in the horror genre and, is titled Ghost Stories. Vicky Kaushal has been talking about being a part of a horror movie by Karan Johar for some time now. We wonder if this one is the same project. Ghost Stories will be produced by RSVP Films. SRK's film's title, Class of '83, might have a semblance with the Kapil Dev biopic, Ranveer Singh's '83, in production but the Red Chillies Entertainment movie is about a policeman and his mentees not about sports.
Dibaker is also bringing a full-fledged film to the streaming platform apart from his segment in the horror anthology. Titled Freedom, the movie will tell "the story of an Indian family interwoven with the personal, ideological and sexual history of India and how desire plays a common role in each," according to a Netflix statement.
Dharma Productions is producing Guilty, a movie in which a small town girl accuses the college heartthrob of rape. KJo's BFF Farah Khan is producing a film called, Mrs Serial Killer, which will be directed by her husband Shirish Kunder.
Sidharth Roy Kapur is producing a film called Yeh Ballet, a movie about two slum boys taking up ballet dancing. Other original movies that are in process at Netflix are Cobalt Blue, Chopsticks, Upstarts, Bulbul, Kaali Khushi, House Arrest, Maska and an adaptation of the book, Serious Men.